Guy Finds Sick Stray Kitten And Knows Just How To Make Him Feel Loved
So cozy 😻❤
Dustin DeRoche and his coworker were heading back to their cars after work on Tuesday night when, out of nowhere, a tiny kitten came running up to them. The kitten seemed so friendly and eager right off the bat, so DeRoche picked him up and started cuddling him, causing the tiny kitten to start purring immediately. The poor kitten was covered in fleas and was wheezing, and DeRoche knew there was no way he could leave him behind in that parking lot.
DeRoche decided to take the kitten, later named Chuck, home with him for the night and then to a vet the next morning. Chuck had no problem getting into the car with his new friend, and seemed content that he had finally found someone to help him.
"He slept on my lap the whole way home, a 20-minute car ride," DeRoche told The Dodo.
Once they were finally home, DeRoche's friend Melissa Lee came over and the pair got to work getting Chuck all cleaned up. He was clearly exhausted, and seemed so excited to finally have a safe, warm place to sleep.
"He was very relaxed in the home, sleeping a lot," Lee told The Dodo. "I snuggled him for a while as Dustin was getting a bath ready, and he purred/fell asleep instantly."
They gave Chuck a flea bath and combed him out as best they could, then dried him off in a nice warm towel. DeRoche decided to wrap Chuck up like a burrito to make him feel safe and warm — and he loved it so much, he fell asleep instantly.
The two friends let Chuck sleep like that for a while, and loved how calm and happy he looked all wrapped up in the towel. After a while, he woke up and played with his new friends for a bit, already so comfortable with his new life.
"His personality seems very laid-back for a kitten, but he's very curious and playful," Lee said.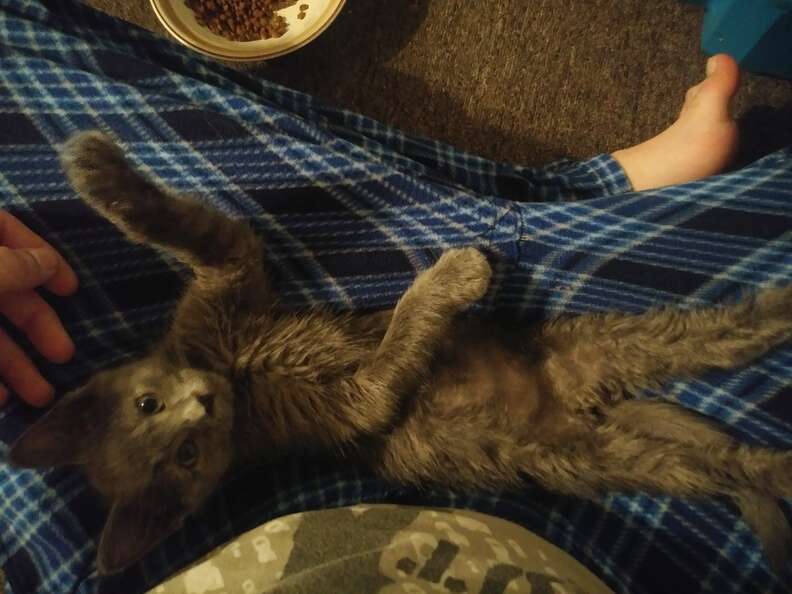 The next day, DeRoche took Chuck to the vet, where it was determined that the kitten was around 9 to 10 weeks old. The vet gave Chuck a full flea treatment, shots and medication for his respiratory infection. Despite the rough condition he was found in, the vet assured DeRoche that Chuck was going to be just fine, and would be completely recovered in no time.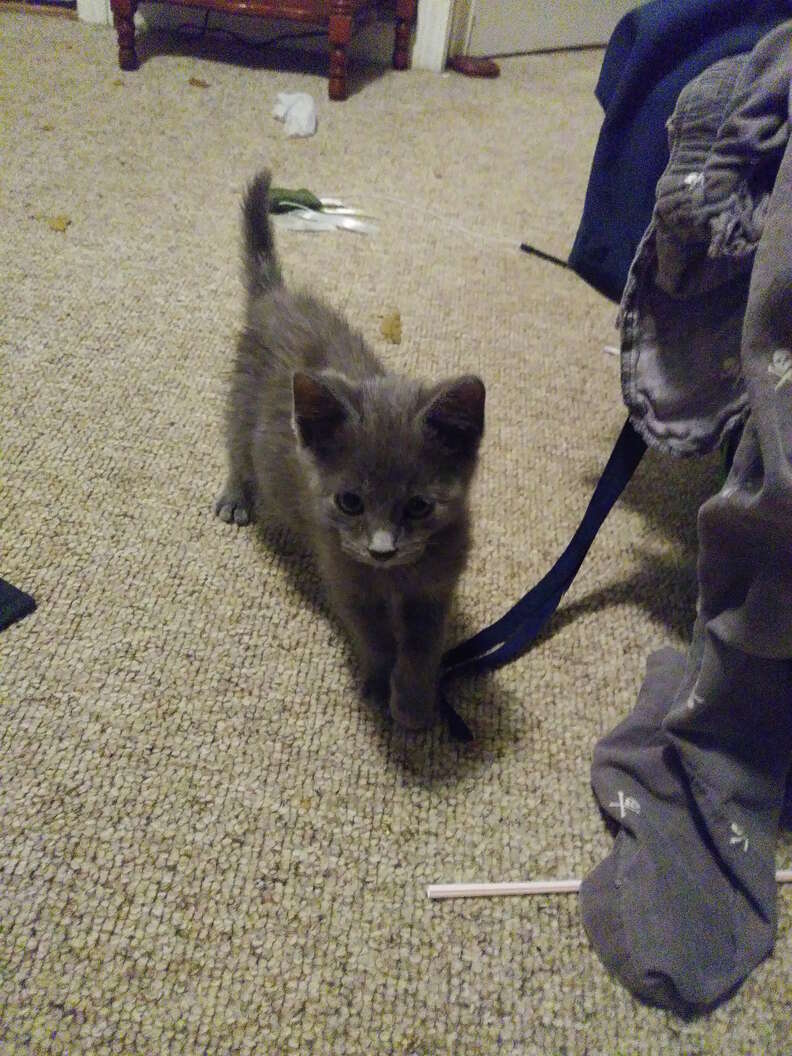 Since DeRoche already has cats of his own, he's planning on finding a new home for Chuck once he's well enough, and has already had many people express interest in the tiny kitten. In the meantime, Chuck is loving every minute of his foster home, being wrapped up like a burrito, cuddling with his foster dad and finally feeling safe and loved.