Guy Makes A 'Dog Train' So His Pups Can Enjoy A Walk Together
"The sunglasses to protect their eyes made it for me" 🕶🐶
Australia is known for its surf and skateboarding scene. But it's not just humans who are enjoying rolling down the boardwalk.
Sophie Flecknor was out enjoying a beautiful summer day on the east coast of Australia when something caught her eye.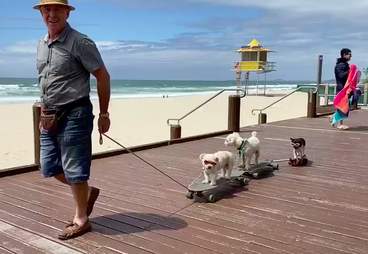 Sophie Flecknor
She knew she was witnessing something special, so she immediately grabbed her phone and started filming. "I was astounded by what I saw," Flecknor told The Dodo.
A guy was holding a leash — but at the end of it was not one, but three dogs all rolling down the boardwalk on their very own custom board. Each small dog had a skateboard proportional to his body type, and the boards were all linked together so no one would fall behind.
Sophie Flecknor
As the dog train passed Flecknor, each one smiled happily taking in the sights around the beach. "The dogs looked like they were having a great time!" Flecknor said.
You can watch the adorable video here:
The loving dog dad that constructed the skateboard train even took his pups' comfort into account by giving them little shades. For Flecknor, that was the cherry on top of the whole thing. "The sunglasses to protect their eyes made it for me," she said.
We should all be so lucky to enjoy the sunshine in such style.