Watch This Man Jump Into An NYC River To Save A Drowning Dog
"I knew something had to be done."
Ever since she was adopted from North Shore Animal League in March 2017, Harper has been absolutely head over heels for her mom, Erin O'Donnell, but is definitely a little nervous in new situations and can take some time to warm up to new people.
"She is a sweetheart but very anxious outside and around strangers," O'Donnell told The Dodo.
On Saturday, O'Donnell was performing with the Brooklyn Irish Dance Company in Manhattan and left Harper in Brooklyn with friends and a trusted dog walker. Harper and her dog walker were out taking a stroll when a cab recklessly ran a stop sign and hit both the dog walker and Harper.
Both were OK and only sustained minor injuries, but poor Harper was so scared and shaken up that she ran and ran and ran — until she reached the East River, and jumped right in.
Still in a panic, Harper swam with determination and ferocity, and while at first onlookers thought she was just a dog with an owner nearby going for a swim, they soon realized that wasn't the case at all.
"I was at the Brooklyn Barge celebrating my Bday when we saw a dog 'going for a swim,'" Gabe Castellanos wrote in a post on Instagram. "The day grew hot and we all figured a nice swim could do us all a service. We assumed the owner was on shore keeping a watchful eye until a patron ran up to the north side of the Barge with a panicked voice saying that the dog, Harper, had run away."
It was around that time that everyone began to notice Harper losing speed. The river was incredibly cold, and with the amount of energy Harper was exerting in her panicked state, it was likely that she wouldn't be able to keep herself afloat for very much longer. This fact settled in for Castellanos, and he immediately knew he had to do something about it.
Castellanos happens to be a graduate of SUNY Maritime College and has extensive water survival skills knowledge — and so he decided he was going in.
"Since there was no sign of her making an attempt to swim back to shore, I knew something had to be done," Castellanos told The Dodo. "I looked on the barge for any type of floating device to use if I were to jump from the end, but then I noticed there was a life vest, so I grabbed it."
At this point, a crowd of about 300 people had gathered, invested in Harper and her well-being, and as soon as everyone realized what Castellanos was about to do, they all broke out into cheers of encouragement. Lorenzo Fonda, a Brooklyn-based filmmaker and artist, was hanging out at the Brooklyn Barge when he suddenly realized what was happening, and quickly began recording the entire ordeal.
Knowing the water was going to be cold and the conditions less than ideal, Castellanos strategized quickly with those around him as he prepared to jump into the water. He stripped down to his underwear, climbed over the rails, and then lowered himself as close to the water as he possibly could before letting go and diving in.
"There was a grand cheer when I entered the water," Castellanos said. "After that, I was no longer focused on the crowds and my surroundings but focused on my breathing and swimming over to Harper. The crowds went mute during my swim. I'm sure they were still cheering, but I could not hear anything other than the water."
Harper was still swimming at a steady pace, and Castellanos had to work hard to catch up with her. As soon as she realized someone was swimming towards her, she became even more panicked and tried as hard as she could to swim away from him.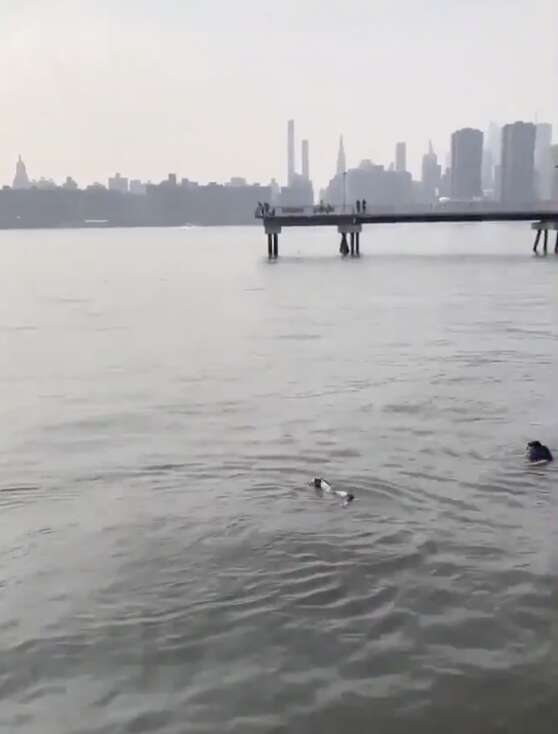 Castellanos was persistent, though, and even though Harper struggled and lashed out a bit out of fear when he finally reached her, he stayed calm and determined …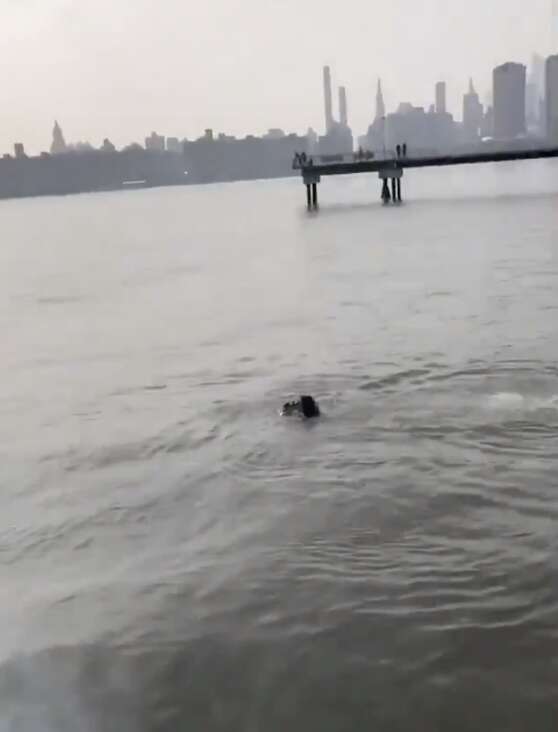 … and was finally able to secure her.
Cheers erupted from all over when Castellanos finally had Harper safely in his arms, and the pair quickly returned to shore. Both were exhausted and needed medical attention to make sure everything was OK, but luckily they were both completely fine, and are now recovering at their respective homes.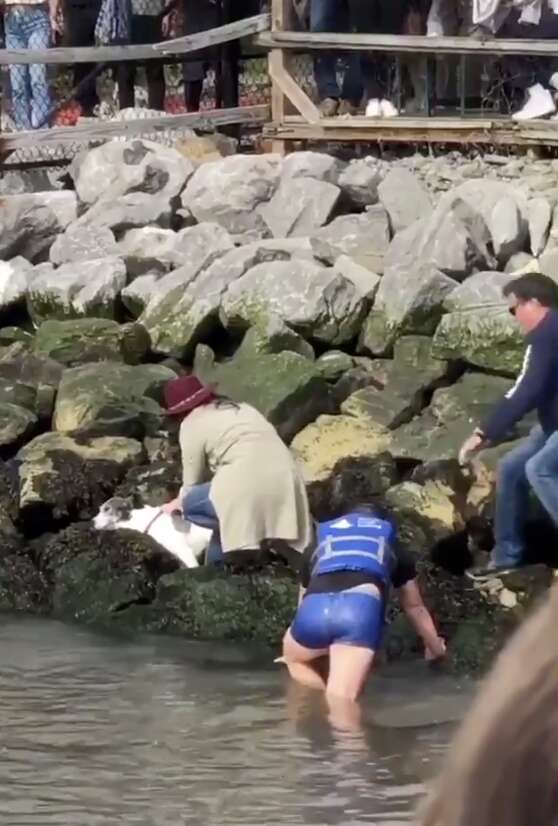 O'Donnell was in the middle of a performance when all of this occurred, and didn't find out until later about Harper's river adventure and the man who saved her life.
"Her paws are in rough shape, so she will need some trendy boots for a few weeks, but otherwise she's in great spirits," O'Donnell said. "It is definitely so refreshing to see the positive responses from people at the Brooklyn Barge and on social media expressing their sympathy for Harper and praising Gabe, who definitely saved the day."
As an innocent onlooker that day, Castellanos didn't have to do anything to help. He could have just sat by and watched and let someone else handle it, but instead he took a leap of faith and ended up saving Harper's life, making him a true hero.