Man Invents Special Bookcase — For His Introvert Cat
"He really needed some space of his own."
Jeff Faye and his family live in Chicago with their 4-year-old rescue cat, Stanley, whom they adopted from the ASPCA. 
Life with a family in a big city can be noisy and hectic. Everyone, including Stanley, needs a place to get some me-time, sometimes. But city life can also be cramped — there just isn't much physical room for me-time.
"With four kids, visiting pets and a busy house, he really needed some space of his own," Faye told The Dodo. That's why Faye came up with an idea that would satisfy humans and felines: a special bookcase made just for Stanley. He calls it the Cat Case.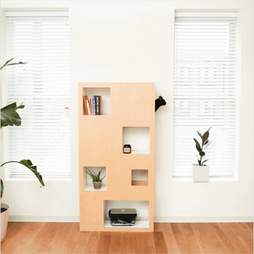 Jeff Faye
"Stanley is very curious, athletic and enjoys heights. He'll regularly jump from the floor to the top of the cabinets, and come into a room with a face covered in dust or spiderwebs from who knows where," Faye said. "Though he answers to his name, my favorite way of getting his attention is to set an empty box on the floor. Give it five minutes and he'll be sitting in it."
Jeff Faye
Stanley was a key collaborator in Faye's invention of the Cat Case, telling his human, in so many words, exactly what he thought. 
"If Stanley were a human, he'd have some serious product development cred," Faye said. "I've not only had him test out every prototype of the Cat Case and other units, but he's weighed in on every form of carpeting and material. There were several carpeting samples that he clearly wasn't happy with, those did not make the cut. The samples that he fell asleep on were the ones we incorporated in the final product."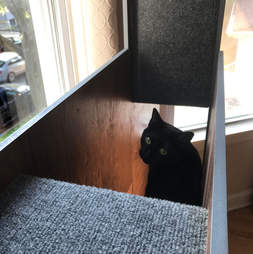 Jeff Faye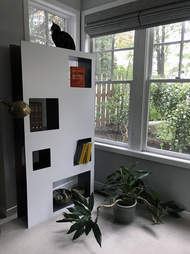 Jeff Faye
The Cat Case looks like a normal bookcase from the front, but the sides reveal little crawl spaces for cats to lounge around in — and it's carpeted so they can also enjoy scratching the hell out of the furniture, a feline's favorite pastime. "This deters claw scratching on furniture by providing ample space to do it, especially right after a nap," Faye said.
Jeff Faye
And the Cat Case also benefits people — especially bookworms — with storage space.
"The goal of the Cat Case is to increase usable space for both pets and people," Faye said. "We hope this will make cat-friendly furniture more common in smaller spaces like apartments, and provide the exercise, privacy and height cats naturally need."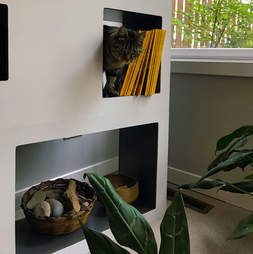 Jeff Faye
Jeff Faye
Stanley's good taste helped make the model attractive to other cats, as well.
"He's tested stability, usability and answered a lot of design questions," Faye said. "In short, he's been essential to creating a product that cats would actually use."
Stanley likes to watch over his human while he's working at his desk.

| Jeff Faye
Faye is hoping to give other house cats the benefits of his great idea, which is why he's launching a Kickstarter campaign to produce more Cat Cases and spread the news that people and cats can both benefit from this kind of kitty credenza. 
"Some cats also need time to themselves, whether guests are over, or they're feeling shy," Faye said. "The Cat Case helps by providing a pet-friendly space for time alone that's much better than hanging with the dust bunnies under the bed."