Stranger In Walmart Parking Lot Gives Woman A Puppy — Then Drives Away
"I just had to help the little guy."
Sarah Pimentel was walking through a Walmart parking lot in Fort Myers, Florida, last Wednesday when she passed a man standing by his car, and he randomly asked her if she knew anyone who wanted a puppy. Pimentel was confused and wasn't sure what to say at first — and then he pulled out a one-eared puppy from his car, and she realized he was serious.
Pimentel is an avid animal lover and knew that if she didn't take the puppy, there was a chance he could end up in the wrong hands, so despite the outlandishness of the situation, she did what she had to do to make sure the little puppy would be safe.
"I just had to help the little guy," Pimentel told The Dodo. "Just like that, the guy handed him to me and wished him the best."
The guy drove away, leaving Pimentel in the middle of a Walmart parking lot, suddenly in possession of a one-eared puppy.
Once the man was gone, Pimentel took the puppy, later named Chance, back to her car and put him in the front seat. He was young and very friendly, and seemed completely unfazed by the fact that he was in a stranger's car. He jumped around with glee, giving Pimentel tons of kisses, and quickly set about trying to destroy her car just like a typical puppy.
"The puppy needed a good bath, but besides his mystery ear injury he seemed OK," Pimentel said. "Rambunctious little guy, chewed my tumbler cup straw and peed in my car!"
Pimentel was relieved that Chance seemed to be healthy besides his missing ear and that he didn't appear to have any fears or anxieties. He was just a goofy little puppy, going with the flow and hoping that he would end up with people who would love him.
Pimentel took Chance to the vet and got him scanned for a microchip to make sure he didn't have an owner out there looking for him. He had no microchip, and she then checked a bunch of local lost pet pages on Facebook, just in case. After exhausting all her options, she determined that Chance didn't have a home or a family — and so she found him one.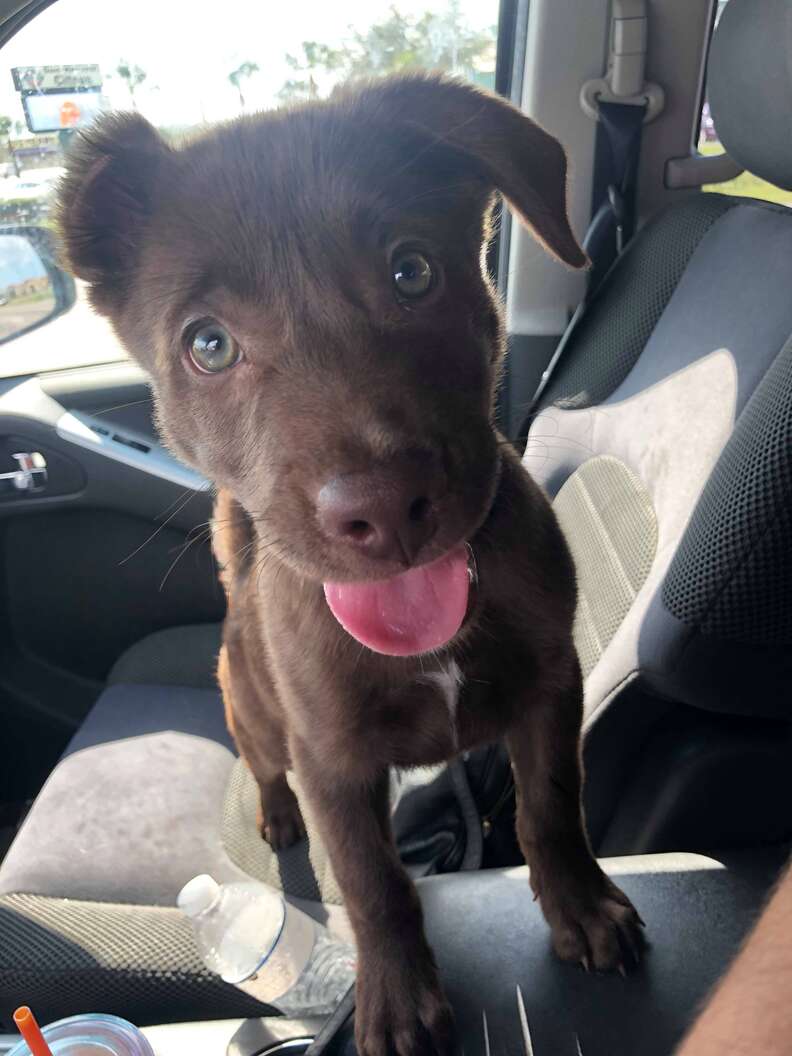 Chance was rehomed with Pimentel's neighbors, who have kids and two other dogs who are absolutely loving their new little brother. Chance fits right in with his new family, and seems overjoyed that he finally has so many people to love and play with him all day long.
"He loves toilet paper and he loves his new big dog brother Sammy. Anything Sammy has, Chance needs," Pimentel said.
Chance's predicament could have ended a lot differently if he had fallen into the wrong hands, but luckily Pimentel knew exactly what to do in the strangest situation.