When fires swept through Sonoma County in California this October, many people had to evacuate their homes. But Chauncy Walcott refused, even after most of his neighbors left their housing community in Larkfield. The reason Walcott wouldn't go was because of his cat.
"I stayed home with my kitty because I had no cat carrier, and I wasn't going to throw her out on the street," Walcott said. "So I stayed home."
Fortunately, the flames never reached Walcott's home, but embers fell from the sky, setting bushes on fire. So Walcott spent the next three days dousing them out.
Walcott's cat — named Spazzy Meowser Walcott — was technically an outdoor cat, but Walcott kept her inside throughout the ordeal. But at one point, Spazzy got out and disappeared.
"I was really worried," Walcott said. "I was worried that she got caught in one of those fire tornadoes."
He'd also seen foxes hanging about his housing community, and he feared that Spazzy might have run into them. He also worried that Spazzy got hit by a car, or that people had found her and kept her for themselves. He even wondered if she'd purposely run away.
Whatever happened, Spazzy was gone for three whole weeks — and Walcott was beside himself. "She'd never done that before," he said. "She always came back."
Walcott adopted Spazzy eight years ago after he saw a former neighbor throw her out of a high window.
"One day, I was going outside my front door to go out and smoke a cigarette, and all of sudden, I hear this cat go, 'Meooooow,'" Walcott said. "And this cat flew out of a window of a top floor. She fell to the ground and looked stunned. Then a lady stuck her head out of the window and said, 'I hate you, cat. I hate you. Don't come back into the house.' And I said, 'You don't ever have to worry about that. The cat's coming home with me.'"
Since then, Walcott and Spazzy have been inseparable. "I spend at least nine hours a day with her — at least," Walcott said. "She sleeps with me at night on my bed with me. She lays on my chest."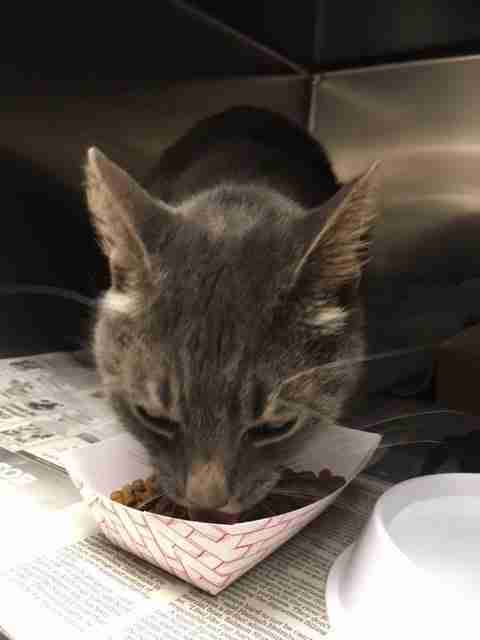 So the idea of losing Spazzy was almost too much for Walcott to fathom. "I didn't know what was going on," he said. "I didn't know if I was mad or pissed off."
Then Walcott got a phone call. Someone had turned in a cat who matched Spazzy's description to the Sonoma County Humane Society. Walcott went to the shelter as quickly as he could.
"She was laying in the cage, and she looked up to me and didn't quite notice me until I went up there and said, 'Spazzzzzzy,'" Walcott said. "She perked up and went to the front of the cage and went, 'Meow.' She never meows at me, but that time she did. She knew it was me. She knew."
Walcott lifted Spazzy out of the cage and hugged her close. "I felt no more sorrow, no more hurt," Walcott said. "I felt happy and proud to know that she was safe and back into my arms."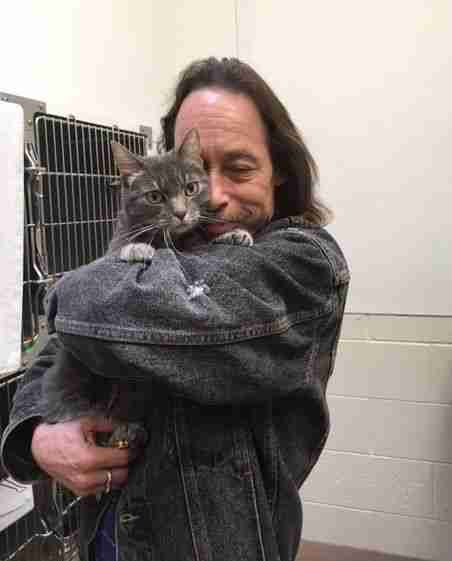 Walcott learned that someone had found Spazzy in a culvert a few miles away, although no one's sure how or why she ended up there. Thankfully, Spazzy wasn't hurt in any way.
"I want to thank the person who found her and brought her to the shelter," Walcott said. "I appreciate what they did."
When Walcott took Spazzy home, the first thing she did was crawl into Walcott's bed. "She went right to sleep," Walcott said.
Walcott and Spazzy haven't spent a day apart since.