Guy Was Feeding Stray Kitten Outside His Office — Until They Told Him To Stop
He knew what he had to do 💪
Brandon Lesky works the night shift at a news station, and about a month ago, a mother cat and her two kittens started showing up outside the building. After a while, the mom cat and one of the kittens stopped appearing — but it seemed they had accidentally left the other kitten behind.
The kitten, later named Momo, was always wandering around alone outside, and many of the employees in the building felt bad for her and started leaving food out for her, including Lesky. He would occasionally leave wet food out for the adorable little kitten, and while she was always excited to accept the food, she was careful to never get too close to anyone. She was clearly afraid of humans, but was so hungry that she couldn't turn down any food being offered to her.
After a while, Momo started to take a liking to Lesky and would follow him around when he came outside on his break, but was still cautious about getting too close, and never let him pet her.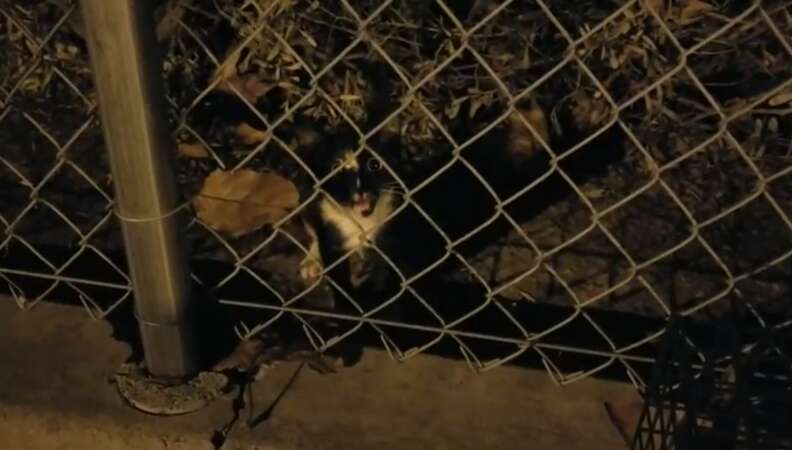 Eventually, the company's human resources department sent out an email to all of the employees, asking them to please stop feeding the kitten. The email said anyone was welcome to try and catch her and take her home, but feeding her was a health hazard and was prohibited from that moment on.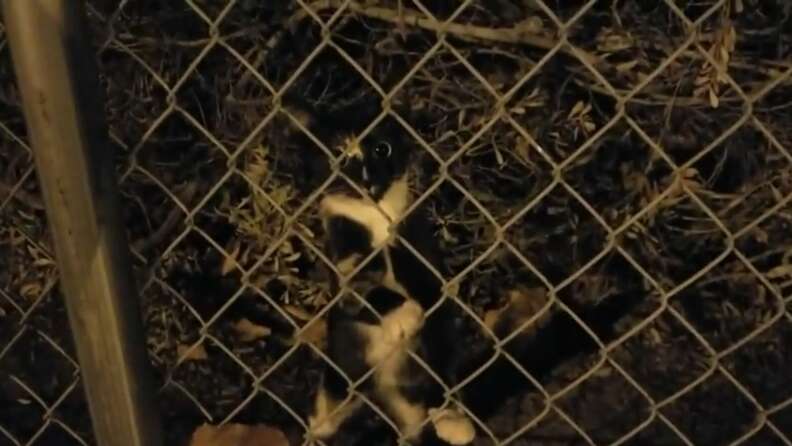 Lesky had been thinking about adopting a kitten of his own and had grown quite fond of Momo over the weeks he'd been feeding her — and after receiving the email, he decided it was meant to be. He went out and bought a humane cat trap, and was able to safely catch Momo and take her home with him.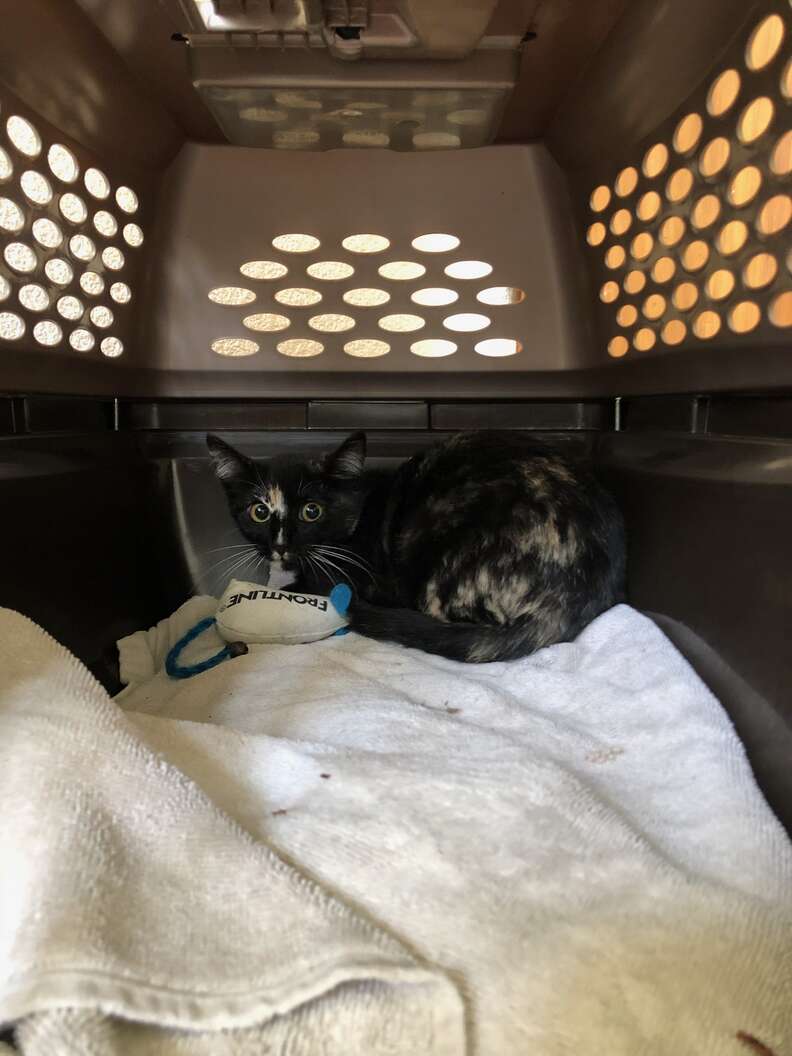 At first, Momo was a bit terrified of her new home, as well as her dad and his roommate, and hid under a nightstand and hissed at them. They could tell she really wanted to love her new situation, but her fear was getting in the way, and they knew at that point all they could do was give her time and hope for the best.
"It seems like she wants to like people more than she does, but something is stopping her," Lesky told The Dodo. "She didn't look battered when I got her, but we figure she may have had a bad run-in with a human at some point."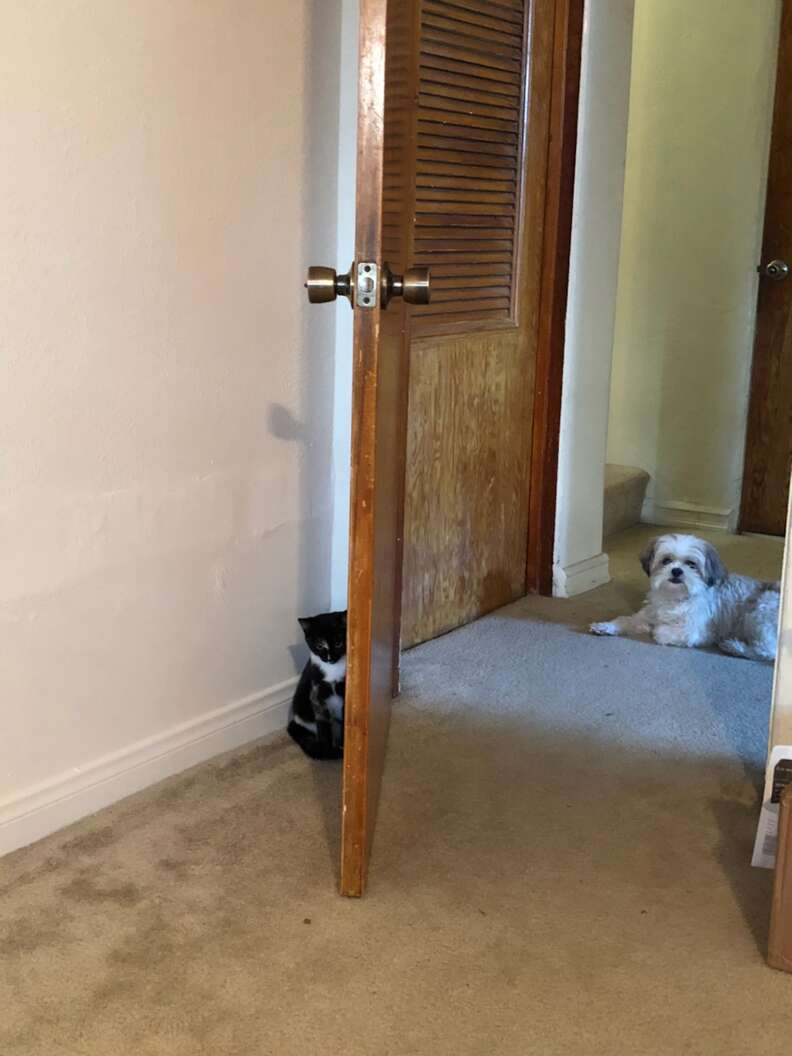 After a few days, Momo slowly started to warm up to her new home, and while she's still a little skittish, she's getting braver and braver every day. Despite her fears, Lesky is so glad he got to know the tiny kitten hanging out by his office, because now he has the most adorable sidekick anyone could ask for.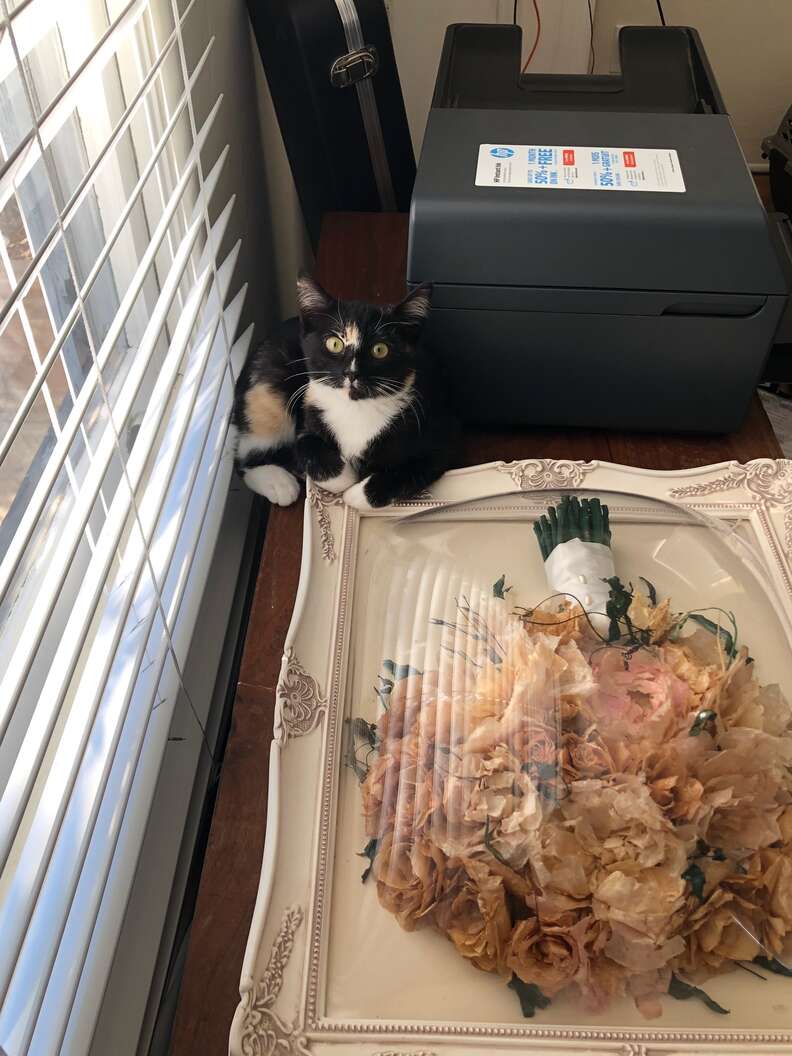 "She's quite shy, but if you can get her to start purring, she won't stop," Lesky said. "She's the epitome of a lazy cat. She'll scratch at the post I got her and play when I pull out one of her toys, but otherwise she's asleep on her blanket underneath one of the end tables in my room."
Thinking about adopting? Then meet Dodo Adoptbot, an interactive guide for new pet parents. Get
started on Facebook Messenger
or text HOME to 38349.