Hidden Camera Shows Dumped Dog Begging Owner Not To Leave Him
Snoop was found huddled on the street corner in his dog bed 💔
It was a frigid night last week in England when a driver noticed something on the side of the road. As the concerned passerby approached, they realized that it was an adorable Staffordshire terrier — and he was huddled inside a dog bed all alone.
With no one else in sight, the Good Samaritan brought the sad-looking dog to a local vet's office in hopes he could be reunited with his family. But once RSPCA officials checked surveillance cameras near where the pup was found, they couldn't believe what they were seeing.
On the tapes, a man is seen leaving the passenger side of his car carrying the dog bed and leading the dog across the road. Quickly dropping the bed onto the pavement, the man unclips the dog's leash and sprints back to the car.
The distressed dog runs back across the road and jumps up at the car window as it drives away — pleading for his dad to come back.
He looked absolutely heartbroken.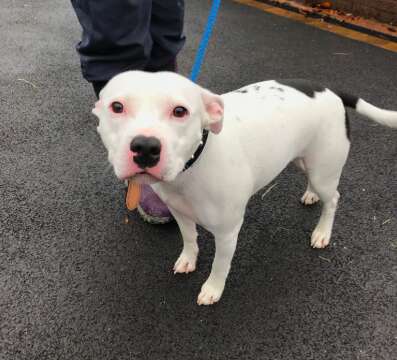 "The footage has to be seen to be believed, it's just awful," RSPCA inspector Natalie Perehovsky said in a statement. "To see the poor dog in such obvious distress jumping up at the car as it drives away is just heartbreaking. I can't understand how someone could do this."
Perehovsky is now investigating the situation for leads, and the dog, now known as Snoop, is being cared for at a private kennel. So far, he is loving all the extra attention he's been receiving.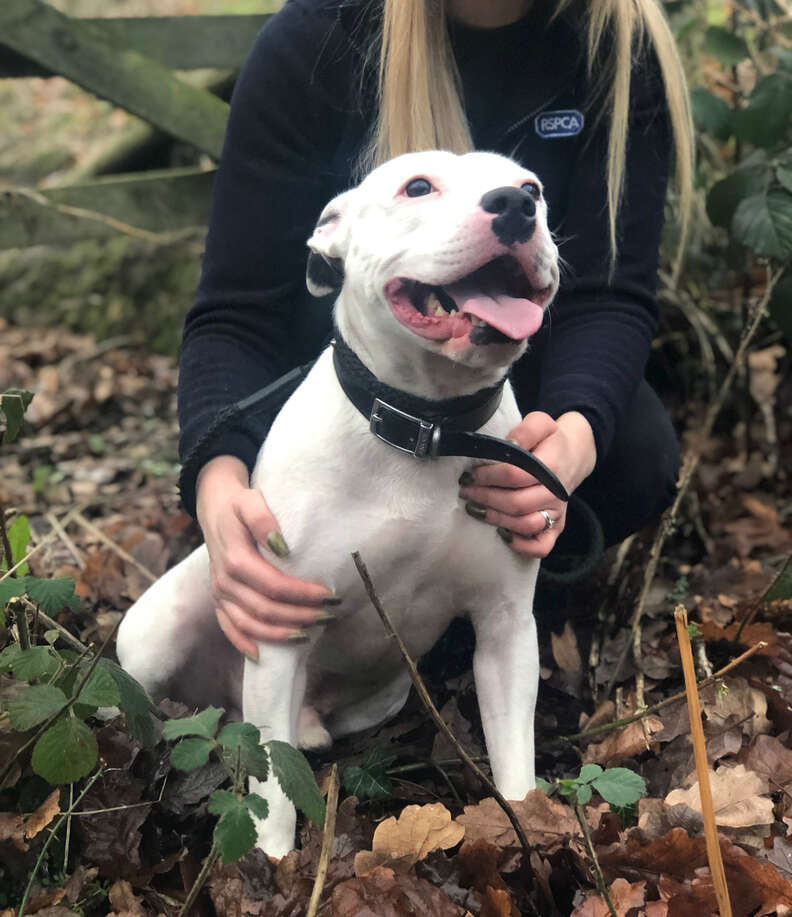 "It's beggars belief that someone could abandon a dog like this at Christmas," Perehovsky added. "We are so thankful to the kind people who found Snoop sitting sadly in his bed for taking him to the safety of a vet's straight away."
For anyone who's met Snoop, it's hard to imagine why someone would want to get rid of him. He's incredibly sweet, loving and playful, RSPCA media manager Rachel Butler told The Dodo. The rescue estimates he's around 2 years old.
"He is doing really well," Butler said. "He is such a loving dog who enjoys being around humans."
Snoop's heartbreaking abandonment has gone viral across the internet, and hundreds of people far and wide are offering to adopt him.
Butler is confident the outpouring of support will find the deserving dog a wonderful home of his own — but for the time being, Snoop will remain under the care of the RSPCA as the group continues to investigate who left him out there.
"One man can be seen clearly in the footage dumping the dog, and there is a second person in the driver seat of the car," Perehovsky said. "I am very keen to hear from anyone who recognizes the vehicle, the man or the dog."