Mall Security Guard Breaks All The Rules To Help Sweet Stray Dog
Now she follows him everywhere ❤️️
On a shopping trip in August, Gretel Eleazar spotted a mall security guard petting a scruffy-looking dog.
The mall in Cebu City, Philippines, is pet-friendly, but stray dogs are not welcome in the building. Seeing the security guard treat the homeless pup with such unexpected kindness touched Eleazar, so she approached the guard to find out more.
As it turned out, the guard, named Danilo Reyeg, has always had a soft spot for stray dogs — especially one named Franci.
"He started feeding stray dogs roaming the mall, but it was only Franci who eventually befriended him and follows him around," Eleazar told The Dodo. "Franci is now with him, still at the mall where he works. He takes turns feeding Franci with another security guard named Mr. Quinner Cansana."
Franci has stuck by her favorite mall cop's side for months and is eager to make a good impression whenever she joins him on his rounds. "[Reyeg] sort of adopted this mama dog," Eleazar told CDN Digital. "He even taught the dog commands like 'sit' and the dog follows it. It is so cute."
When Franci gave birth outside the mall earlier this year, it was Reyeg and Cansana who made sure that she and her pups were safe and had plenty to eat. As Franci's puppies grew, the two security guards became concerned for the little family, so they went one step further to help.
"They gave the pups to friends who like puppies," Eleazar said. "They know this process is called 'adoption.'"
Reyeg's sweet relationship with Franci has inspired his coworkers to help the homeless animals who hang out around the mall, including a disabled dog named Micmic.
"[Reyeg] pays the mall landscaper to help him feed and bathe a dog named Micmic," Eleazar said. "And a lady who works at the restaurant inside the mall collects the food scraps to distribute to the dogs who roam the mall, including Franci and Micmic."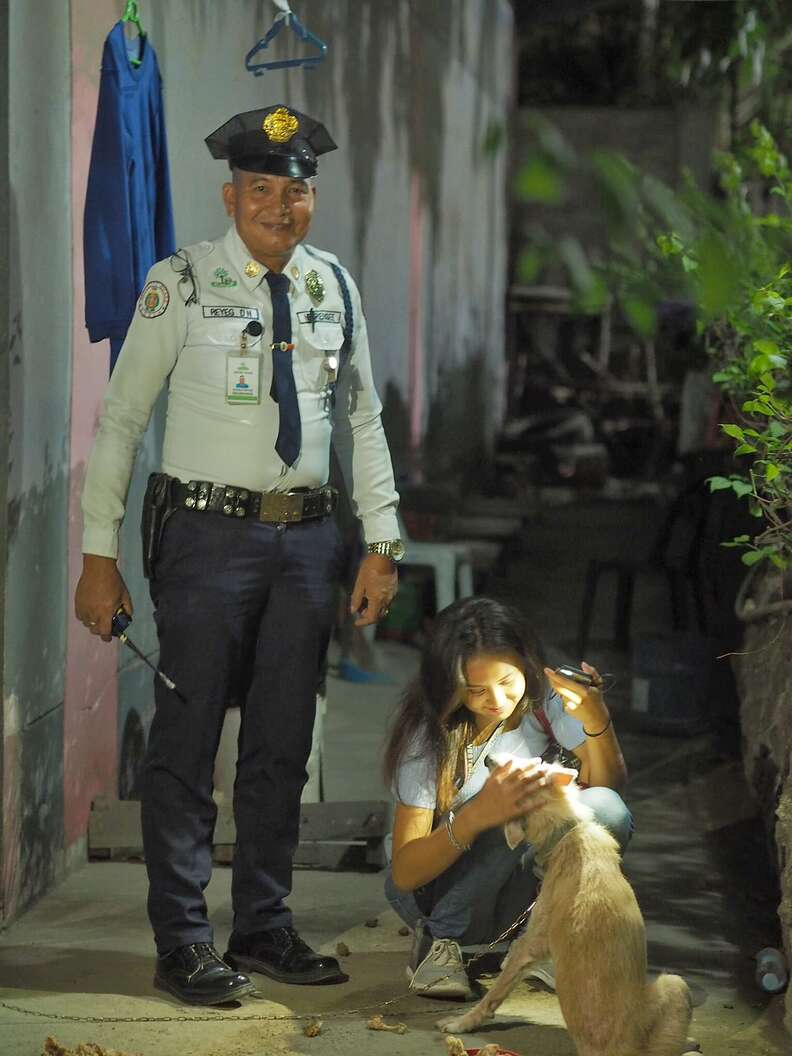 Eleazar, the founder of the Facebook group Saving Strays Cebu, and Reyeg are now working together to help the strays who live around the mall get the help they need. Eleazar has brought Micmic to a clinic for medical treatment and is arranging for Franci to get spayed. Meanwhile, Reyeg is making the mall safer for everyone — both people and animals.