Smiley Lost Pit Bull Shows Up In The Middle Of Photo Shoot For Dogs
"It's as if he was saying, 'Umm 'scuse me, heard you were lookin' for models?!'"
Erin Einbender and Laura Berryman were volunteering at Austin Pets Alive! on Saturday, doing a photo shoot with some of the dogs to help them get adopted. They were just finishing up working with one of the dogs when they were suddenly told about a stray dog wandering around the neighborhood — and decided to see if he wanted to become their next model.
"We were finishing up a photo shoot with one of the APA! pups when Laura's husband called her," Einbender told The Dodo. "He was around the corner from us and asked if one of our dog models got loose. We immediately grabbed our leashes and walked to where he was at. And there he was, a chunky meatball walking towards us on the sidewalk."
The two women could immediately tell that the dog was friendly — and sure enough, as soon as he spotted them he came trotting over, incredibly eager to make some new friends.
"He became super wiggly and wiggled his way straight to us for pets," Einbender said. "It's as if he was saying, 'Umm 'scuse me, heard you were lookin' for models?!'"
The sweet pit bull was wearing a collar, but there were no tags on it, so the women had no way of getting in contact with his family. They put a leash on him and walked him around the neighborhood, trying to see if anyone knew where he'd come from, but unfortunately had no luck.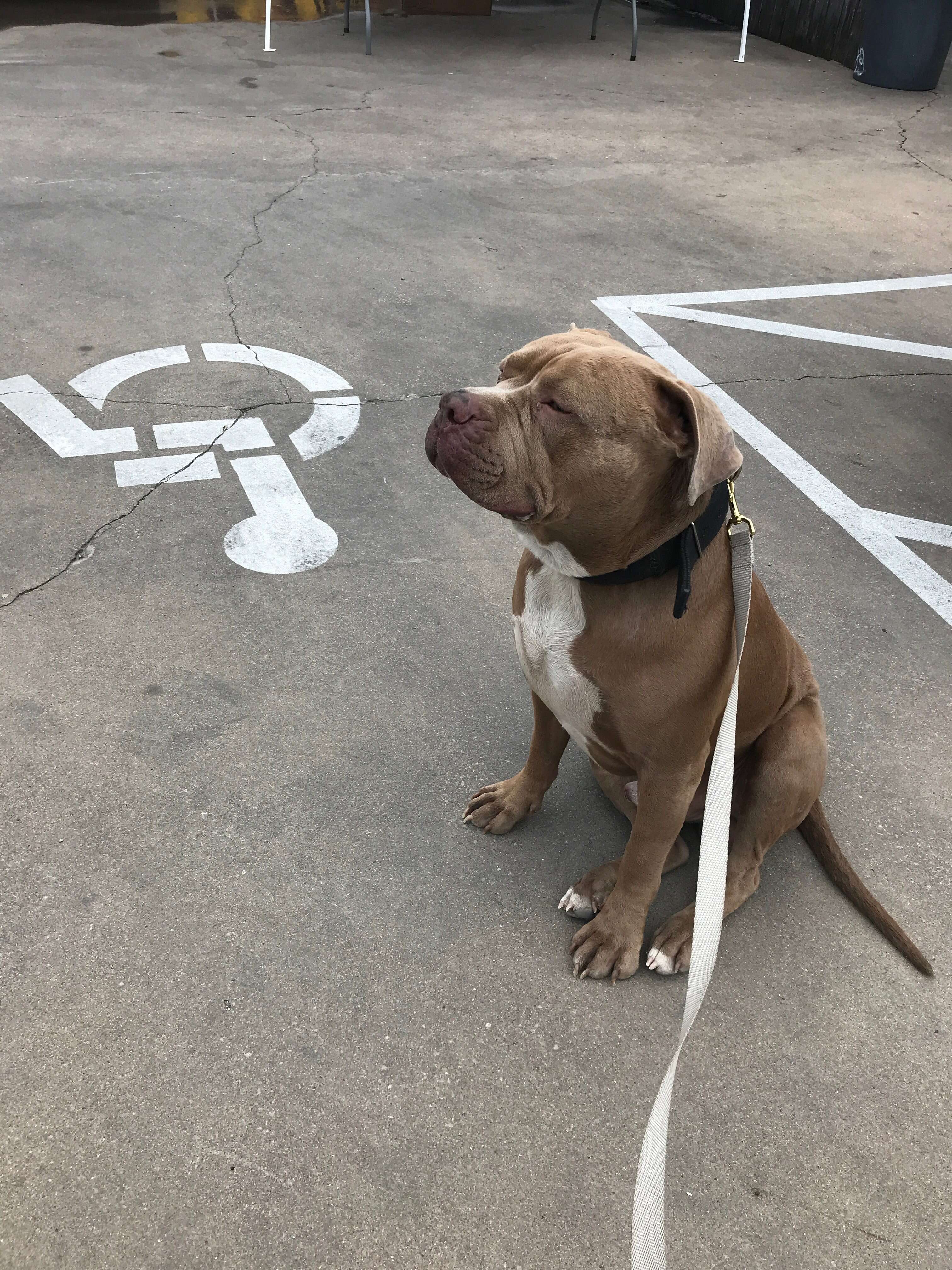 Since they couldn't seem to locate his family, the women decided to take the lost dog back to the photo studio with them, and couldn't resist engaging in a photo shoot with the very handsome pup.
At first, the dog had absolutely no interest in sitting still for pictures …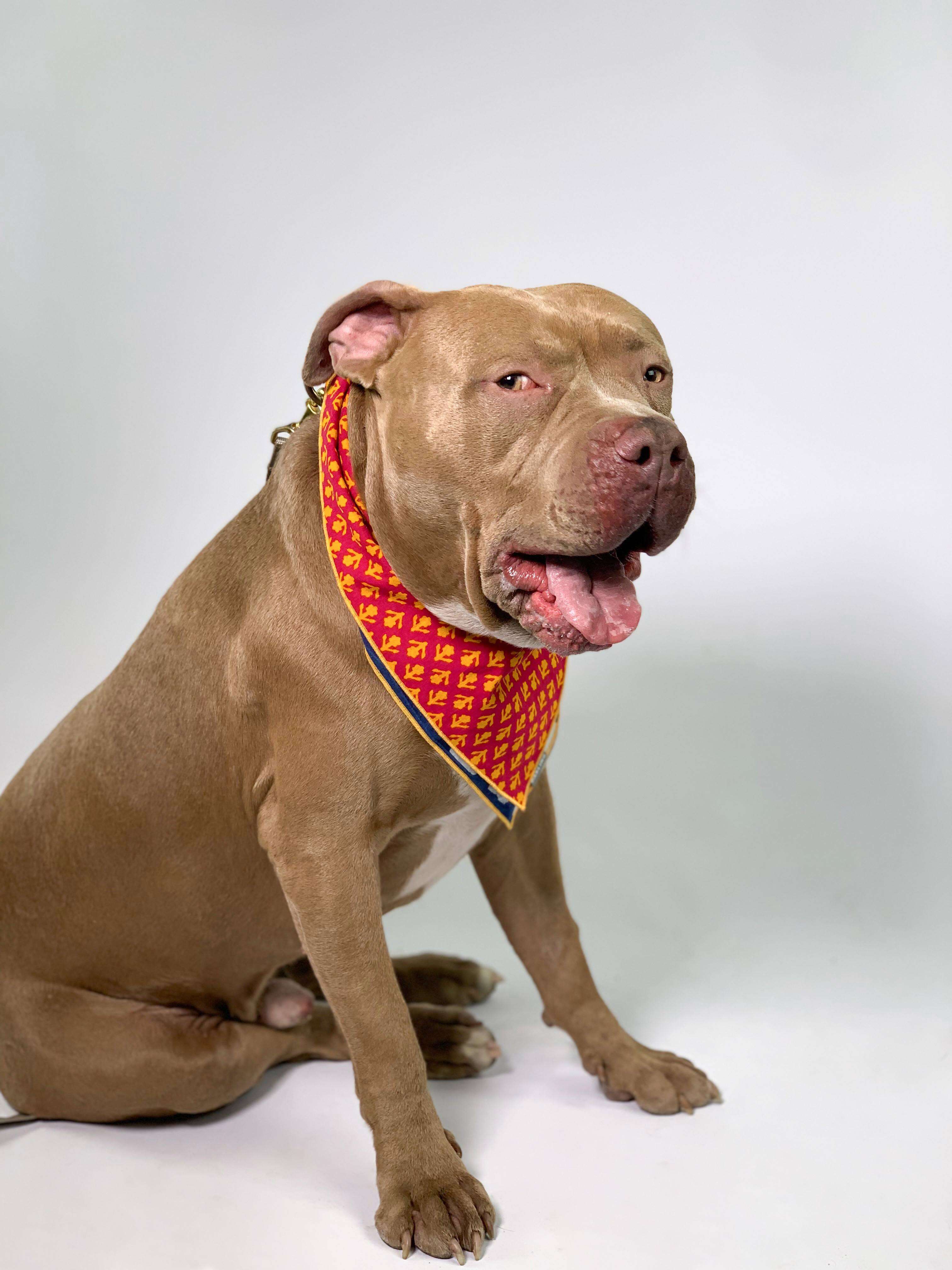 … until his new friends brought out some nice snacks, and he sat down and started posing right away.
"He sat right away and smiled," Einbender said. "So obviously he had expensive taste mixed with selective hearing. We enticed him to the photo set ... loosely tied a bandana around his neck and he just sat there posing. I made some weird noises and he did a little head tilt. He was a natural."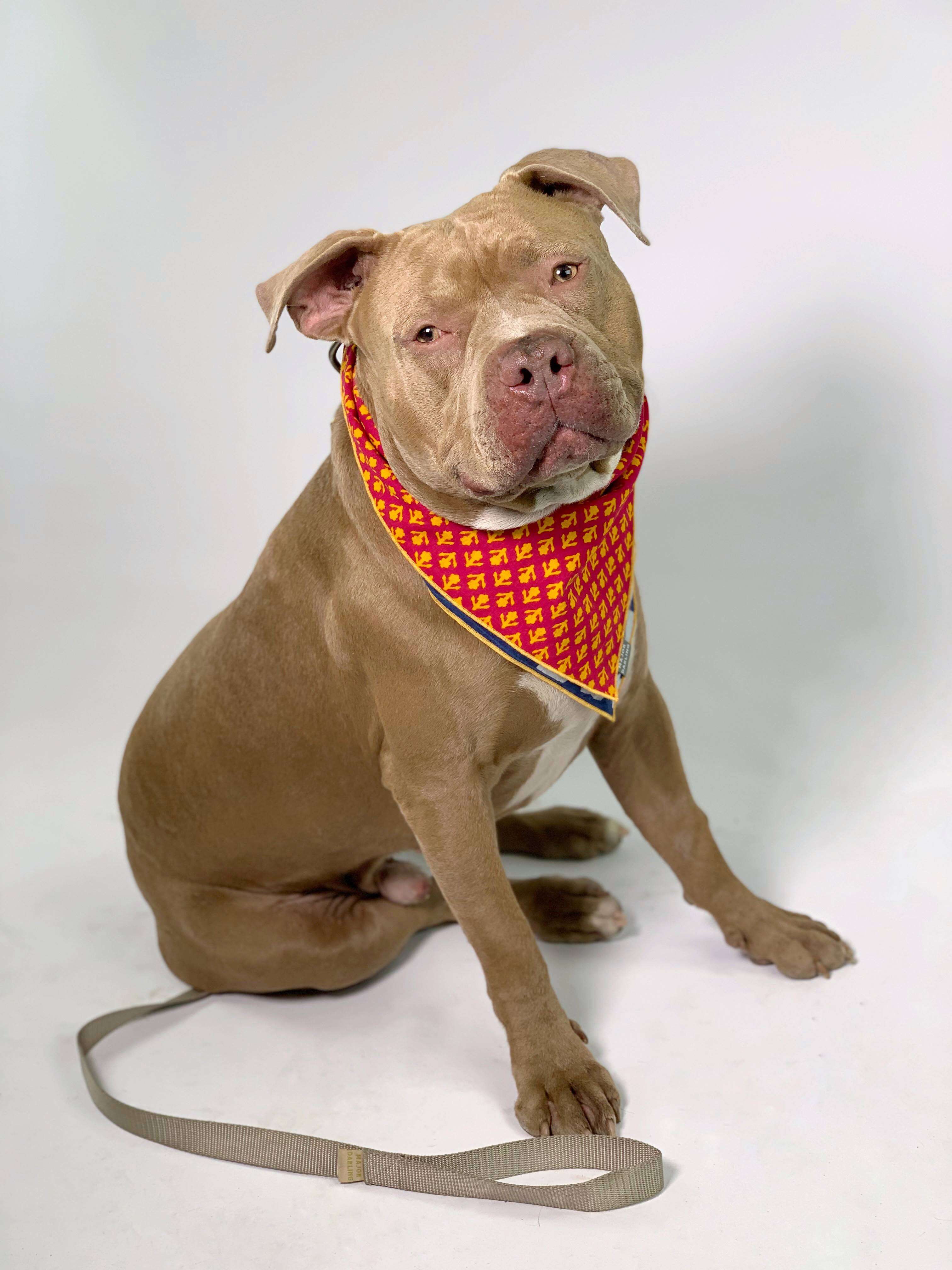 The dog sat for the photo shoot for several minutes — then decided he was bored and got up and peed in the middle of the room.
Once they realized he was over his moment of fame, the women loaded the dog into their car and drove him to the Austin Animal Center so they could scan him for a microchip. He smiled the whole way to the shelter, clearly loving his little adventure with his new friends.
Unfortunately, the dog wasn't microchipped, so after leaving him at the shelter the women posted about him on a few different lost and found pages, hoping that his family would find him — and luckily, they did.
"I checked in on him the next day only to find out his family had picked him up and his name is Zeus," Einbender said. "Little does his family know, their dog had quite the adventure and was a supermodel for the day."
Zeus' family will probably never know anything about the glamorous day their dog spent without them, but there's no doubt that Zeus will always remember his wild adventure where he made new friends, had his picture taken and got some yummy treats.
"I'm so glad we found him and he was able to be reunited with his family," Einbender said. "This was one of the best days of my life and I'm pretty sure it was one of the best days of his too."