Shelter Dog Was Terrified — Until He Made The Tiniest Friend
"Little Pancake really taught Fraser how to be a brave dog and be more confident in himself."
When Fraser first arrived at Battersea Dogs & Cats Home in the UK, his rescuers could see that his former owners had clearly wanted him to look tough. The already very large cane corso's tail and ears had been cruelly docked, making him look intimidating — but his new friends quickly realized that the huge dog was actually terrified of everything.
"[He] was too scared to leave his kennel, even for a short walk," Sarah Copleston, communications officer at Battersea Dogs & Cats Home, told The Dodo.
Poor Fraser had already been through so much in his short life, and was scared of everyone and everything as a result. The shelter staff knew that his fear could hurt his chances of getting adopted, so they wanted to help him overcome it as much as they possibly could. They started brainstorming the best way to help him — and then someone had an interesting idea.
Elizabeth Kidd, a canine behaviorist at Battersea Dogs & Cats Home, had recently adopted a dog of her own, a 6-month-old pug named Pancake. She decided that introducing Fraser to another dog might help calm him down a bit, and since tiny Pancake was bursting with confidence, Kidd thought he might be the perfect friend for the gigantic, terrified dog.
Everyone crossed their fingers that it would work — and sure enough, as soon as Fraser met Pancake, he was instantly calmer.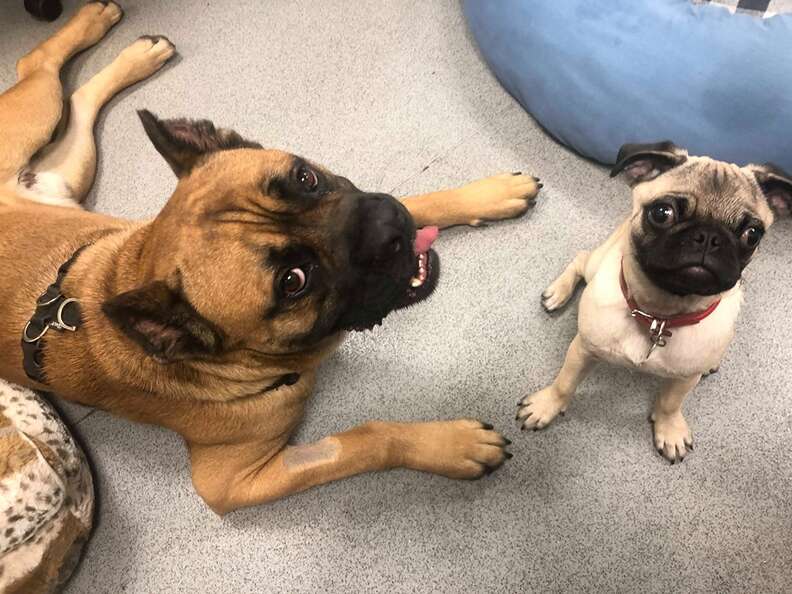 "Although Pancake and Fraser didn't appear to be the most likely pairing, it was heartwarming to see how well they got along," Kidd said in a press release. "Little Pancake really taught Fraser how to be a brave dog and be more confident in himself."
It may seem ironic that a tiny dog like Pancake could teach a huge dog like Fraser how to be more confident, but it totally worked. The more time Fraser spent with Pancake, the happier he became, and his fear seemed to melt away. Now, Fraser is just like a typical dog, and it's hard to imagine that he was once too scared to even leave his kennel.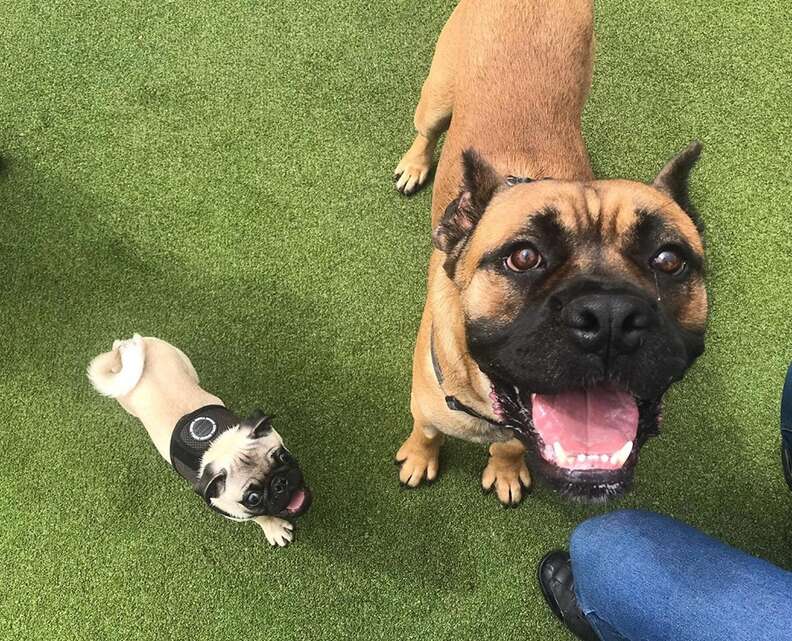 Thanks to Pancake, Fraser is now ready to find his forever home, and he's already had some interest. When he first arrived at the shelter, it didn't seem like he would ever be confident enough to be adopted. Now, he's absolutely thriving, and everyone is so excited for him to meet his family and have the best new life.