Little Dog Uses Her Big Brother To Do EVERYTHING
"She's used him as transportation around the house, a napping spot, a stepping stool, and even to get high enough to jump over a gate."
Bella is an incredibly energetic 2-year-old dog, who loves going on adventures and getting into mischief. She's a very small dog, though, and can't always reach or jump over things in order to wreak a little havoc — and so she's found the perfect partner in crime to help out when she needs a boost.

Hank is 10 years old, and Bella's best friend in the entire world. He lives with Bella's grandparents, but the pair still get to see each other pretty much every day, and are inseparable whenever they're together.
"They absolutely love each other," Adriana Burkhart, Bella's mom, told The Dodo. "Bella lives with me and Hank stays at my parents, but whenever I bring her home they both go crazy when they see each other. They're both cuddle bugs so they sleep together a lot and Bella will chase him around and try and play tug of war with his tail sometimes. He's so much bigger than her that he just sits down and she stops."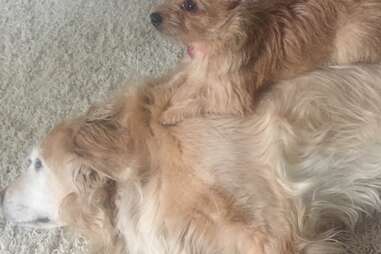 It didn't take long for Bella to realize that Hank is a much bigger dog than she is — and therefore can help her do the things she normally wouldn't be able to do on her own.
Whenever they're together, Bella is almost always on top of Hank. Whether they're just hanging out and taking a nap or roaming around the house, Bella loves to be perched on his back impersonating a much larger dog, and good-natured Hank doesn't seem to mind one bit.
"Pretty much every day Bella is at least laying on him," Burkhart said. "She'll also jump on him when she needs a boost. She's the smallest of our dogs so she gets on him when she needs attention. She's used him as transportation around the house, a napping spot, a stepping stool, and even to get high enough to jump over a gate."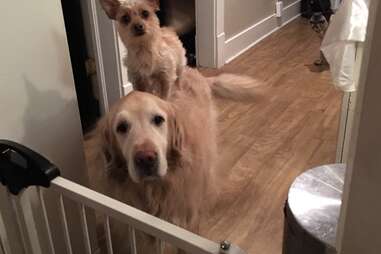 Bella is a smart little dog, and she knows that when she's on top of Hank, it's much easier to do things like beg for treats …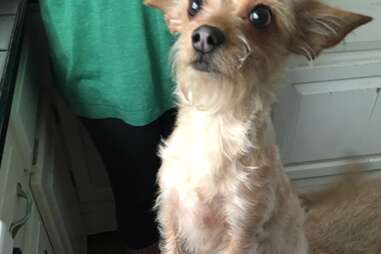 … and reach whatever food her family is cooking up that day.
Hank and Bella also have very similarly colored coats, meaning that when Bella is stretched out on top of Hank, she almost blends right in, making her incredibly stealthy.

Hank is a senior dog, and without Bella around he might choose to just sleep and lounge around all day. Bella keeps her old friend moving and exploring.
"Hank is getting pretty old so it's good for him to have a dog like Bella that keeps him active — but he doesn't have to try and keep up with her too much," Burkhart said. "She entertains herself but loves to mess with Hank while doing so. He'll run around with her but when he gets tired he can sit down and she'll just hang out on top of him for a while. They are the best."
Bella and Hank are sweet, wonderful dogs individually, and together they make the best team — especially when it comes to causing a little mischief.