Little Boy Whose Cat Passed Away Is So Excited When New Cat Shows Up At Door
"I tell him, 'When it's time for us to add another cat to the family, Charlie will send us one'" 😭❤️️
From the moment he was born, Jonathan and his cat Charlie were best friends. They took naps together, ate together and even bathed together, and there was rarely a moment that they were apart.
"Jonathan was the first baby Charlie had ever been around," Valerie, Jonathan and Charlie's mom, told The Dodo. "He took his role as baby protector very seriously."
Last June, Charlie passed away at 15 years old. His whole family was heartbroken, especially his brother Jonathan, who is now 6 years old. He misses his furry best friend so much, and ever since he passed, he's been begging his family to adopt another cat — but his mom just wasn't sure they were ready yet.
"I tell him, 'When it's time for us to add another cat to the family, Charlie will send us one,'" Valerie, who asked that her last name not be included, said.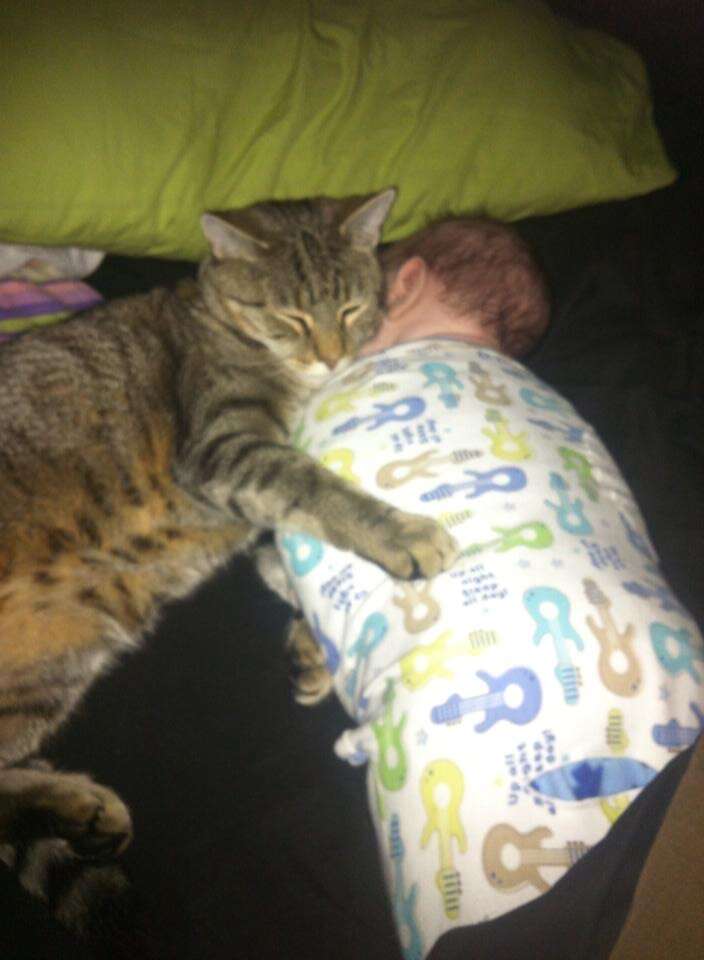 One day in late November, Valerie was at home when out of nowhere, a fluffy orange cat showed up outside. She could tell immediately that the cat was friendly, and so she sat down to hang out with him — and he came right over and settled into her lap. The pair stayed that way for about an hour until a car scared the cat away, but two nights later, he came right back again, and this time Valerie made sure Jonathan was around to meet him.
"The first day my youngest met this fluffy cat, they were both absolutely in love with each other," Valerie said. "The fluffy visitor let my youngest shower him with hugs and kisses right away. My son was obviously extremely excited, as we all were."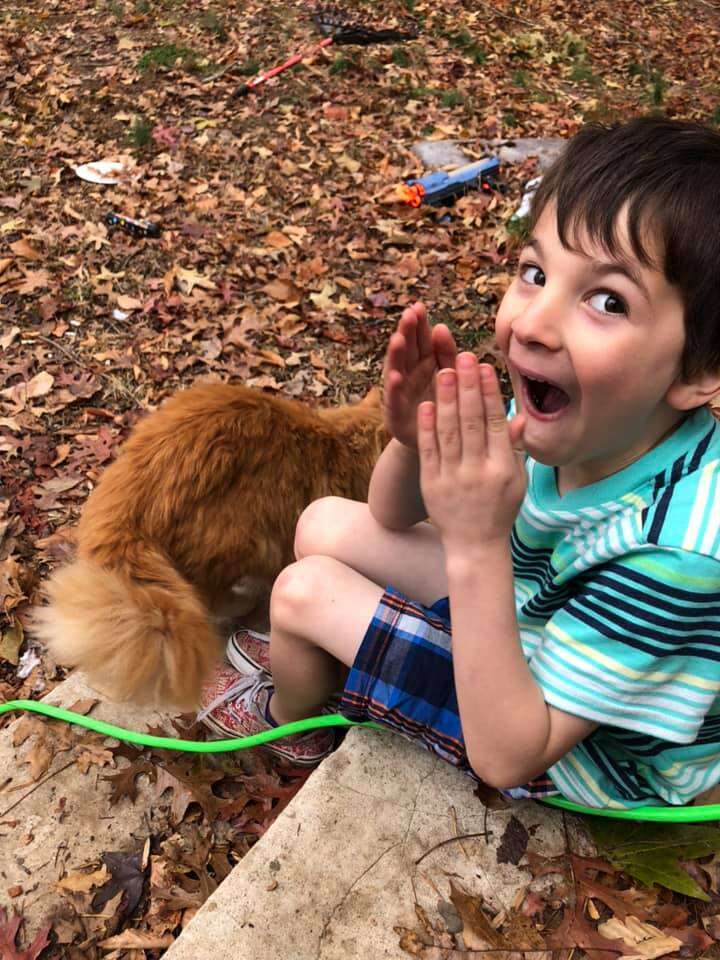 Jonathan was over the moon to have another cat to play with, and before long, the friendly cat was stopping by to say hello every single day. Valerie had a feeling he probably belonged to someone, and so finally, in an effort to track down his family, she bought him a collar that said "I love your cat," on one side and "Please call if you own cat," on the other, with her phone number included. The cat left at the end of one of his visits wearing the collar — and before long, Valerie got a call from his owner!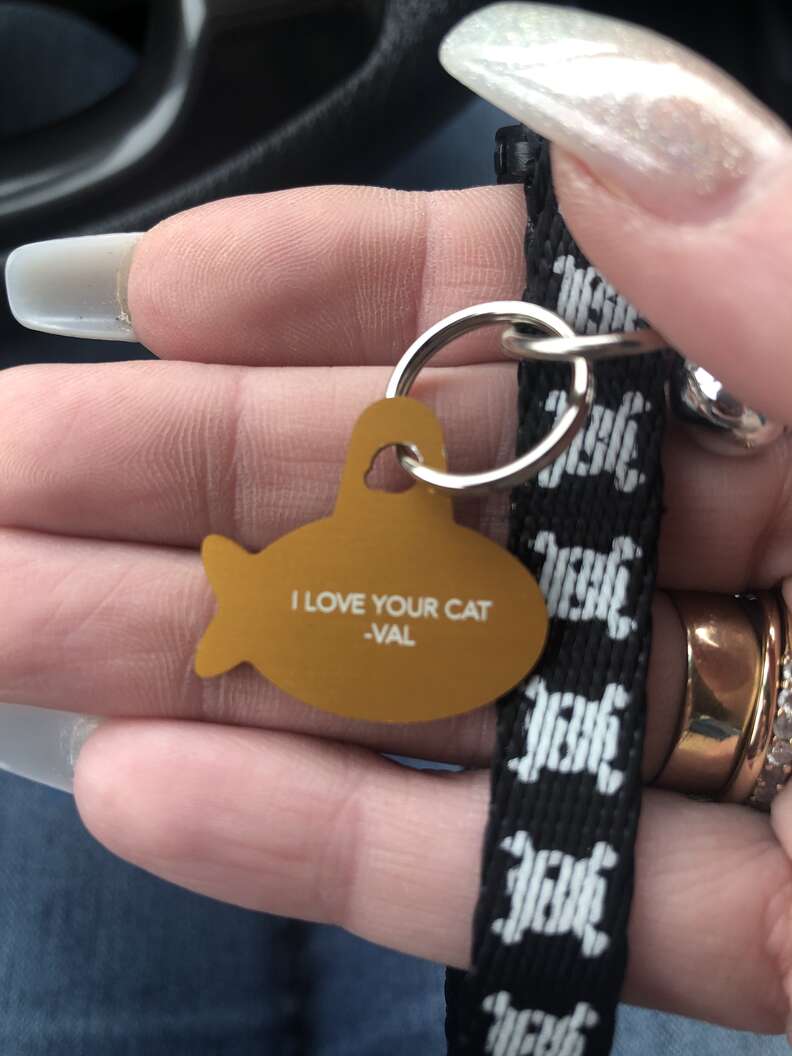 "She is a 69-year-old neighbor on the next road over and she was so happy to know that we had been loving on Garfield," Valerie said. "He showed up as a stray over a decade ago and adopted her. He never lost his stray habits, so he would rather be outside most of the day."
It seems that Garfield has a habit of finding people who need him the most — like a little boy who lost his cat and just wants a new friend to play with.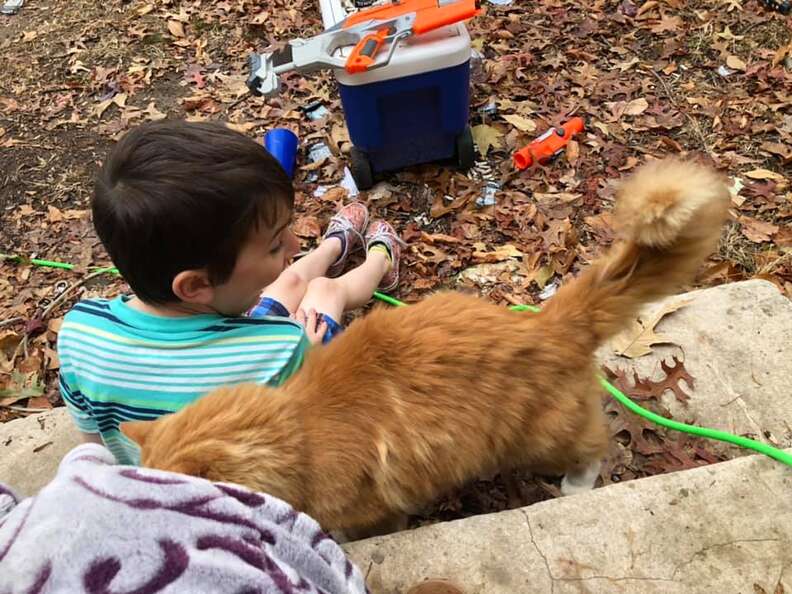 Even though Garfield has another family of his own, his mom said she'd be more than happy to "share custody," and Valerie and Jonathan are so thrilled that Garfield's visits never have to end.
"We are definitely a second family now," Valerie said.
Eventually, Valerie's family will be ready to adopt another cat, but in the meantime, they're so happy to have Garfield in their lives. Jonathan has already bonded with him so much, and it's as if Charlie sent Garfield to keep Jonathan company and be his new best friend.