Little Boy Meets 2 Pit Bulls At Shelter — And Decides To Pay Their Adoption Fees
"He makes it his mission to tell each dog and cat he sees that he loves them."
From the moment he was born, 4-year-old Jaxton Betschart has been a huge animal lover. There has never been a time in his life where there hasn't been at least three rescue dogs living in his house, and Jaxton has loved and respected every single one of them.
Currently, Jaxton's family has four rescue dogs and two rescue cats, and he gets along with all of them wonderfully. He is especially close with their dog Geo, whose calm demeanor Jaxton is very drawn to. While Jaxton's pets are all made up of different breeds and personalities, his favorite kind of dog is one that his family doesn't currently have: pit bulls.
"Over the past year he has really become aware of what his favorite type of dog is, pit bulls, and about animal rescues," Elyse Betschart, Jaxton's mom, told The Dodo. "Animal advocacy is a huge part of my life, from adopting, volunteering, sponsorship and education, and so it only made sense that Jax would become a (slightly) overzealous animal lover like me."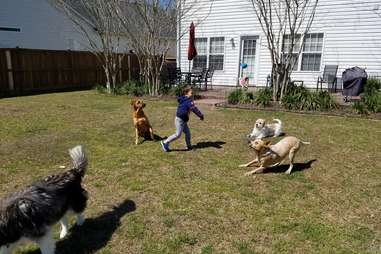 Jaxton has visited animal shelters on many occasions, and likes to call them "Cute Factories." Whenever he and his mom have spare time, they like to visit different shelters in the area, so that Jaxton can give a little love and attention to all of the dogs and cats still waiting to find their forever families.
"He likes to visit with the dogs and cats and ask them how they're doing and to wish them good luck on finding their new family," Betschart said. "He is very cognizant that people give up their animals for many reasons, and he makes it his mission to tell each dog and cat he sees that he loves them."
One day, Betschart was driving around with Jaxton in the car when, on a whim, she decided to take him to the Charleston Animal Society (CAS), a shelter he had never been to before. As they were walking through the shelter, saying hi to all of the animals, Jaxton spotted a pit bull named Penelope and immediately fell in love with her.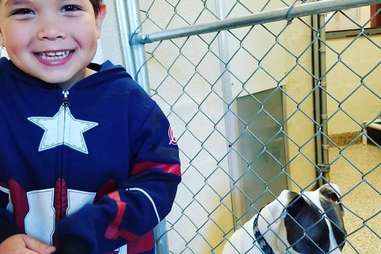 "Jaxton wanted to adopt Penelope, a petite spotted pittie, because he loved the spots on her face, and decided that he would name her Spot," Betschart said.
Jaxton's dad is a Marine, and so unfortunately, his family can't currently adopt a pit bull because if they ever have to move back to base housing, pit bulls aren't allowed there. Instead, though, Betschart had the idea that Jaxton should sponsor Penelope.
CAS has a program called Guardian Angel where a person can pay a portion or all of an animal's adoption fee, and when Jaxton's mom told him about it, he was immediately overjoyed and eager to participate.
"Once I told Jax we could do that, he said it was 'a good deal' and told me he had money at home to pay for Penelope/Spot," Betschart said. "I told him that I would be happy to 'loan' him the money for Penelope/Spot, so we started walking out of the dog room and right before we left, Jax saw Tank."
Tank was another pit bull at CAS waiting for a home, and Jaxton immediately fell in love with him too — but for a very different, and insanely adorable, reason.
"He could not believe there was a puppy 'big and chunky' just like him," Betschart said. "Jax begged me to adopt Tank so the two of them could play Incredible Hulk together and he wanted me to know that Tank was his new best friend in the whole wide world."
Since Jaxton couldn't adopt Tank, his mom said he could sponsor him, too, and so Jaxton proudly walked out of the dog room and told the shelter staff that he was going to be an angel for Penelope and Tank. The staff took Jaxton's picture with both dogs, and he officially became their little Guardian Angel.
Jaxton may be young, but he is already making an incredible difference in the lives of animals. He understands that all animals deserve love and compassion, and thanks to him, Penelope and Tank will hopefully have an easier time finally finding their loving forever homes.