Footage Shows Man Abandoning Tiniest Puppies In The Middle Of The Night
They didn't even have fur yet — but are looking so much better now!
Brother and sister Lhasa apsos, Perdy and Pippin, got their first taste of the outdoors when they were dumped from a tote bag over a garden wall in Bradford, England. The then 6-week-old puppies were far too young to be separated from their mom, especially under such horrific conditions.
Despite the odds stacked against them, the two small dogs were stronger than they seemed, withstanding over five hours of bad weather by cuddling together, CCTV footage would later reveal. Thankfully, rescuers were alerted to their presence, and arrived just in time.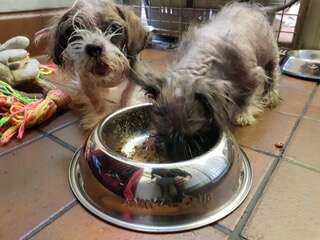 "The RSPCA was called and they were recovered by an inspector at around 2:45 a.m. It was a cold night and had been raining," Georgina Meek, an animal care assistant at the RSPCA, told The Dodo. "The pups had been dumped at 9:30 the previous evening as could be seen on the CCTV."
The pups belong to a "holy breed" once kept by Tibetan monks to protect Buddhist monasteries. Normally a breed known for long, luxurious hair that sweeps the floor, when Perdy and Pippin arrived at the shelter, it was nearly impossible to identify them. They were in an "awful state," according to Meek, and almost completely bald, with only a few wisps of fur around their paws and face. The puppies were additionally underweight, and clearly suffering from a painful skin condition.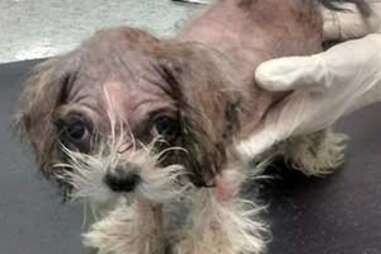 "As we are not yet sure what their condition is, we have been treating them as if their illness is contagious," Meek said. "They moved straight into our isolation unit so [as] to prevent interaction with other animals." The two get weekly medicated baths to help with their skin, and are being fed four times a day to help them grow. They are kept in a room with radiators blasting to keep them nice and warm, but that doesn't stop them from snuggling up together. "They absolutely love each other and cuddle up together for naps — it's so cute," Meek, who has been caring for the puppies, told the RSPCA.
Though the puppies' regimen has been a handful, the staff doesn't mind the work. "The only challenges [I've] faced with caring for them is not being able to kiss them all over their beautiful faces," Meek added.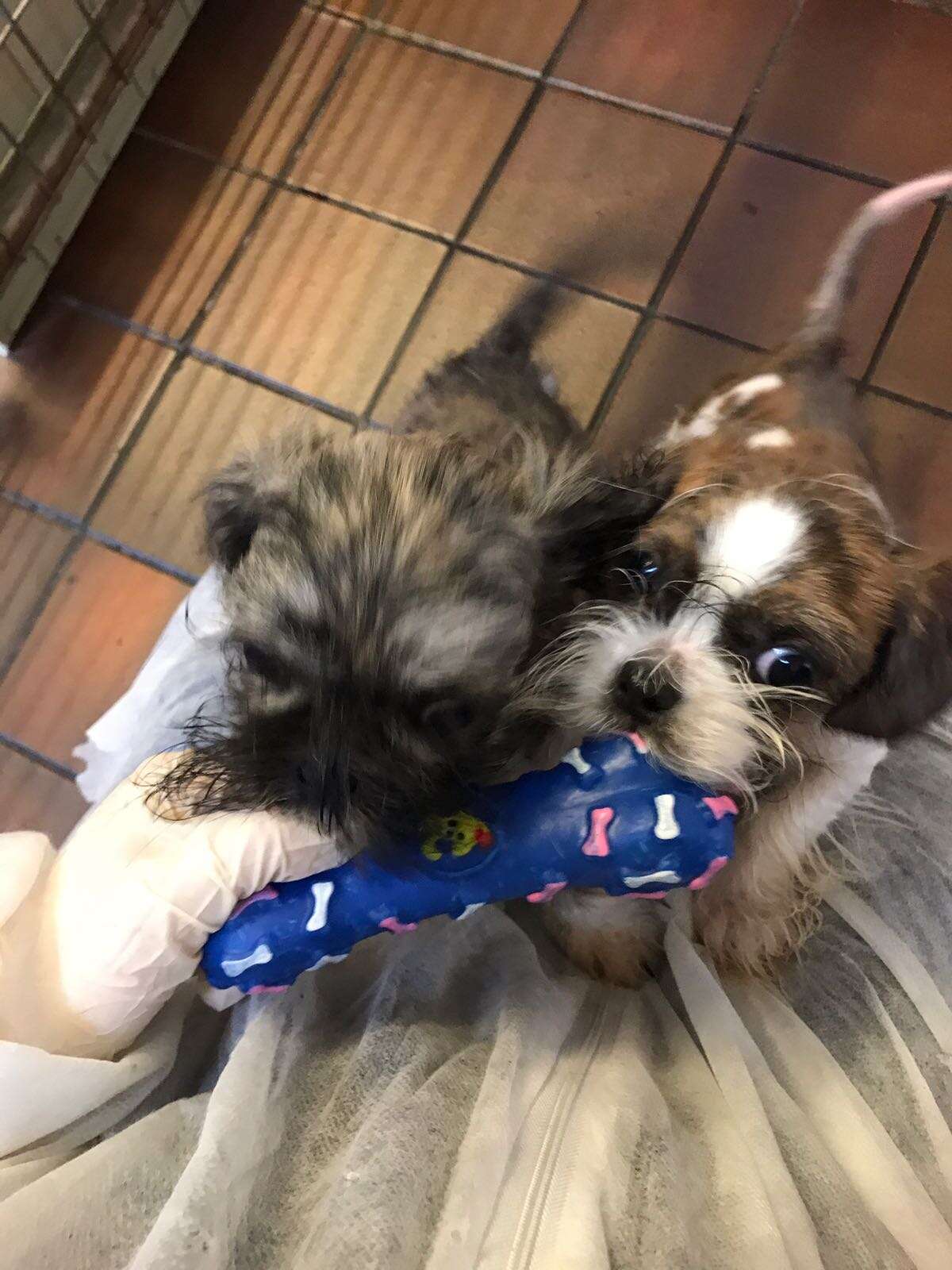 A month into their stay at the RSPCA, the puppies' health has improved, their fur is slowly growing back and their personalities have come out full-force.
"Perdy is a cheeky monkey! She is very naughty and so full of character," Meek said. "She loves biting hands and pulling on clothing and barking at you when you aren't paying her attention."

"Pippin is a lot calmer than his sister. He is happy sitting on your knee for a cuddle and tugging on a little teddy," Meek noted. "He will often take himself out of our play sessions and will sit in his bed where it is quieter. Perdy definitely is the boss amongst the two!"
Unfortunately, Perdy and Pippin still have a long way to go before they can start searching for a forever home. "Once we are comfortable that they are fit and healthy and have been cleared by our vet then they will go up for adoption where we will seek out five-star homes for them, hopefully we will be able to rehome them together," Meek added.
The Lhasa apso breed is popular with breeders and puppy mills, and Perdy and Pippin are by no means the only puppies who find themselves in a difficult situation so young.
"Unfortunately these two are a plain example of the puppy trade gone wrong," Meek explained, "which makes it crucial that there should be more restrictions on the industry so that no pups should have to go through what these two have."
Anyone with information on the abandonment of Perdy and Pippin, or the whereabouts of their mother, should call the RSPCA's appeal line at 0300-123-8018 and leave a message. You can
donate to the RSPCA here
.