Grandma Gets A Touching Letter From Her Dog Who Passed Away
"I'll be watching for you as I always had, waiting at the window."
In a quiet, peaceful corner of Ashley Bowerman's grandparents' house stands a sweet memorial to a dear little soul who had meant the world to them.
Ashley Bowerman
After more than a decade of offering his loving companionship to them each day, the couple's dog Tucker passed away last year at age 12. Naturally, Ashley's grandparents were both devastated, wanting to cling on to the pup's precious memory as best they could.
"He had always been a huge part of their life," Ashley told The Dodo. "They have been heartbroken ever since."
Creating that peaceful shrine for Tucker did little to ease the heartache, however, especially for Ashley's grandma. But then she received a letter that did.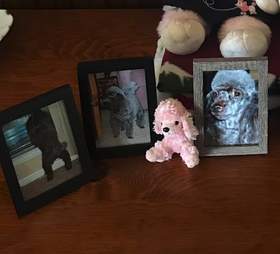 Ashley Bowerman
During the holidays last year, when Tucker's absence felt particularly saddening, Ashley's grandfather wrote a note to his wife on behalf of the little dog they'd been missing.
Ashley Bowerman
"Just wanted to let you know that I could not have had a better mom," the letter reads. "From the time I was just a pup to the time you had to let me go, you took very good care of me. Now I am in this beautiful place free of all pains. I'll be watching for you as I always had, waiting at the window. Have a wonderful life till then. -Tuckie"
Nothing can bring their dog back, sadly, but these tender words written in Tucker's spirit brought Ashley's grandmother the comfort she needed.
And indeed, Tucker's ashes are by the window where he kept watch for her in life, and where the pup's faithful spirit no doubt dwells still in their hearts.
Ashley Bowerman