Dog Out For A Walk Ends Up Trapped In Frozen River
"He just bounded off hoping for a little swim."
Whenever Hardy goes out for a walk, he always likes to take a dip in the river near his house. On his most recent walk, the 9-year-old black Lab headed to the river as usual — without noticing that it had partially frozen over. The poor dog ended up stuck in the ice, his body half submerged in the frozen water, his paws clinging to the ice for dear life.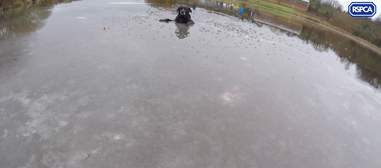 RSPCA
"He had been out walking with his dog walker when he had run into the river not realizing that the minus-6 degree weather we've had recently had frozen the water," Jaqui Miller, an inspector with the RSPCA, said in a press release. "His dog walker told us he's so used to paddling in the river and the sea that he just bounded off hoping for a little swim." 
The RSPCA and Northumberland Fire and Rescue Services arrived on the scene, and knew they would have to work together to quickly and safely rescue the trapped dog. The water he was submerged in was absolutely freezing, and he wasn't going to be able to stand it for much longer. 
RSPCA
In order to rescue the dog, firefighters attached Miller to a rope, and had her very slowly crawl all the way out to Hardy, a ways away from shore, using an ice pick.
RSPCA
"I made sure I was securely fastened to the rope and started across the ice," Miller said. "As I got closer to Hardy I could hear him whimpering and I kept calling back to him to try and reassure the poor dog. I managed to grab him by his scruff and help Hardy push himself up onto the ice. He must have been freezing, because he didn't hang around, but scampered off towards his dog walker." 
RSPCA
Once Hardy was finally free from the ice, he was able to carefully trot back across the frozen river and into the arms of his dog walker, who had of course been so, so worried about him.
"The firefighters then tugged on the rope which was attached to me and pulled me back onto land where I could check Hardy over," Miller said. "He had a small cut on his paw and was pretty cold, but apart from this he was absolutely fine."
RSPCA
Luckily, Hardy made it through his ordeal without any major injuries or issues, and after being thoroughly dried off with towels and given lots of attention, he was finally able to head home. Miller went to check in on Hardy in his home later that day, and was happy to see that he was doing well, thanks to her and to everyone else who gathered together to help save his life.
"He's quite a strong dog who's been used to swimming in the North Sea, so he seemed pretty unfazed by it all and was just happy to be home where he was even treated to a sausage or two," Miller said.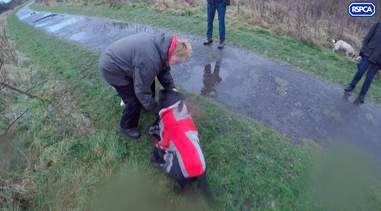 RSPCA