Kittens Born Under Stairwell Try To Be Brave As Stranger Rescues Them
Their mom watched the whole time to make sure they were safe.
When a stray cat gave birth to four very sick little kittens under a stairwell, it was impossible for anyone to reach them — and so residents of the building knew they needed to find help immediately.
Hope for Paws, a rescue based in Los Angeles, found out about the trapped kittens and immediately drove over to help. When the rescuers arrived, they found that the kittens were deep inside a very small space — almost too small for anyone to squeeze into. The little kittens weren't going to make it without help, though, and so Eldad Hagar, founder of Hope for Paws, did what he had to do …
Hope for Paws
… and squeezed himself into the tiny space to locate the kittens.
Hope for Paws
The poor kittens were, of course, terrified of the gigantic human who had suddenly appeared inside their home, and tried to stay huddled together in the back of the space. Wanting to get them out of there as quickly as possible, Hagar did his best to grab the first kitten …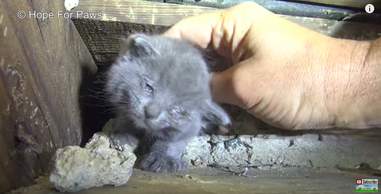 Hope for Paws
… and one by one began passing them over to the rest of the rescuers outside the crawlspace.
Hope for Paws
Finally, there was only one kitten left to rescue: the smallest, sickest kitten of them all. Hagar quickly realized that the last kitten was blind, and therefore couldn't see what was going on at all. He was able to use some debris to push the terrified kitten toward him, and then pulled him close enough so that he could pet him and reassure him that everything was going to be OK.
Hope for Paws
After a few minutes of this, Hagar passed the last kitten out to his colleagues …
Hope for Paws
… and then carefully extracted himself from the very tiny space.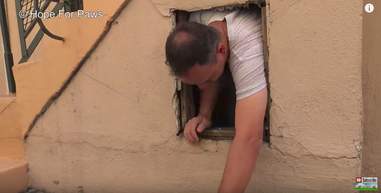 Hope for Paws
As soon as all of the kittens were safe and sound, the rescuers set about trying to catch their mom, too …
Hope for Paws
… who had been watching the rescue of her babies the entire time.
Hope for Paws
Knowing the terrified mama cat probably wouldn't come to them willingly, the group set a trap for her, and it wasn't long before she was safe and sound, too. Soon, the entire kitten family was on its way to the vet to get checked out.
Hope for Paws
Once at the vet, the kittens were treated for their infections, and after a while, even the sickest little kitten was finally able to see again. Rescuers decided to name the kittens Cabbage, Kale, Arugula and Broccolini, and the mom Parsley. The entire family is now happy and healthy, and ready to go off to their loving forever families.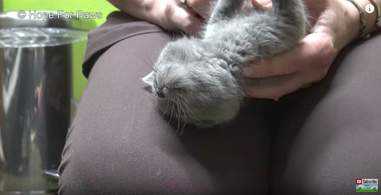 Hope for Paws
If you're interested in adopting mama Parsley, you can contact LA Animal Rescue. If you're interested in adopting one of the kittens, you can contact the Veterinary Care Center at 323-919-6666. 
Watch the full video of this family's rescue below: