Shelter Camera Catches 4 Kittens Making An Adorable Escape
Cutest breakout ever ❤️️😻
Ben, Bill, Richie, Eddie and Beverly were brought to Columbia County Humane Society in Wisconsin at the end of November. Their mom was found as a stray, very pregnant, and a kind woman took her in and raised the kittens until they were old enough to be adopted. Since arriving at the shelter, Beverly has already been adopted, but the four boys are still waiting, causing mischief and entertaining the staff every chance they get.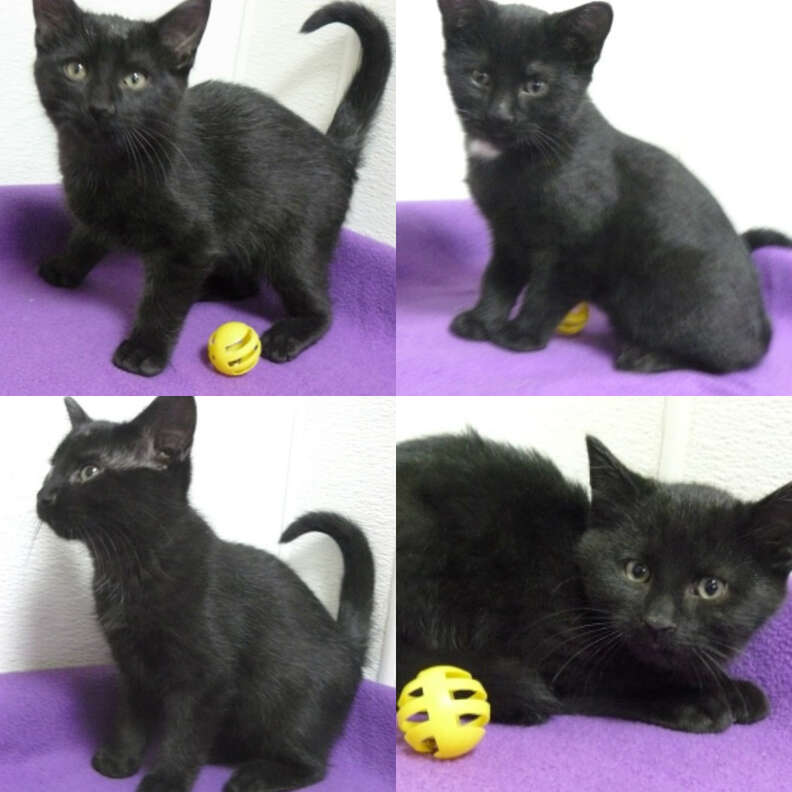 "They are the sweetest kittens in our cat room and we have quite a few sweet ones, so that is saying something," Pat Klitzke, board of directors member at Columbia County Humane Society, told The Dodo. "Beverly was a little bit shy but the boys have never been shy. Bill likes to talk and hog the attention. He talks a lot! All of them are big cuddlers that will fight for attention."
Around 7 a.m. one recent morning, the four brothers were all snuggled up in their crate together when suddenly they decided they'd had enough rest. On a whim, they attempted to open their cage …
… and to their delight, the escape attempt actually worked!
"That cage doesn't close as well as our other cages and we usually have a clip on the door so it can't be opened," Klitzke said. "One of the staff members must have forgotten to clip the door shut."
Immediately, the kittens climbed out of their crate and began running along the top of it, and as they frolicked, the security cameras picked up on the movement and alerted the staff that something was amiss.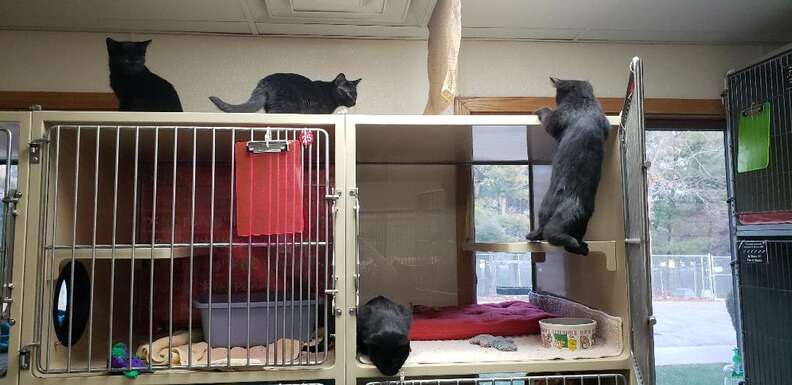 "We had a staff member coming in to clean cages around 8:30 in the morning so we left the kittens loose until the staff member got there," Klitzke said. "They made it to the top of our cages but it is a long way down to the floor. So they spent their time running across the top of the cages, which was about 10 feet long. They were loose about an hour and a half."
Watching the footage from the security cameras, the staff members couldn't help but smile at how much fun the kittens were having. They looked so excited that they had somehow managed to pull off the grand escape.
Of course, the fun had to come to an end eventually, and before long the kittens were back in their crate together, likely exhausted from their impromptu adventure. The four brothers definitely have a lot of energy — and hopefully soon, they'll be able to use that energy to run around and play in their new forever homes.