Kittens Dumped Outside Shelter In Box With Their 'Mom'
They're all safe now and looking for forever homes.
Last Thursday, Margie Morris went into work at Project Purr Animal Rescue, a cat rescue facility in Mobile, Alabama, and discovered two cardboard boxes sitting outside the door, one stacked on top of the other.
The boxes had holes punched into them, and they were loosely wrapped with duct tape. Morris suspected there were cats inside — and she was partially right. When Morris and the shelter staff opened the top box, they found a mother cat and two 5-week-old orange kittens.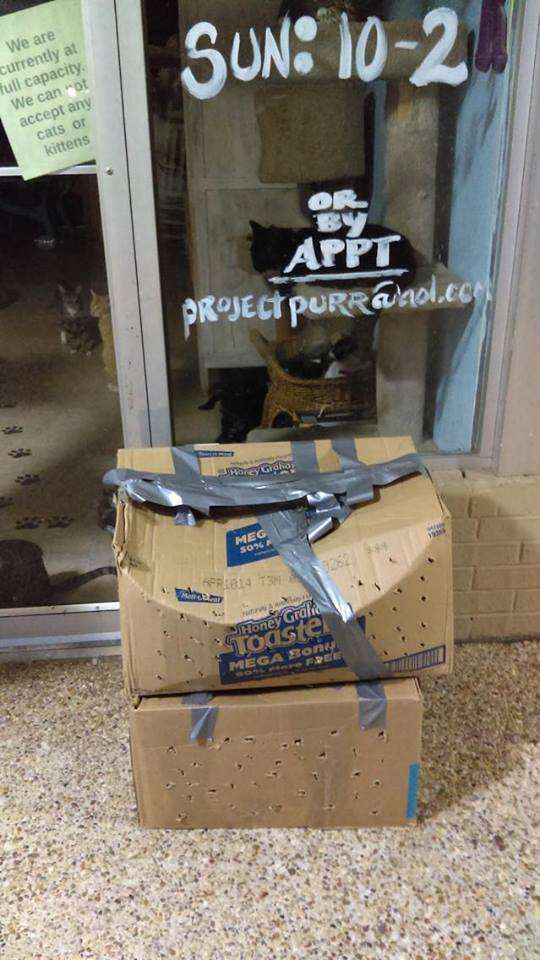 The other box, however, was empty. Morris thinks another cat had been trapped inside that box, but managed to escape.
"As it turned out, on Saturday morning, there was another cat spotted running around the parking lot of our little strip mall, and myself and three team volunteers tried to catch her," Morris, the director of Project Purr Animal Rescue, told The Dodo. "She was getting up in the car engines … and we couldn't catch her. It was pouring down rain. We tried to bribe her with food, but we just were unsuccessful. We're hoping that she's still out there somewhere — we've been leaving food out, but we have not seen her."
While the Project Purr team will continue to look around for the missing cat, they're doing everything they can to help the mother cat, whom Morris named Caroline, so that she could feed and care for the kittens, Shilo and Neil.
"We set up a little bed and a little kennel for her to keep them safe," Morris said. "We're giving her extra cat food with vitamins."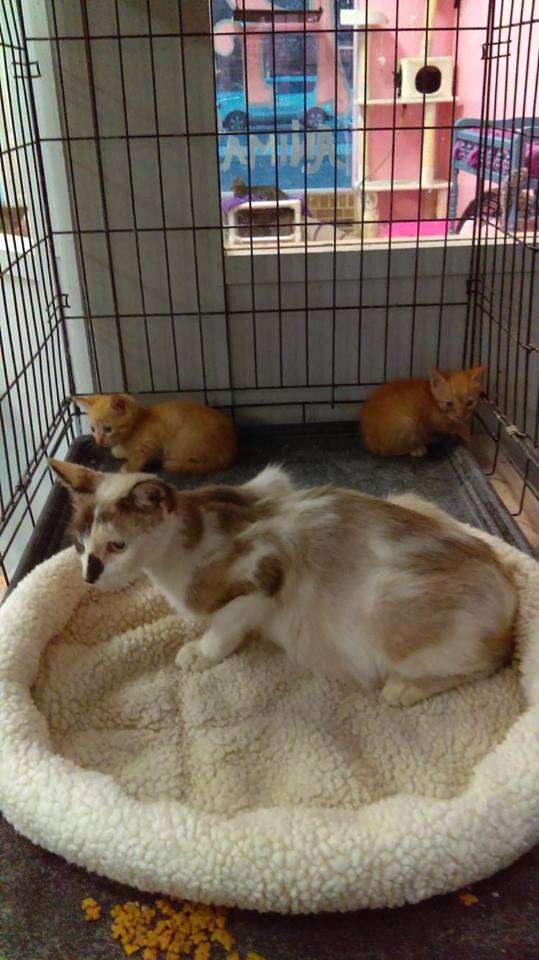 Morris housed the orange kittens in with the mother, and the family is doing well.
"As small as they are, the kittens will play, and they're wrestling each other and jumping around, and they cuddle up next to the mom," Morris said. "She loves them, and she's taking very good care of them."
The orange kittens were still nursing from Caroline, but Morris noticed something else about Caroline — she was pregnant. Initially, Morris thought that she'd become pregnant shortly after giving birth to Shilo and Neil, and that she'd have her next litter in a couple of weeks.
But the shelter staff got a big surprise. Around 5 o'clock last night, Caroline went into labor, giving birth to four healthy kittens. When Morris did the math, she realized it was impossible for Caroline to be the orange kittens' mom as well — she'd only been their surrogate mom. Morris also wondered if the cat who escaped the second cardboard box was the real mother.
Caroline could have also escaped from the cardboard box, Morris explained, but she hadn't — she'd stayed with Shilo and Neil.
"I'm just grateful that she didn't run away and leave the babies," Morris said. "I think that might be the best thing I love about that cat — she did not leave those babies."
And now Caroline's family has grown — and she's taking excellent care of her four newborns.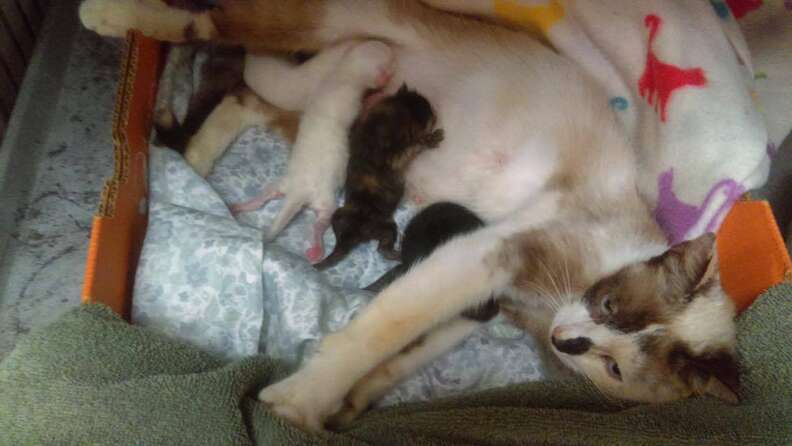 "She's the best mom ever," Morris said.
Sadly, Caroline and the orange kittens' story is far too familiar. Over the past five years, Morris estimates that people have dumped cats outside the shelter at least 15 times. In fact, it happened again two nights ago.
"Somebody left a box of eight tuxedo kittens, and it looks like two different litters — three in one litter and five in the other litter," Morris said. "It's really unsafe for the cats because we're not there in the evenings. And if we weren't there, those kittens probably would have been dead — they would have been hit by a car."
Thankfully, the tuxedo kittens — as well as Caroline and her brood — got help in time.
Once the orange kittens have been neutered and vaccinated, they'll be up for adoption — and so will Caroline and her newborns. If you're interested in adopting any of these animals,
contact Project Purr Animal Rescue
. You can also help care for this special mama cat and the kittens she loves by
making a donation
.