Man Spots Cat Bed In Park And Almost Keeps Walking — Until He Hears Tiny Meows
They were only 10 days old 💔🐱
A man was walking through a park when he spotted an igloo-style cat bed sitting in a cardboard box in the middle of the park. At first he didn't think anything of it, figuring it was just an unwanted bed someone had discarded — but before he could walk away, he suddenly heard tiny meows coming from inside. 
The man went over to investigate, and found four tiny 10-day-old kittens huddled up in the bed all alone. It was freezing out that day, and since the man knew the kittens wouldn't survive much longer on their own, he quickly contacted the RSPCA for help. 
RSPCA
"The kittens were lucky that a passerby spotted the cat bed and realized there were kittens meowing inside otherwise they may not have been found in time," Tina Hallas, an animal collection officer with the RSPCA, said in a press release. "It was about 4 degrees [Celsius] which although cold is a lot warmer than the snowy weather we've had recently. Thankfully the Beast from the East had moved on or it could have been a different story for these newborn kittens."
RSPCA
Hallas went out to collect the little family, and took them home with her for the night before sending them off to a foster home. The kittens are so young that they need round-the-clock care, but so far, them seem to be recovering and doing OK.
RSPCA
"It's still early days but so far they are feeding and doing well," Hallas said. "I took the kittens home that first night so that someone could be on hand to feed them round-the-clock. They are more time-consuming than a baby as they need feeds every two to three hours so it was a sleepless night! It's not the first time I have taken my work home with me!"
The kittens will remain in their foster home until they're old enough to be adopted out, and then the RSPCA will make sure to find them the perfect forever homes. In the meantime, they're searching for whoever could have abandoned these kittens so cruelly, leaving them to fend for themselves in the freezing cold.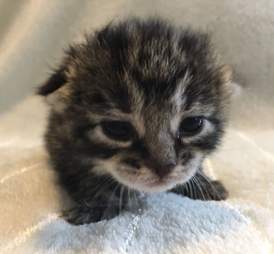 RSPCA
"There is never an excuse to abandon an animal like this and there are plenty of other options for someone who can no longer cope or look after their pets," Hallas said.
Anyone with any information about who could have abandoned these kittens can contact the RSPCA at 0300 123 8018.
To help other animals in need, you can
donate to the RSPCA
.