Kids Swoop In To Save Kitten On Sidewalk In Casts
She's so happy in her new home ❤️️
A group of kids were playing outside their apartment complex in Phoenix, Arizona, when they suddenly came across a very tiny kitten — and quickly realized that something wasn't quite right with her.
"I'm sure they had no idea what to make of what they saw and they took her home to ask their parents what to do with her," Kathy Hamel, director of Arizona Shih Tzu and Small Breed Rescue, told The Dodo.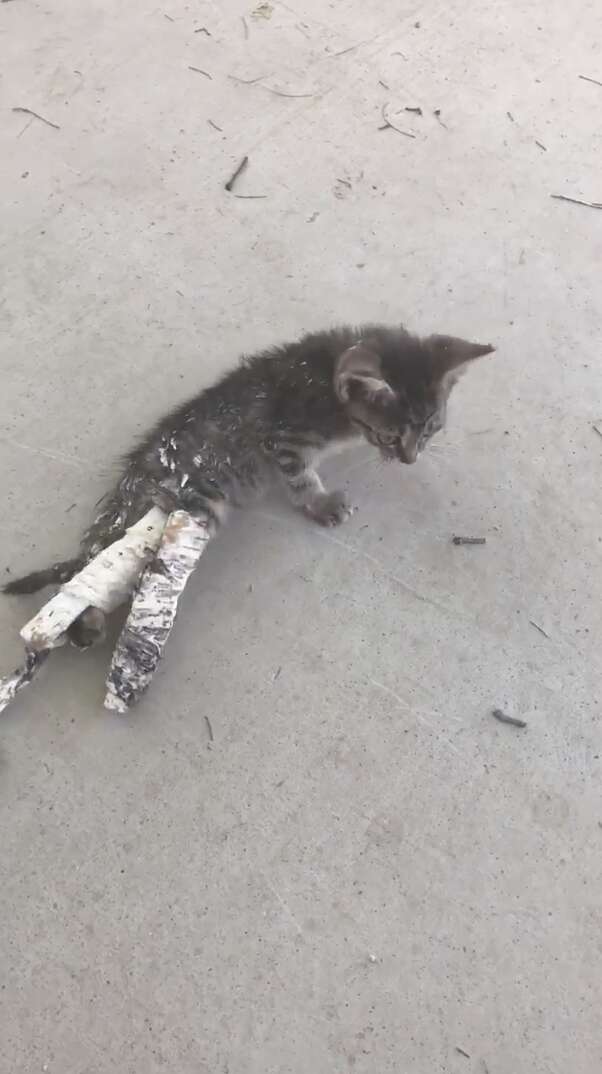 The young kids rushed the kitten inside one of their apartments, and their parents were shocked and confused when they saw that the kitten had two makeshift casts completely covering her back legs. Why someone would try to help a kitten like that and then just abandon her, no one could quite figure out. Assuming the casts meant her legs were broken, the parents decided to contact Hamel, who is well-known in the rescue community, in hopes that she could somehow help the tiny, struggling kitten.
"I knew the minute she arrived I would run her straight up to my vet," Hamel said. "When she was brought to me, there was a little girl maybe 4 years old who was one of her finders. She had named her Cupcake and I told her that I loved the name and would keep it!"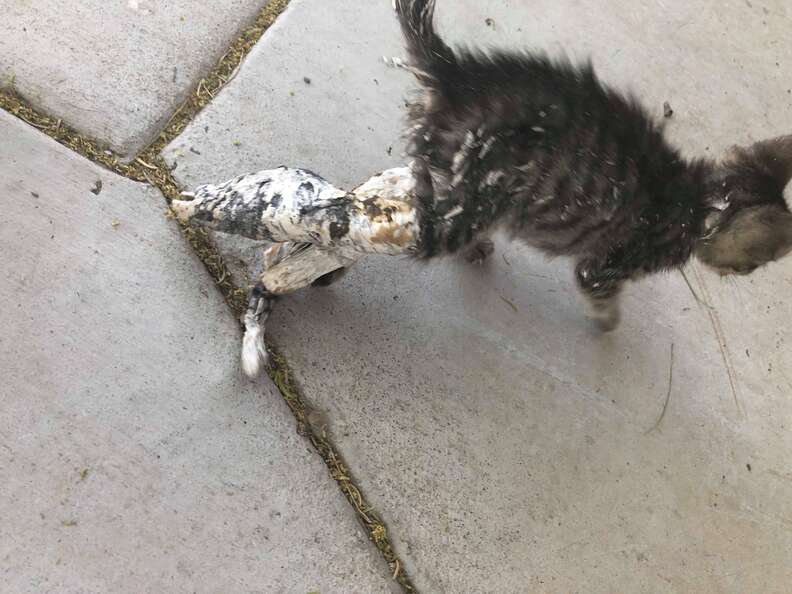 As soon as Cupcake was safely in Hamel's care, the pair hopped into the car and headed to the vet to figure out exactly what was wrong with her. Even though the kids and their parents had filled Hamel in on the situation beforehand, looking down at tiny little Cupcake, she was still shocked and bewildered. Besides the casts, Cupcake was also underweight, dehydrated and malnourished, and Hamel knew she wouldn't have lasted more than another day on her own like that.
"She was quite a sight," Hamel said. "I have to admit I have never seen anything quite like it. Besides the strange apparatus that she was dragging around behind her she was so incredibly tiny! She looked so much bigger in the picture I had been sent."
It took about half an hour for the vet to get the casts completely off of Cupcake's legs. While the first one came off pretty easily, the other one was wrapped extremely tight, causing the poor kitten some pain, and the vet had to soak the plaster in order to loosen it enough to eventually get it off. Once the casts were off and Cupcake had been examined, everyone was shocked to discover that her legs weren't broken at all — in fact, they worked perfectly fine.
The casts that Cupcake had been wearing were intricate, involving perfectly sized pieces of wood, fabric strips and plaster, and had clearly been put on purposely by an adult, which left everyone wondering: Why on Earth anyone would do that to a tiny, helpless kitten?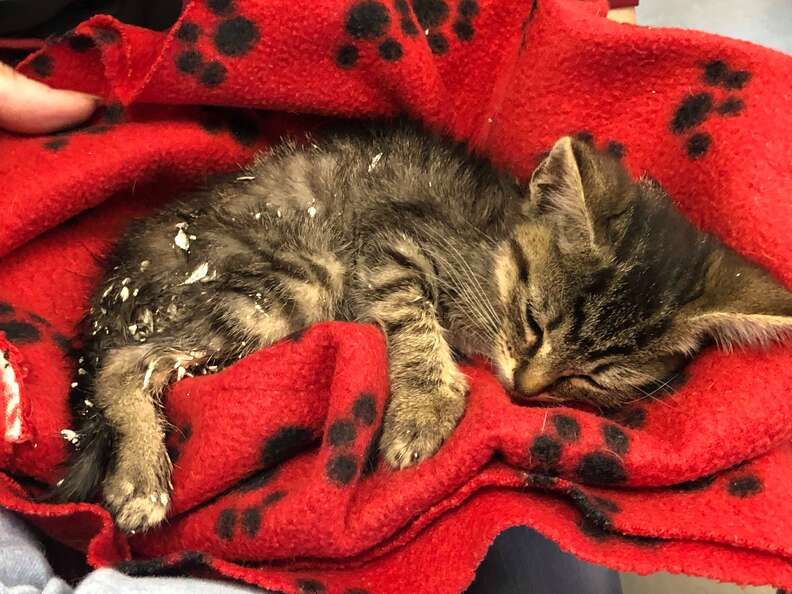 Without her casts, Cupcake weighed less than a pound, and it was determined that she was around 6 weeks old. As the veterinary staff went about treating Cupcake and making sure she was in otherwise good health, everyone was surprised and delighted when they realized just how sweet and easygoing the kitten was, despite everything she had been through.
"She is a tough little girl with a wonderful spirit," Hamel said. "She has been so tolerant of all the pulling and washing and prodding and needles and thermometers and being handled by countless people, all who are only trying to help her. She purrs and craves attention and seems to hold no ill will towards humans for whatever they have done to her."
While Cupcake isn't completely out of the woods yet, she's doing incredibly well considering how weak she was when she was found. She still needs to gain some weight and learn how to walk on her legs again because they were weakened from not being able to use them. Overall, though, Cupcake has proven to be quite the little fighter, and is absolutely adoring all of the love and attention she's getting from her new friends.
"She pushes her head against your finger to make you rub on her and scratch her head," Hamel said. "She loves to be petted but is so tiny you can only pet her with [a] finger or two and not a whole hand yet."
Cupcake already has a wonderful family lined up to adopt her once she's ready, and in the meantime, they're going to foster her and help her along her journey to recovery. Once she's fully healthy again and has been spayed and vaccinated, her new family will be able to make it official, and everyone is so thankful for the great life that Cupcake has ahead of her.