Woman Drives 45 Miles — Then Hears Meowing Coming From Her Fender
"You could only barely see [her] through a small hole in the open driver side door."
It was a normal day for Virginia resident Eunika Brown — until she started to hear meows coming from her car.
She had just driven about 45 miles and stopped the van to have lunch when she noticed the tiny cries. Brown opened the driver's side door, and through a crack near the fender, she spotted her.
A small kitten had climbed into the fender well of the car, and was completely stuck.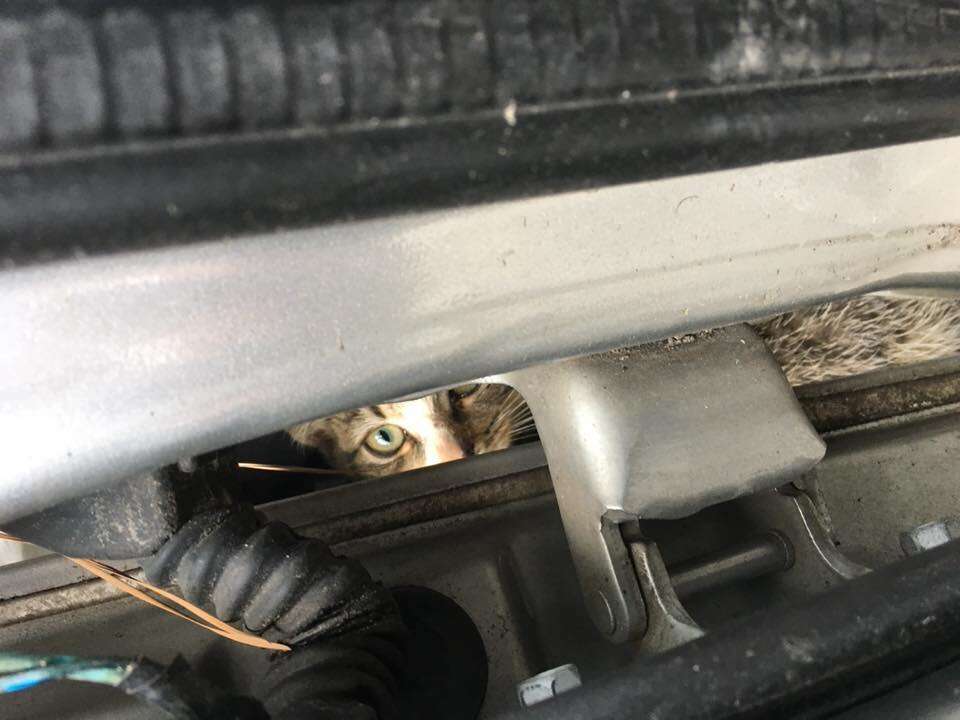 Brown called Petersburg Animal Care & Control right away, and Chief Debbie Broughton got in touch with a local mechanic shop, Leete Tire & Auto, to help.
"We told her to come on in and our service manager would assist," Lea Tatum Rowsey, vice president of Leete, told The Dodo. "Once [they] arrived, our service manager, Warren Strum, jumped to the rescue and started removing the fender liner. The kitten, which you could only barely see through a small hole in the open driver side door, was meowing and clearly in distress."
While it's unclear how long the kitten had been trapped there, it's likely she was there all day, given how stressed she had become. She had had a very long morning, but was finally almost safe.
After about 10 minutes of work, the kitten was finally freed. Chief Broughton checked her out right away — and aside from being quite thin, she didn't have any injuries.
"Chief Broughton informed us [that] normally in rescue situations like these, they name the animal from the car it was rescued from," Rowsey said. "So everyone affectionately praised 'Kia' for being so brave."
The kitten had no collar or further identification, so an animal control officer was about to drive out to pick her up. She would have likely been brought to the local shelter for a health check and to be put up for adoption. But instead, an employee from the shop who witnessed the rescue stepped in and adopted her right on the spot.
Despite the frightening situation she just endured, little Kia warmed right up to her new dad, a service technician named Chuck Williams. She's been home for about a week now — and is so happy with her new family.
"He is a longtime cat lover and instantly bonded with Kia," Rowsey said. "We were so overjoyed to not only assist in the safe rescue, but also to witness her finding, or hitching a ride, to her new forever home."