Someone Threw This Tiny Kitten Onto A Busy Highway And Left Him There
Two people stopped traffic in order to rescue him.
A woman was driving along a Los Angeles freeway when she noticed something furry huddled up in the carpool lane — and was horrified when she realized it was a tiny kitten. Unable to go back or pull over without causing an accident, the woman quickly contacted Hope for Paws, hoping that they could get to the poor kitten before it was too late.
As soon as they got the text, Hope for Paws rescuers Eldad Hagar and Loreta Frankonyte, who were on their way back from another rescue, quickly drove out to the spot on the freeway that the woman had described. They spotted the kitten as they were passing him, and were able to safely pull over next to an exit. They knew they had to act quickly in order to rescue the kitten, as traffic was zooming by all around him.
"Once we were ready, Loreta Frankonyte and I broke into the freeway and stopped traffic completely," Hagar wrote in a video about the rescue. "Not knowing the kitten's state of mind, I told Loreta I will approach from the front so he can see me, and she will surprise him from behind."
Following the plan, Frankonyte quickly came up behind the kitten …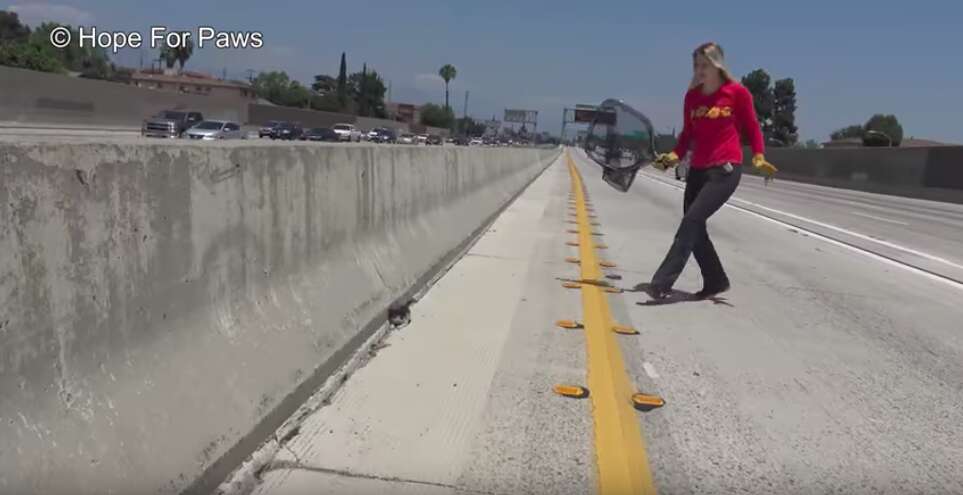 … and was able to grab him before he even realized what was happening.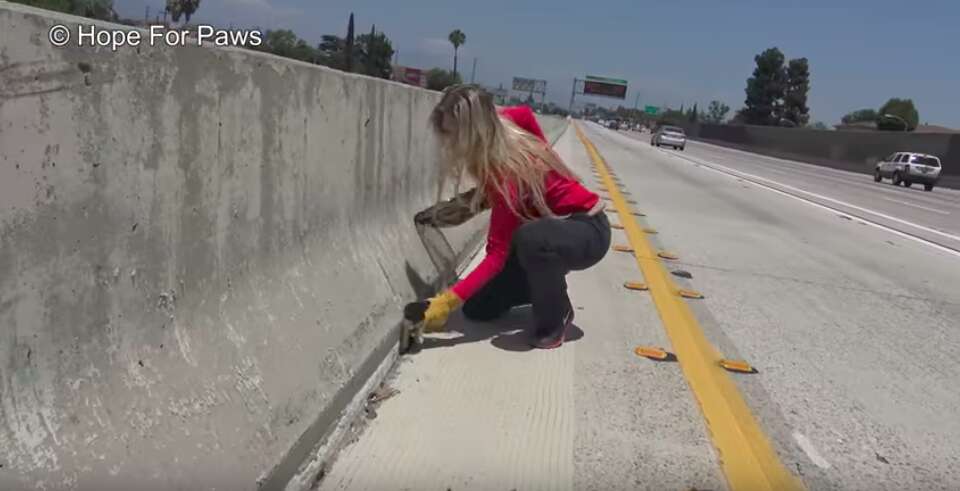 "The plan worked perfectly, and people were really happy to see us save little Napoleon," Hagar said.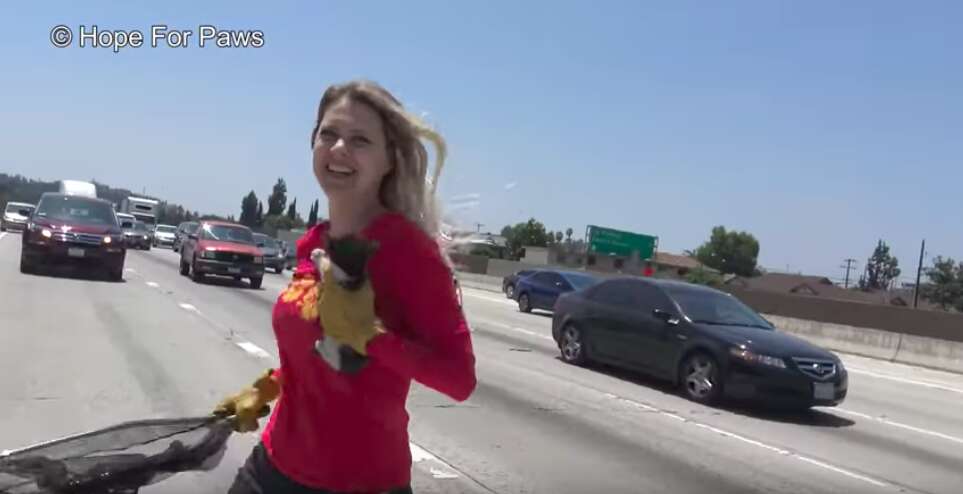 They quickly got him back to the car, where he snuggled up in Frankonyte's lap almost immediately, so happy to finally be safe. Hagar called the woman who had alerted them to Napoleon to thank her for helping save his life, and then they drove straight to the vet to get the little guy checked out.
Once at the vet, Napoleon's rescuers offered him some food and he ate it eagerly, and it was clear that he had gone hungry for some time. The tiny kitten was so sick and weak, there was absolutely no way he could have made it onto the freeway on his own — which meant that someone had probably tossed him out of a car like a piece of trash.
"The little guy was sick, had an eye infection, he was so skinny, and I just have no idea how he could have made it to that side of the freeway," Hagar said. "He was too weak to move, and there is just no way he could have crossed six lanes of traffic alone … someone must have done it to him."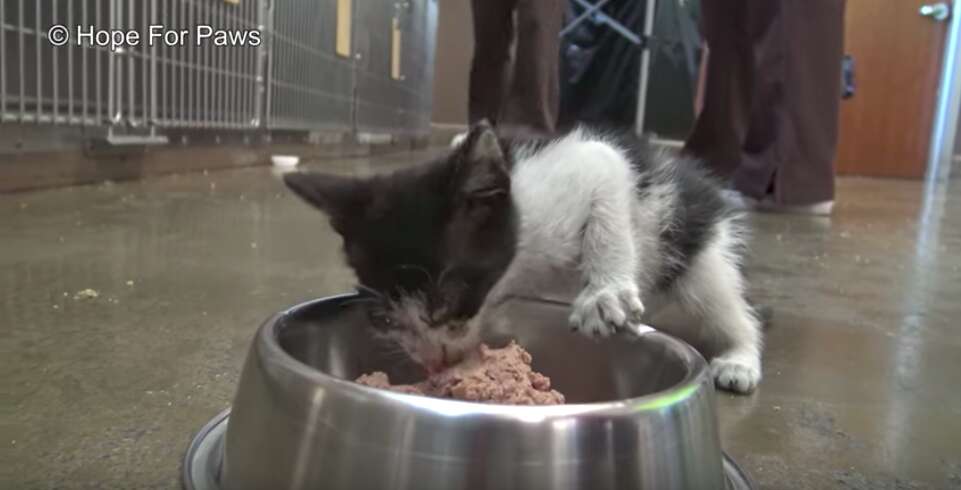 Napoleon was treated for his eye infection and for fleas, and was given a much-needed bath. Once he was all cleaned up, he was given some space and another kitten friend to run around and play with, and before long he already appeared to be feeling so much better.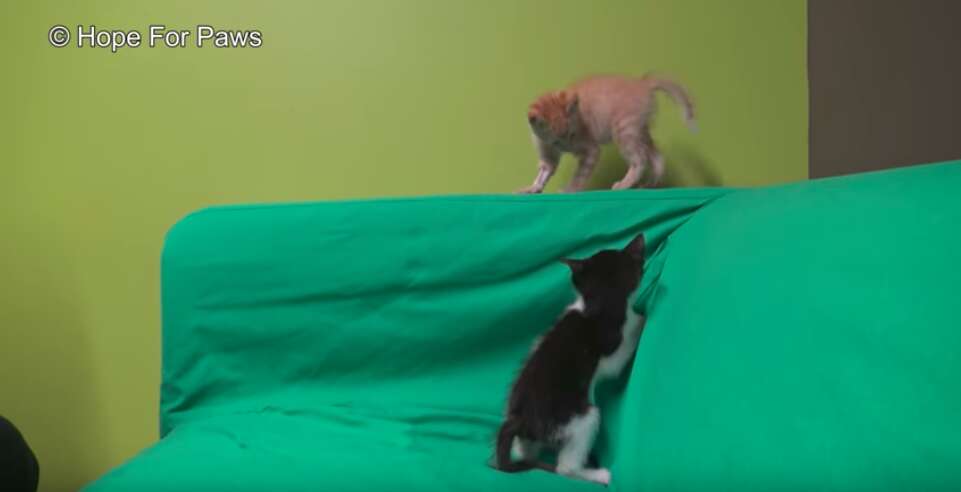 The woman who spotted Napoleon could have just kept driving and forgotten about him. Instead, she made a move that saved his life, and now the tiny kitten is getting a second chance at life.
Watch the full video of Napoleon's rescue below: