Kitten Found In The Middle Of Nowhere Thinks This Bearded Guy Is His Mom
"He was rooting through my beard for a nipple."
What began as just another day on the job for this bearded man named Jordan ended up with a tiny cat being saved from a remote patch of forest.
And in a way, you might say Jordan's facial hair helped forge their new bond.
Photo Provided
Jordan works as a heavy machinery operator for a gas pipeline in Pennsylvania. Recently, while performing maintenance along a rural stretch of line, he and his coworkers were surprised to spot a tiny figure emerging from the woods all alone. It was a tiny orange kitten, eagerly approaching them in need of help.
"I just kind of froze and melted at the same time. He looked so sad. He was covered in sap and just kind of … not good," Jordan told The Dodo. "I looked around and didn't see any other cats around. We were working in the middle of nowhere, basically."
The kitten showed no hesitation as Jordan scooped him up and placed him in the cab of his machine.
Photo Provided
The cat, thought to be just a few weeks old, had been lucky to be found when he was. It's unclear exactly where he'd come from or where his mom might be, but judging from the kitten's frail condition and an untreated eye problem, he likely wouldn't have lasted much longer on his own.
Thankfully, Jordan was there to help.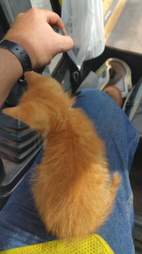 Photo Provided
"I couldn't walk away from him. To see a cat like that … it doesn't fly with me. Something put me there at the right time," he said. "He spent the rest of the day with me in my cab. I happened to bring some tuna fish to work, so I gave him some tuna."
For the next few hours, the kitten stayed by Jordan's side as he worked. He made a little bed for him in his hat.
Photo Provided
Jordan was considering taking the little kitten to a no-kill shelter at the end of the day, but as the workday progressed, he became increasingly close with the little cat — and the feeling was clearly mutual. It seems the baby had come to think of Jordan as his mom.
"He was rooting through my beard for a nipple," Jordan said. "He climbed on my shoulder, sniffed my ear, and before I knew it he was pushing his head into my beard, moving it back and forth. While getting verklempt I thought, 'This poor starving kitten' and, 'There's no way I can let someone else raise this cat.' We bonded in that brief moment ... with my beard. I thought, 'This guy's coming home with me. There's no way I'm dropping him off [at a shelter].'"
Photo Provided
Jordan took the kitten to a vet, who diagnosed him with a respiratory infection and an eye problem. He's been on medication for just a few days now, but he's already begun perking up, settling in with Jordan and his wife, and their other rescue pets, safely at home.
"He's doing great now," Jordan said. "He's jumping around, playing, nibbling on fingers. He's acting more like a kitten should — you know, kinda crazy."
The kitten's new name is Odin.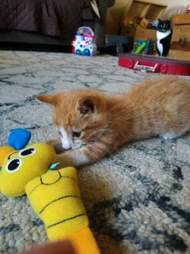 Photo Provided
Interestingly, Odin isn't the only cat Jordan has rescued while at work. A few years back, he happened upon another helpless cat at a different job site and took her home as well. They've been together ever since.
"Here I am doing it again. I keep finding cats that need help," he said. "I don't know why it keeps happening, but I won't turn them down."
Photo Provided