Woman Finds Kitten Stuck In Hunting Trap — And Drops Everything To Save Him
He's such a little trooper.
A woman was walking through a field when she suddenly came across a tiny kitten — with his leg caught in a spring trap, bleeding badly and unable to free himself. Horrified, she immediately contacted the RSPCA, hoping it could help save the kitten's life. 
RSPCA inspector Steph Baines rushed out to help the kitten — later named Cassidy — and when she arrived, she knew the situation was grim.
Warning: Graphic photos below
RSPCA
"His front left leg was severed halfway up," Baines said in a press release. "Vets estimated that ... the wound was around two days old so he could well have been stuck in the trap for a couple of days."
RSPCA
Baines immediately took Cassidy to the vet, who examined him thoroughly — and decided that unfortunately, his injured leg was too far gone, and would need to be amputated.
"He must have been in a lot of pain and wasn't weight-bearing," Baines said. "It's quite miraculous that he survived for that long with such a serious injury."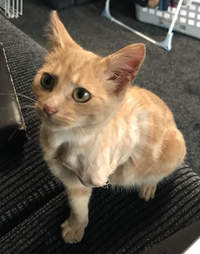 RSPCA
Luckily, the surgery went incredibly well, and Cassidy is expected to make a full recovery. Cassidy wasn't microchipped, and Baines hasn't been able to find anyone who will come forward as his owner. He needed a place to recover for a bit after his surgery until he could be put up for adoption — and so Baines decided to step forward to foster the kitten whose life she saved.
"He's adapting well to life on three legs," Baines said.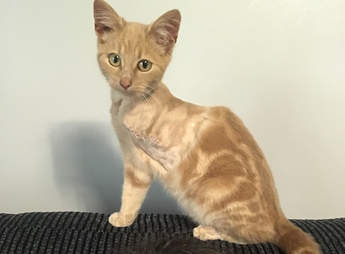 RSPCA
Baines confronted local farmers about the trap that Cassidy was caught in, but none of them seemed to know anything about it. The trap was very carelessly and haphazardly placed, and was likely set with the intention of catching rabbits.
"These sorts of traps are incredibly dangerous and can cause nasty injuries in animals who get caught in them," Baines said. "It's important people are aware of the terrible damage and suffering these traps can cause."
RSPCA
The 4-month-old kitten is recovering extremely well so far, and will hopefully be off to his forever home very soon. In the meantime, Baines is loving looking after the little guy, and is happy to be his foster mom until he's well enough to find a home of his own.