Guy Tells Mom He's Bringing Home A Guest — And Shows Up With A Kitten
She thought he was bringing home a new girlfriend.
When Jodee's 21-year-old son told her he was coming over and bringing a guest, she immediately assumed he was bringing a girlfriend. When he finally arrived, though, the guest turned out to be a bit different — and tinier — than she was expecting.
"When he said he was bringing home a guest and when I asked, 'Who?' he told me, 'You'll see,' and I thought it was his ex-girlfriend that I really loved," Jodee told The Dodo.
Instead of his ex-girlfriend, or a girlfriend at all, Jodee opened the door to find someone even better: a tiny kitten.
Reddit/StupidGirI
Jodee's son works at a paintball park, and when he found the little kitten hiding under some stairs there, he immediately decided to take him in. The poor kitten had been alone for two days, but now has a new dad who loves him so much — and a grandma who arguably loves him even more.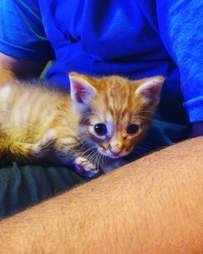 Reddit/StupidGirI
"When I saw it was a baby kitten, I was even more excited and of course in awe due to the cuteness and how tiny the kitty was," Jodee said. "The kitten has the best personality."
Reddit/StupidGirI
The little rescue kitten, who doesn't have a name yet, had an absolute blast playing around at his grandma's house …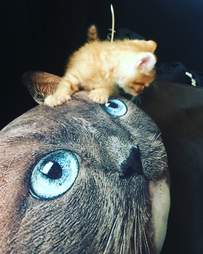 Reddit/StupidGirI
… and even made a new friend: a comfy cat pillow.
"The kitten is so playful and really developed for as small as it is," Jodee said.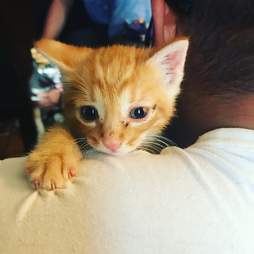 Reddit/StupidGirI
The kitten was the perfect little house guest, and will likely be making many return visits to Grandma's house in the future.
Reddit/StupidGirI
Although many mothers want their kids to bring home significant others, and eventually grandchildren, a tiny, adorable kitten seems to be just as good.