Kitten 'Too Weak' To Survive Looks So Happy And Healthy Now
"As I look at Pippin sleeping on the couch across the room, I'm so filled with admiration for his strength."
Pippin, along with so many other kittens, was born in an abandoned farmhouse in a terrible hoarding situation in fall 2015. The woman who owned all the cats had been charged with animal hoarding and neglect previously, and had somehow managed to repeat her crimes. Humane Society International (HSI) Canada came in and rescued all of the kittens and cats, many of whom were pregnant. By the time everyone was rescued and all the pregnant cats had given birth, the humane society had 91 cats in its care. 
Unfortunately, many of the kittens were incredibly sick and barely clinging to life when they were rescued — and little Pippin was one of them.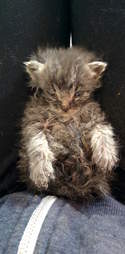 Liam McConnell
"Pippin was among those considered too weak to pull through," Liam McConnell, Pippin's new dad, told The Dodo. "His condition was terrible. He was severely underweight, weak, filthy and his fur was matted. HSI Canada had to be very gentle with him because of his fragility."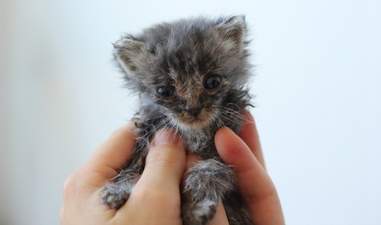 Liam McConnell
Despite how sick he was, Pippin's rescuers still had hope that he would pull through, and he was placed with one of the rescue's foster moms, Sayara Thurston. She cared for Pippin around the clock, and as time passed, little Pippin somehow pulled through. He grew stronger and stronger until he was finally out of the woods and ready to go and find his forever family. 
Not long after he was put up for adoption, McConnell and his girlfriend, Ani Unrau, found out about Pippin through a friend, and immediately knew he was meant to be the newest addition to their family.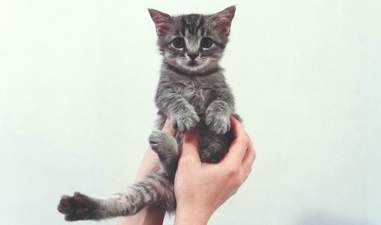 Liam McConnell
"We were considering adding another cat to our family — we already have a gorgeous older cat named Gabi — and when we saw Pippin's picture we fell in love with him," McConnell said. "We started the adoption process that very day. When we heard his story, and heard that HSI Canada was putting out an urgent adoption call for these ... cats, we knew we had to help."
The couple was quickly approved to adopt Pippin, and they were over the moon. They were so excited on the day they finally got to bring him home — but after all he had been through, Pippin was a little apprehensive about joining his new family.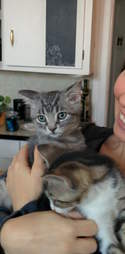 Liam McConnell
"Between the farmhouse, the emergency shelter, the foster home, and finally our home, [the] first few weeks of his life were tumultuous," McConnell said. "When we opened the cat carrier, he emerged after a few moments and went straight under the couch. He hid there for the rest of the day."
Wanting to give him space and time to adjust, the couple put Pippin's food and water bowls under the couch with him and put Gabi in their bedroom. They hoped that once everyone was asleep, he would emerge and explore a little bit, learning to feel safe in his new environment. McConnell decided to sleep on the couch that night, just in case Pippin needed anything — and before long, the little kitten came out from under the couch and claimed the entire house as his own.
"By around midnight, Pip had become comfortable enough to waltz around our house like he owned the place," McConnell said. "He even played with me that night! We were thrilled he was adjusting so quickly."
Liam McConnell
From that moment on, Pippin felt completely safe and comfortable with his new home and family. It's now been almost three years since Pippin arrived, and he still runs around the house like an excited kitten, knocking into things and chasing everything he can find. After barely surviving his first few months of life, Pippin is now full of energy and love, and he isn't taking a moment of his life for granted. 
Liam McConnell
"It breaks my heart to think of what those poor cats went through, and as I look at Pippin sleeping on the couch across the room, I'm so filled with admiration for his strength," McConnell said. "He came into this world under the worst circumstances and he deserves nothing but comfort and happiness for the rest of his life."