Kitten Gets Stuck In Drain Pipe — So Firefighters Have To Flush Her Out
"The kitten came sliding down into my hands, completely unharmed, although a little bit confused!"
When some people in an office noticed a tiny kitten sitting on their building's roof next to a drain pipe opening, they immediately called the RSPCA for help, not wanting the little kitten to get hurt. An officer was sent out immediately — but by the time she got there, the poor kitten had already fallen down the drain. 
"What seemed like a straightforward rescue suddenly became a lot more complicated," Jill Sanders, an animal collection officer with the RSPCA, said in a press release. "The poor kitten had slipped down into the drain, which you couldn't get to from outside the building. I knew I'd need the assistance of the fire service then, and a fantastic team came out to help me rescue the poor puss."
RSPCA
As soon as the firefighters arrived, the team began canvassing the building, searching for the place in the pipe where the kitten was hiding. Unfortunately, the kitten had gotten herself into an unreachable place, and so the rescue team had to get a little creative.
"The fire service advised that the only chance of getting the kitten out would be to gently flush the kitten down the drain with the fire hose on a low pressure, and have someone ready in the drain in the ground outside the building, ready to catch her," Sanders said. "We listened carefully to work out which flow system the kitten had slipped down into, and once we'd worked it out, I was ready with a net. Sure enough, the kitten came sliding down into my hands, completely unharmed, although a little bit confused!"
RSPCA
The kitten's rescuers decided to name her Ace, after the office building she was rescued from. Although she was in a bit of shock from her unusual rescue, she was otherwise in very good shape, and determined to be around 4 weeks old.
RSPCA
Unfortunately, Ace's mom and littermates were nowhere to be found, and so the team advised the building owners to put up special mesh netting so that no other kittens could accidentally find their way down the drain.
RSPCA
Ace is now in the care of the RSPCA Putney Animal Hospital, and if no one comes forward to claim her, she will be put up for adoption. Everyone helping to care for Ace absolutely adores her, and there's no doubt that she will soon find a wonderful forever family.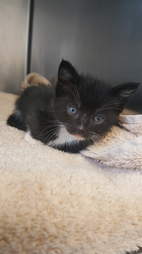 RSPCA