Little Kitten Hurt By Fireworks Is Learning To Trust People Again
He'd lost part of his nose and was so scared.
Firecracker the 3-month-old kitten was found as a stray by animal control in Iowa, and as soon as they picked up the little kitten, they knew something was very wrong. It appeared as if he had suffered a serious amount of trauma to his mouth and jaw, and so the animal control officer immediately contacted Jasper County Animal Rescue League to see if they could help. 
Jasper County Animal Rescue League
"When he arrived at the shelter he had obvious trauma to his mouth and nose — the skin on the lower part of the jaw had been peeled back, exposing the jaw bone, and showing obvious trauma to his lower teeth," Rachel Long, director of Jasper County Animal Rescue League, told The Dodo. "He also appeared to have burns on the upper portion of his jaw around his nose."
After being examined by a vet, it was suspected that poor Firecracker had likely had something exploded right in his face — probably some type of firework.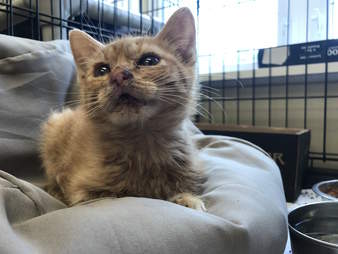 Jasper County Animal Rescue League
The vet determined that Firecracker had a fractured lower jaw and several missing teeth, and wired his jaw so that it could heal properly. He also had to have the skin on his lower jaw stitched back into place and his burns extensively cleaned, which revealed that he was also missing parts of his nose.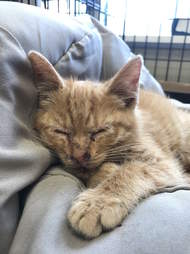 Jasper County Animal Rescue League
Little Firecracker is very, very lucky to have survived his ordeal, and will, miraculously, likely not have any long-term issues because of it, besides maybe a few permanently missing teeth.
"He is recovering well," Long said. "We have to use caution when handling him, as his jaw is still very sensitive, but he is eating and drinking on his own, and loves cuddling in his bed. He is scared right now, but has started trusting and bonding with his daily caregivers."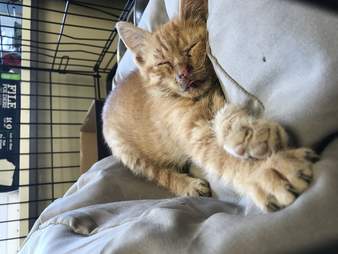 Jasper County Animal Rescue League
When setting off fireworks, it is so important to make sure there aren't any animals in the area that could be affected, as most of them probably would not be as lucky as this kitten was. Thankfully, Firecracker is going to make a full recovery, and will be up for adoption once his jaw is completely healed.
"We do not anticipate any long-term medical issues — with him being so young, he should be able to bounce back from this," Long said.