Curious Kitten Goes Missing And Turns Up In The Strangest Spot
He was stuck for 2 hours — and the fire department had to come and save him 😱
When Heather Shiels first realized her 15-week-old kitten Spock was missing last week, she thought he had somehow gotten stuck in the dishwasher.
"I went downstairs and I could hear meowing," Shiels said in a press release. "It sounded like it was coming from the dishwasher, which was running at the time. I thought he must be trapped inside and I was really worried. Then I opened the cupboard next to it and realized he was in there."
Somehow, tiny Spock had opened up the kitchen cabinet, climbed inside — and stuck his head through a very, very small hole, which he was unable to pull himself out of again.
RSPCA
"I could only see his back end as his head was stuck in a small hole in the back of the cupboard where the plug for the dishwasher goes," Shiels said. "I will never know how he even managed to get his head through, the hole is only about 2 or 3 inches wide."
Shiels and her husband tried to pull Spock out of the hole themselves, but he was too stuck, and they were afraid of hurting him. They even tried taking the bottom of the cabinet out to gain better access, but nothing was working. They finally decided to contact the RSPCA in hopes that it could send someone to help free their adventurous little kitten.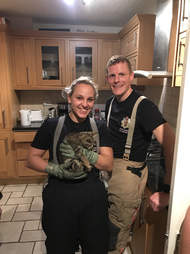 RSPCA
Angela Paxton-Taylor, an inspector with the RSPCA, responded to the call, and tried putting cooking oil and margarine around the kitten's neck in order to make it easier to pull him out. It unfortunately didn't work, and Spock's rescuers could hear him meowing for help and getting more stressed by the minute. Paxton-Taylor realized she wasn't going to be able to free Spock on her own, and decided to contact Greater Manchester Fire and Rescue Services for assistance.
"They came really quickly but it took them a good hour to safely cut Spock free," Shiels said. "They said they had never seen anything like this before."
The firefighters first shut off the power to a live wire that was behind the back of the cabinet, and then used an electric saw to very carefully cut through the cabinet in order to finally free the tiny kitten. Poor Spock was shaken up from his ordeal, but his family quickly offered him tons of love and comfort to help him relax.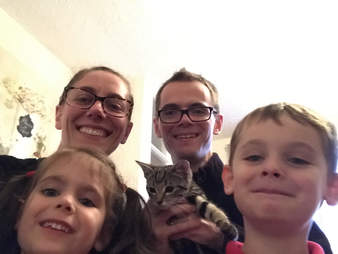 RSPCA
"After being stuck with his head in the hole for about two hours, he was very lucky that he didn't get electrocuted as well," Shiels said. "I think he's definitely used up one of his nine lives."
Spock's family rushed him to the vet after he was freed to make sure he hadn't sustained any injuries, but thankfully, he appeared to be mostly OK. He had a bit of a sore neck and the vet prescribed him some pain medication, but now, a week later, Spock is back to his normal, playful self.
RSPCA
"He's quite an explorer and quite curious and nosy," Shiels said. "He has a lovely temperament, which is great, so I'm glad to see him back to his old self now. Hopefully he won't be doing anything like this again."