Kitten Buried Under Trash In Backyard Kept Meowing Until Someone Heard Him
His name is Russell and he's looking for a home ❤️
Someone was out in their yard one day when they suddenly heard faint cries coming from their compost heap. Concerned, they took a closer look — and found a tiny, 4-week-old kitten buried in the compost heap, absolutely terrified. They immediately contacted the RSPCA, not wanting the little kitten to be alone and suffering for another second.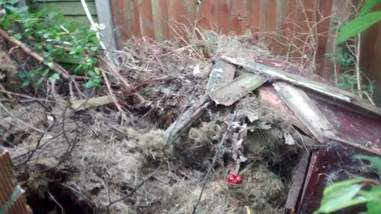 RSPCA
"When I collected him he was shaking, scared and very hungry; he broke my heart," Paige Burnham, an animal collection officer with the RSPCA, said in a press release. "I took him to an RSPCA venue overnight and gave him a hot water bottle, food and a snuggly bed and he definitely seemed to perk up."
RSPCA
Staff at the shelter decided to name him Russell, and everyone immediately fell in love with the fluffy black kitten. Despite his ordeal, Russell was actually in fairly good condition, and didn't appear to have any health conditions or issues. Once he was all cleaned up and settled in, he warmed up to the shelter staff immediately, warming the hearts of everyone who encountered him.
"This gorgeous little boy is just adorable," Burnham said. "We've no idea where he has come from. He could be a kitten that's gone missing or sadly been dumped; we just don't know. Either way, mum was not around and he shouldn't be outside on his own at such a young age."
RSPCA
Whatever the circumstances that led Russell to that compost heap, he's safe and sound now, and enjoying his time with his new friends at the shelter until it's finally time for him to go off to his new forever home.
RSPCA
"The RSPCA Norwich and Mid Norfolk Branch are now caring for little Russell and hopefully once old enough we can find him a loving new cozy home and he will never find the need to seek refuge in a compost heap again," Burnham said.
If you're interested in adopting Russell, you can contact the RSPCA for more information.