Someone Found This Purse Lying On The Ground — Then Realized It Was Moving
"She must have been absolutely terrified."
A resident of Cardiff, Wales, was out taking a walk near their home when they saw a zipped-up purse lying on the ground. They didn't think anything of it at first and just assumed someone had lost the purse — until they realized the purse was moving. They quickly opened it up, and were shocked to find a kitten stuffed inside the closed bag. 
RSPCA
Seeing as the bag had been zipped up, someone had clearly not wanted the poor kitten to escape her terrible predicament. The Good Samaritan who found her, whose name has not been released, knew she needed help as soon as possible, and contacted the RSPCA to come out and collect her. 
"I feel shock and dismay that anyone would deem it acceptable to treat a kitten in such a cruel and dangerous manner," Annie Simmonds, an inspector with the RSPCA, said in a press release. "She must have been absolutely terrified."
RSPCA
The kitten, who was around 20 weeks old, was rushed to the vet, and thankfully seemed to be doing OK despite her ordeal. Once she felt safe in the care of her rescuers, her personality began to emerge. She has turned into the sweetest, friendliest little kitten, and is doing extremely well in the care of the RSPCA.
Even though everything worked out and the kitten is safe and healthy, everyone involved is still horrified that this happened in the first place, and they are continuing to search for answers.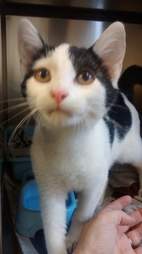 RSPCA
"We're desperate for anyone with information related to this awful abandonment to contact our inspectorate appeal line," Simmonds said. "Calls can be made on 0300 123 8018 — and we'd urge anyone who knows something about how this kitten came to be trapped in this bag to contact us."