Police Find Kitten And Make Her Their New Coworker
"I came in at 7 a.m. and somebody was like, 'Heads up, there's a cute cat running around!'"
When Tara Atkins, a police dispatcher for the town of Tryon, North Carolina, came into work on Tuesday morning, she instantly noticed a new — and much smaller — employee in the office: a 4-month-old kitten.
"I came in at 7 a.m. and somebody was like, 'Heads up, there's a cute cat running around!'" Atkins told The Dodo. "She was friendly and warmed up to everybody right away."
The night before, a police officer who works in the building had stepped outside to take a phone call when the tiny kitten walked right up to him in the parking lot.
Knowing that the cat was young and it was cold out, he brought her inside to stay with the department until they could find out if she belonged to anyone.
She quickly made herself at home in the office and had plenty of people to cuddle up with while they worked on their computers.
"Someone brought in a little ball for her and she just loved that," Atkins said. "When she wasn't rolling the ball around all over the place, she was sleeping in someone's lap. We figured it was much better for her to be here with us than alone in a shelter."
Since the cat wasn't wearing an ID tag or collar, an employee took her to be scanned for a microchip later that morning — to no avail.
That's when they decided to give the kitty a "job," snapping pictures of her in various places throughout the office to post on the town's Facebook page.
She started her day doing some work at the computer…
"Our town manager, Zach, came up with the idea to post the pictures since we figured we might be able to find her owner that way — that is, if she has an owner," Atkins said.
Some of Atkin's coworkers encouraged her to bring the cat home with her, but with two 13-year-old pugs in her house, she reached out to a family member instead.
"She's so lively that my dogs would probably break a hip trying to play with her," Atkins said with a laugh.
Instead, Atkins' cousin, David Morrow, offered to take in the cat for now — and if someone comes forward who can prove ownership, he'll gladly return her to the owner.
Morrow and his wife, Tanya, picked up the kitten on Tuesday night, and decided to named her Sqweeks since she has a particularly squeaky meow.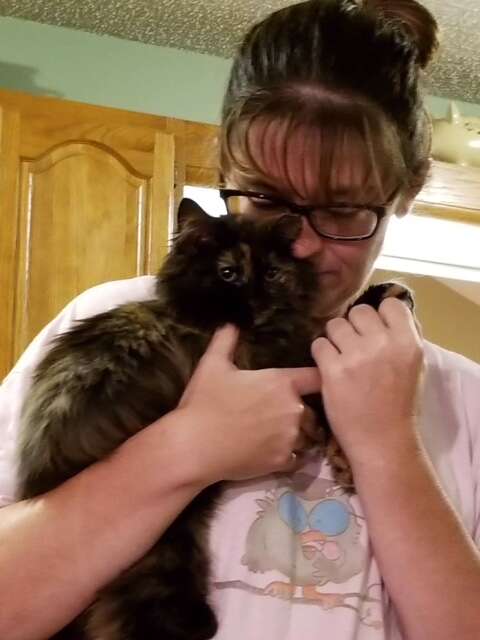 Sqweeks is now settling in with the family alongside their other cat and dog — and while it's unclear if she has an owner, she's getting plenty of cuddles to keep her happy, and the couple plans to adopt her if it turns out she was a stray.
"Tanya has been wanting a lap kitty for quite some time," Atkins said. "Even if it's just for a little while, she'll definitely enjoy having her around."
Thinking about adopting? Then meet Dodo Adoptbot, an interactive guide for new pet parents. Get
started on Facebook Messenger
or text HOME to 38349.