Last Sunday, a woman was watching her kids at a playground in Beirut, Lebanon, when she heard a distressing noise coming from a gutter. It sounded like an animal in pain. She went to investigate and found a tiny, sopping wet kitten trapped inside. The kitten was too weak to get out of the water-filled drain herself.
The woman flagged down a nearby guard and quizzed him about the kitten. He told her that the kitten had been in the gutter for a while — three days at the very least.
Lana El-Khalil, president of Animals Lebanon, was driving in the area with her own kids when she got a call from the woman. El-Khalil rushed to the playground as quickly as she could.
"I don't know who got her out of the gutter," Maggie Shaarawi, vice president of Animals Lebanon, who later became the kitten's foster mom, told The Dodo. "If it was the woman or Lana."
The important thing was, the kitten got out. But she struggled to get to her feet when placed on dry land.
No one knew if the kitten would make it. She was about 5 weeks old and weighed less than 7 ounces, and she was very weak and seemed to be suffering from hypothermia.
"She was literally skin and bones," said Shaarawi, who took the kitten from El-Khalil right after the rescue. "Her jaw was not opening — it was kind of stuck as she was freezing. She was in the gutter for days."
Unfortunately, it was Sunday, which meant all the veterinary clinics in Beirut were closed. So Shaarawi messaged a vet she knew in the U.S., and video-called him to get instructions.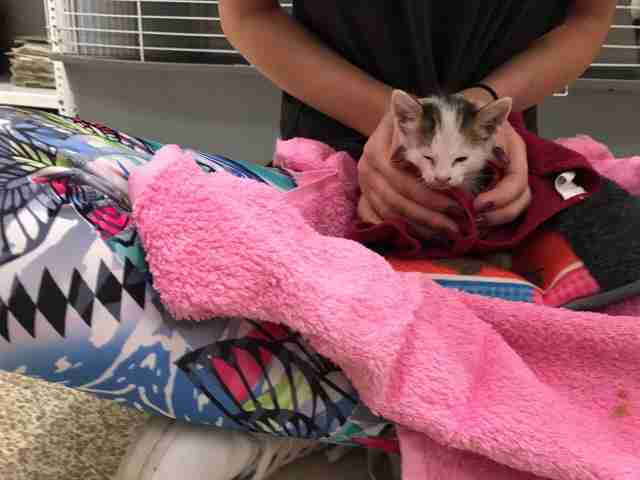 "The vet advised to immediately warm her up, so we used a hot water bottle, as well as soft towels," Shaarawi said. "I kept her close to my body as well. Her body was cold and stiff, and it was difficult carrying her as she was so fragile."
Shaarawi also started feeding the kitten tiny amounts of food every two or three hours.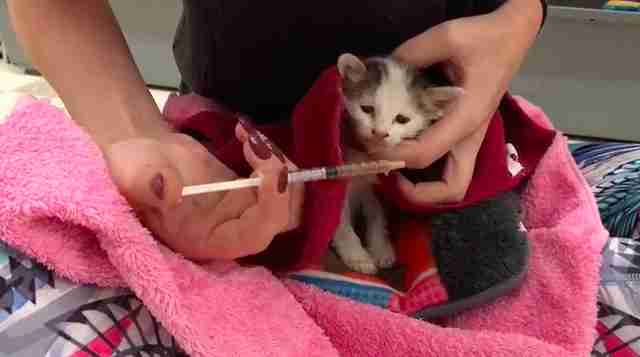 Still, no one thought the kitten would live. "She struggled a lot," Shaarawi said. "The vet's concern was that she was too tiny to have lived through such ordeal."
But Shaarawi refused to give up — she kept giving the kitten warmth, food and love. And somehow, against all odds, the kitten came back to life.
"Within 48 hours, her appetite was getting better," Shaarawi said. "In fact, she now fights for her food. She is always so hungry and tries to eat anything that moves. I struggled once to remove the towel from her jaw — she was growling, thinking it is food. It was very sad and funny. Now she is more comfortable and gaining weight. She is now 240 grams [8.4 ounces]."
Now that she's feeling a little better, the kitten's exploring the world around her.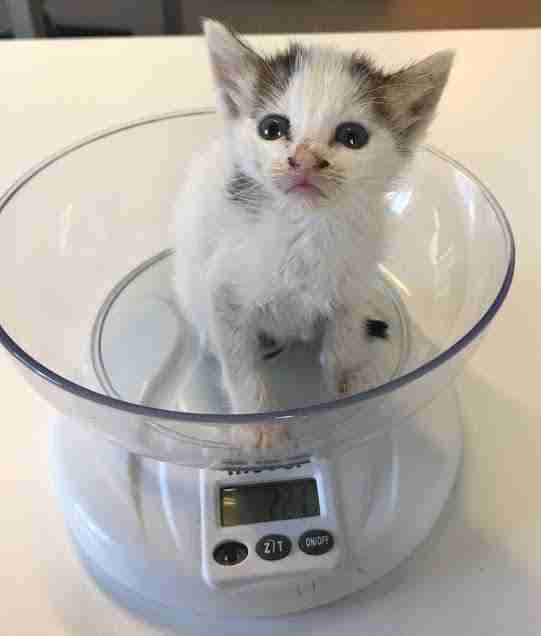 "She started playing and purring," Shaarawi said. "She purrs when she sees me come into the room. She acts like an adult cat, very independent and gentle."
As for naming the kitten, Shaarawi's mother helped with that. "My mom, who has Alzheimer's, bonded with her a lot, and she keeps calling her Jessy," Shaarawi said. "So she is little Jessy."
When Jessy is big and strong enough, she will be put up for adoption. Until then, Shaarawi is loving every minute she gets to spend with Jessy.
"The best thing about this rescue is ... being able to save such a helpless being and seeing her will to live," Shaarawi said. "She's my little sunshine."