People Put Out Backyard Fire — Then Hear Cries Coming From Rubble
"We hope people won't be scared by her appearance while she heals."
When a fire broke out in someone's garden, neighbors quickly worked to help put out the blaze. They thought all was well and everyone was safe — until someone heard tiny, faint cries coming from the rubble. They moved a few pieces of wood and saw a little paw poking out from beneath the pile. It belonged to a tiny kitten, badly burned from the fire and in desperate need of help.
Warning: Graphic images below.
The injured kitten, later named Phoenix, was rushed to the RSPCA, which started treating her wounds immediately. She had burns all over her tiny body, causing fur loss on her ears, paws, toes, tail and face. She was in such bad condition when she first arrived that shelter staffers were worried she wouldn't make it.
"When Phoenix arrived she was in a really sorry state," Luka Atkinson, reception supervisor at RSPCA Felledge, said in a press release. "She was just 6 weeks old back then, and to see such a tiny kitten that way was really hard for us. The skin on all four of her pads was burnt off and the fur on her face, tummy and legs was singed — she was lucky to be alive."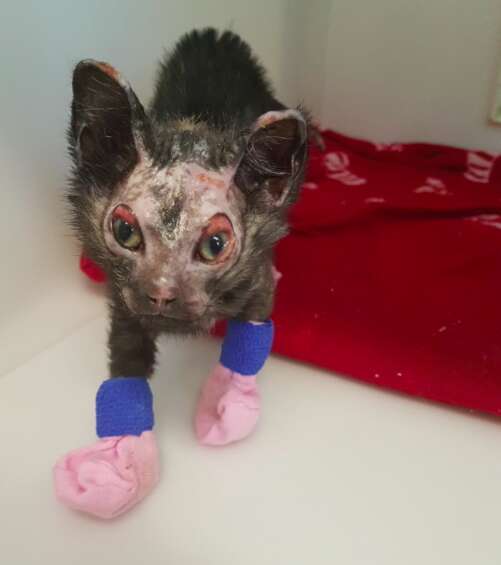 Staff quickly set to work bathing and bandaging Phoenix, keeping her skin cool and hydrated and giving her plenty of painkillers to help her through. While her injuries seemed bad when she first came in, unfortunately, after a few days, they only got worse.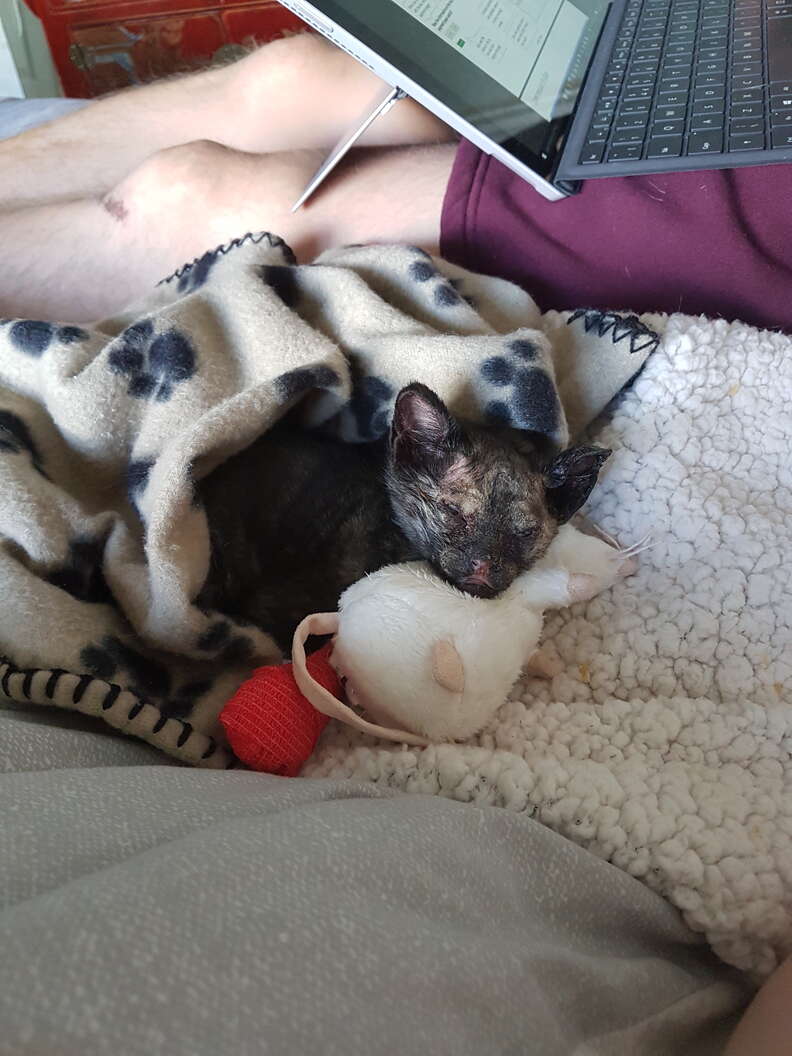 "The vet said the injuries Phoenix had suffered were not direct burns from the flames, but rather heat burns from the blaze," Atkinson said. "This meant the full extent of her injuries took a few days to come out; initially, her fur looked singed and fuzzy but it gradually started to fall out."
After a little while, though, Phoenix's condition finally began to improve, and slowly the little kitten began to heal. Despite her injuries and her appearance, Phoenix has proven to be a very playful, loving little kitten, and throughout her recovery has still loved playing with the other kittens at the shelter and getting lots of cuddles from the staff.
Phoenix currently looks a little different because the fur on her eyelids has yet to grow back. She's receiving eye drops several times a day, though, and staffers hope that her eyelids will be fully healed very soon. Everyone who knows Phoenix hopes that people won't be put off by her strange-looking eyelids, as she really is the sweetest kitten despite everything she's been through.
"She is such a happy little thing and she eats, plays and loves fuss just like any other kitten, and we hope people won't be scared by her appearance while she heals," Atkinson said. "She runs riots with the other kittens at our center, so we are just so happy we gave her a chance and saved her life — she really is the luckiest kitten in Britain!"