Kid Tricks Parents Into Adopting The Biggest Dog In The Shelter
"Neighbors have told us they love our new horse."
Travis Ulman may only be in first grade, but he knows exactly how to get what he wants. The 7-year-old from San Antonio, Texas, is willing to go to great lengths to achieve his aims — even if it involves a bit of deception — and he's usually successful.
"Travis is super smart," Ann Ulman, Travis' mom, told The Dodo. "And he knows how to get his way, especially with his mommy."
Such was the case last week when Travis decided it was time for his parents to get another dog.
The Ulman family had just moved into a new house with a big backyard — too big, Travis thought, for their rescue dog, Rosie, a black Lab, to play in all by herself. So Travis quickly hatched a three-pronged master plan to convince his parents to give him another furry sibling.
"My son kept telling us that our dog Rosie was bored and she needed a pal," Ulman said. "My husband and I told him, 'Maybe one day we'll get a pal for Rosie.'"
But "one day" just wasn't soon enough.
That night, unbeknownst to Ann, Travis and his dad browsed the website of a local animal shelter. It was there that they came across a picture of Lucy, a young Great Dane with brown and black spots. One look at the thumbnail image and Travis (who has a penchant for spotted animals) fell in love with her.
This ushered in phase two of his master plan.
"He asked us (pretty much demanded) to take him to the local animal shelter, saying he wanted to look at the small dogs," Ulman said. "He even mentioned pugs, Chihuahuas and dachshunds, so we figured, 'Might as well.'"
The next day, the Ulman family piled into the car and drove to The City of San Marcos Animal Shelter to take a look at the little dogs available for adoption. Once at the shelter, Travis unleashed the final, and most crucial, stage of his plan. So close to his goal, he knew that his final machinations would take tact and charm.
"We got to the shelter and [Travis] completely bypassed the little dogs and went straight for the biggest Great Dane I have ever seen," Ulman said. "The next thing I heard was … 'Happy Mother's Day, you're buying me this dog because I love him.'"
"We all knew as soon as we saw Lucy that she would be a wonderful addition to our family," Ulman added. "Not to mention, Travis wasn't leaving without Lucy."
The question was: Would Lucy bond with Travis?
But after all that hard work, the answer was simple.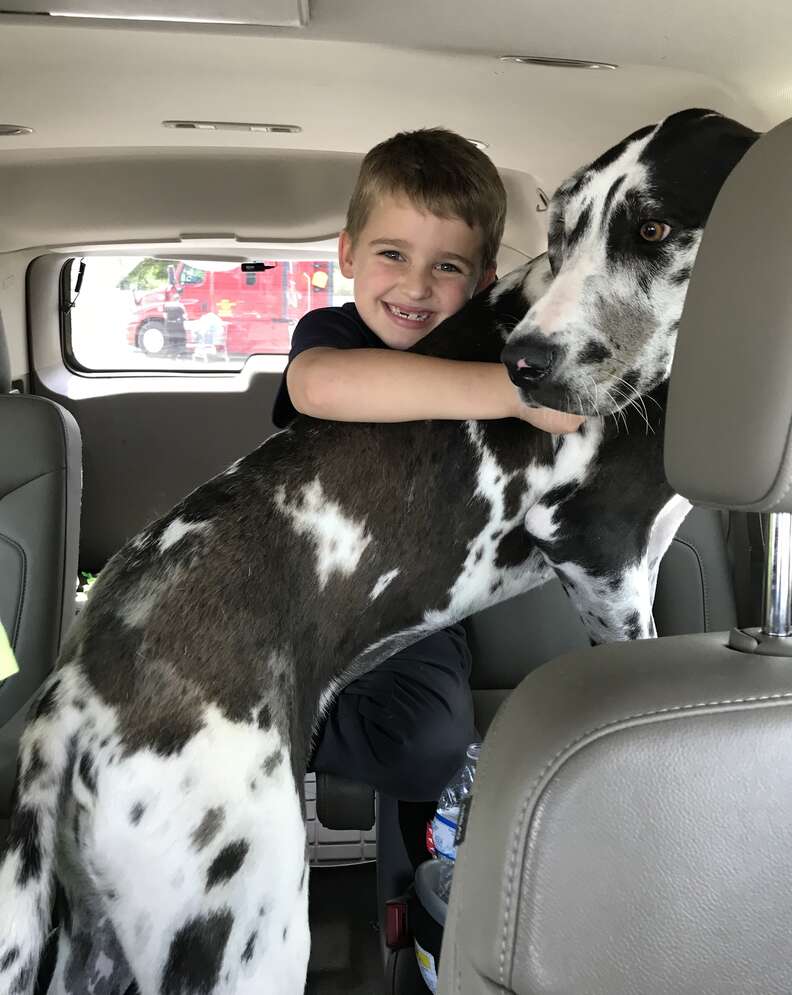 "When Travis went up to her cage, Lucy was acting really shy at first, maybe even a little scared," Ulman said. "When they got Lucy out of her cage and brought her over to the running area, she started acting super goofy and kept jumping around. She played great with the kids and Travis was deeply in love. He wouldn't stop giving her hugs."
After just a few days in her new home, Lucy has already made quite an impression on the neighbors.
"Travis loves holding her leash and getting all the stares. It's a little shocking to see a little 7-year-old boy walking this huge, gorgeous dog," Ulman noted. "Neighbors have told us they love our new horse."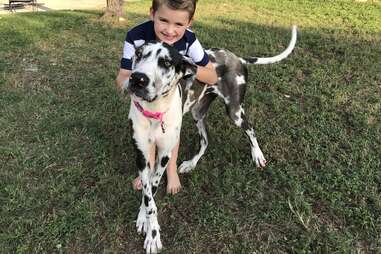 And it hasn't taken long for Travis to figure out how to bring Lucy into his plotting. "We took her to the playground yesterday and Travis said we have to go back because he was the most popular kid on the playground," Ulman said.
Whether she's romping around the backyard, stealing toys from her new sister or just relaxing on the couch, Lucy has become a source of humor and joy for her new family — and Travis knows he was right all along.
"Travis is the happiest kid in the world," Ulman added, "with his new 'small' dog."
Thinking about adopting? Then meet Dodo Adoptbot, an interactive guide for new pet parents. Get started on
Facebook Messenger
or text HOME to 38349