Little Boy Gets The Best Surprise After Beloved Dog Passes Away
"They were for sure tears of joy!"
Two weeks ago, Chris and Katie Downs told their 6-year-old son Leo that they had to stop by a building to donate some supplies.
Little did the young boy know that the seemingly routine errand would turn out to be one of the most memorable moments of his life.
This wasn't just any building — it was Stray Rescue of St. Louis.
Just a few months before, the Downs family suffered a devastating loss. Their beloved dog, Mellow, passed away at the age of 13.
"He truly loved us [and] everyone he met and he exemplified the definition of a top-notch dog," Katie Downs told Stray Rescue of St. Louis. "My husband took him everywhere! It's a rarity that you know my husband and not know Mellow."
When Katie became pregnant with Leo, the faithful dog remained by her side, protecting her. And once Leo was born, Mellow showed the same devotion to his new brother.
"Anywhere Leo was, [Mellow] was sure to be right next to him," Downs said. "We graduated Leo to a bunk bed earlier last year and guess who got the bottom bunk? You guessed it, Mellow did."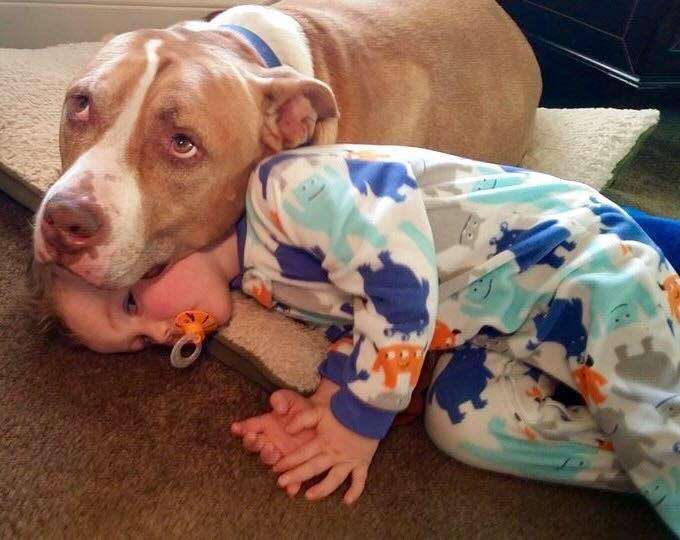 Once Mellow passed, the heartbroken Downs agreed to a "No more dogs for a while" policy.
Leo, however, was not happy about the new plan. "He kept saying, 'Mom, I want another dog!'" Downs said. "And then, like every other child, he went to Dad begging for the same thing."
Slowly, Downs began to warm to the idea. She began looking at Stray Rescue of St. Louis' Facebook page, then the shelter's website. There she saw a dog that made her heart stop: A pit bull mix named Nutty-Buddy who was just over 9 weeks old.
"His resemblance to Mellow was astonishing so much [that] I immediately showed my husband," Downs said. "He quickly said, 'Put in an adoption application for him! I have to meet him!'"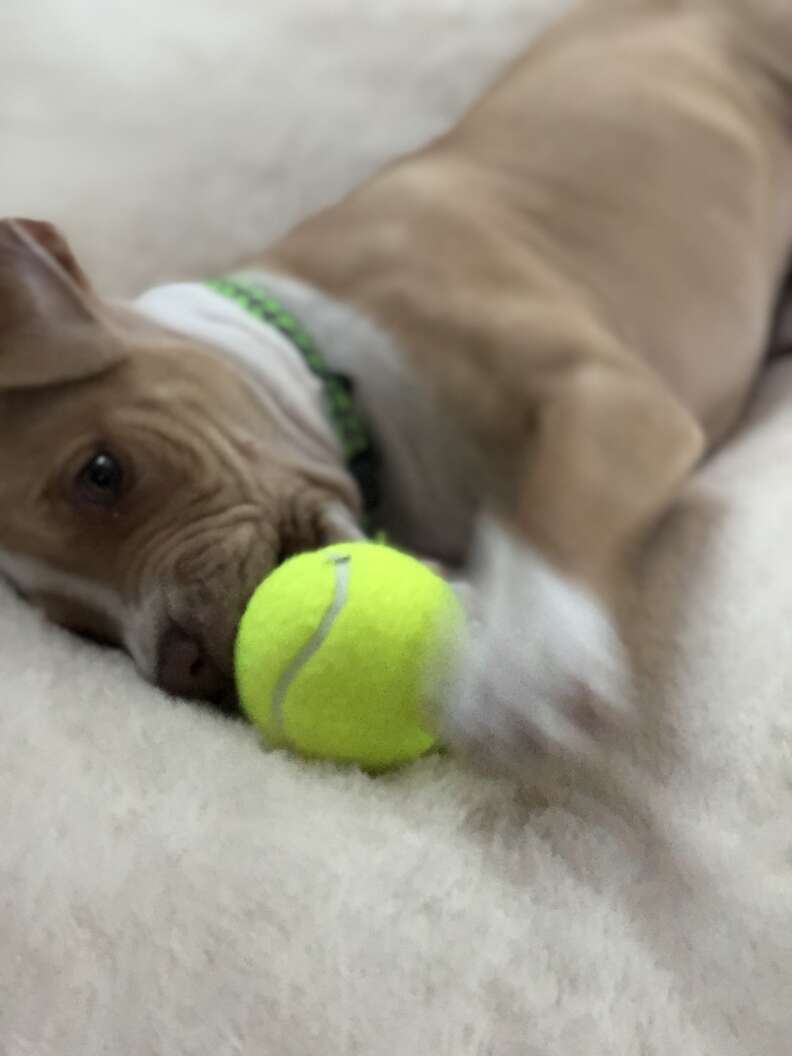 Once their application was approved, they decided the adoption should be a surprise for Leo.
At the shelter, Leo trailed behind his parents as they walked up to the front desk. When one of the volunteers came out holding a puppy, Leo couldn't believe what was happening.
Luckily, staffers at the shelter were secretly recording the touching moment:
Now, the Downses love watching the emotional video of when Nutty-Buddy joined their pack.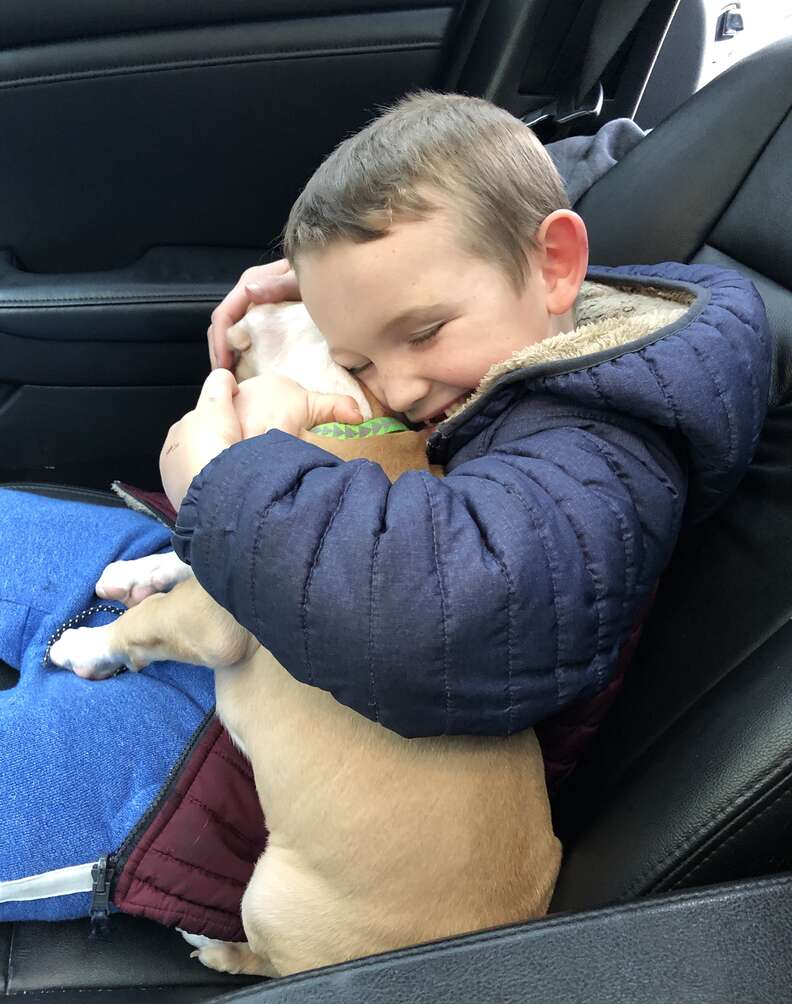 "It was an incredible moment for our family and I'm happy that we were able to capture this special moment," Chris Downs wrote on Facebook. "My son loved watching it as well. They were for sure tears of joy!"
It hasn't taken long for the puppy to settle into life at the Downses' home. Leo and Nutty-Buddy love doing everything together — from playing outside to snuggling on the couch.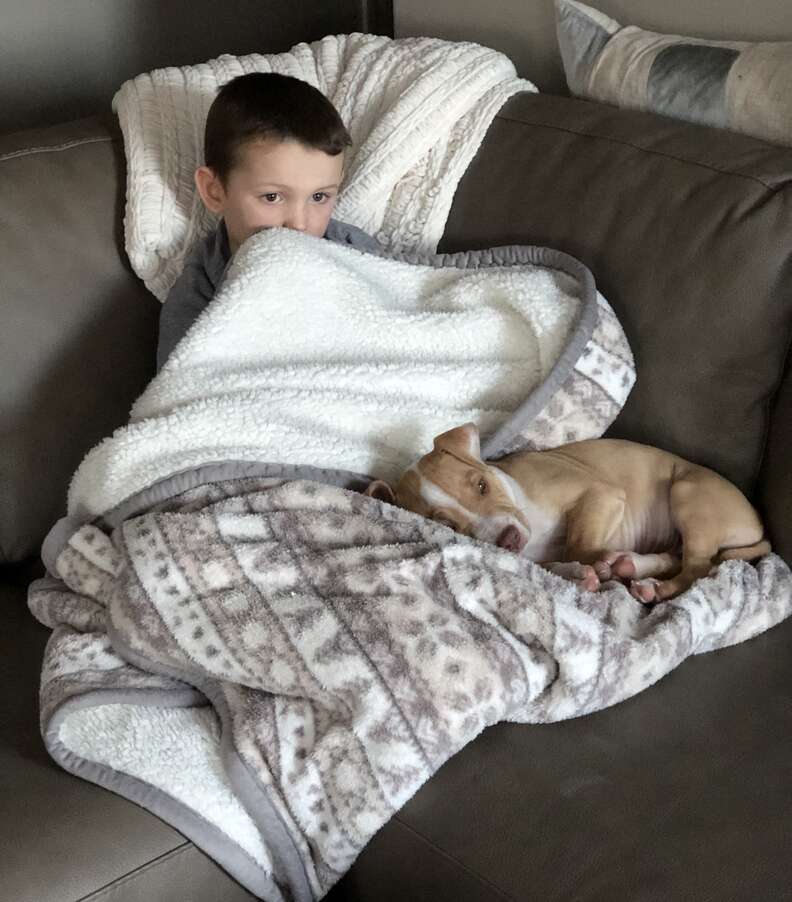 And while Nutty-Buddy is still too young to claim the bottom bunk, it's only a matter of time before Leo has to share his room once more.