Dog Saved From 'Blood Farm' Can't Believe How Great Life Is Now
"She loves going on walks, meeting other pups and is sweeter than donuts to everyone she meets!"
Laid-back, quiet and sweet are just a few words Dorothy's foster mom uses to describe her.
Watching the 1-year-old Jindo mix play with other dogs and take her New York City walks like a pro, one would hardly guess that just a few months ago Dorothy was living an unimaginable life: stuffed inside a cage with 12 others at a dog blood and meat farm.
In June, Dorothy and her cage mates were rescued by Korean K9 Rescue, an all-volunteer group dedicated to saving and rehabilitating dogs raised for meat in Korea. These dogs were being raised for "dog blood sausage" — as advertised on a banner outside the farm, which read: "Dogs' blood for sale: 600 grams for ₩6,000" [2.5 cups for less than $6].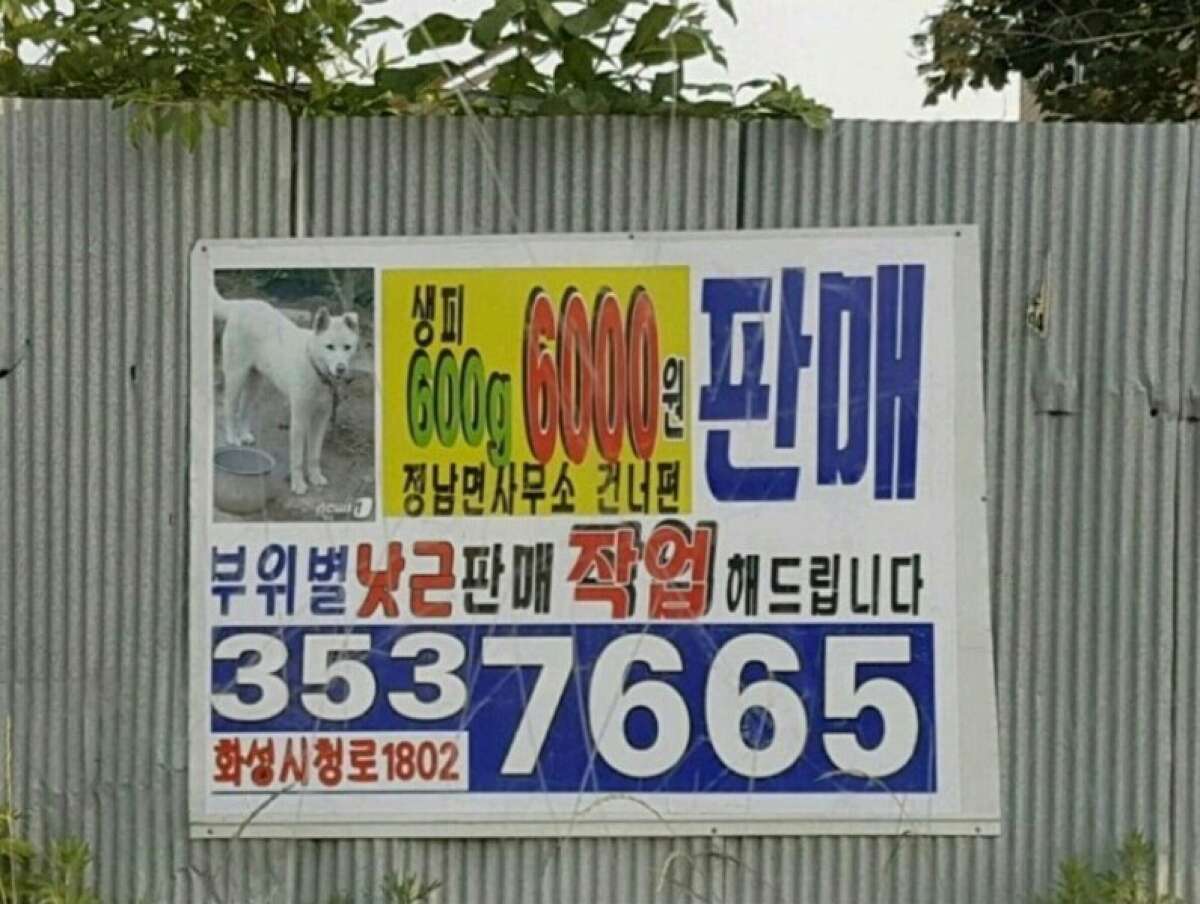 "We have rescued dogs from meat farms before, but this kind of use for dog meat was something we had never heard of before and it shocked us it even existed," Gina Boehler, founder of Korean K9 Rescue, told The Dodo. "And the pictures that we saw were hard to comprehend — how cruel and chilling the conditions they lived in. That part was very challenging emotionally and we felt compelled to save each and every single dog from that blood sausage farm we could."
Like factory farms, dog farms often house large numbers of canines in cramped, barren quarters with very little access to food or water — causing the animals a lifetime of abuse and suffering before they are slaughtered. In some countries dog farms don't exist, and many slaughtered dogs are instead people's pets, stolen from their homes or off the streets.
Although public support for the industry has been decreasing — especially among younger South Koreans — the Animal Welfare Institute estimates nearly 2 million dogs are still killed for food in South Korea each year.

Earlier this year, China, host of the infamous Yulin Dog Meat Festival, formally banned the sale of dog meat at restaurants, street vendors and markets — though many eyewitnesses said vendors were still selling dog meat. While the Korean government has not explicitly classified dog meat as fit for human consumption, there is no clear ban on the sale or slaughter of dogs for food.
"We have to support the activists in Korea on the ground fighting to change the laws and perception of what a dog's role in Korean society is," Boehler said. "Korean activists see dogs as a valued member of the family, even if they are mixed dogs, dogs bred on a farm, from a high-kill shelter, stray or chained. We firmly believe through awareness and adoption we can spread the message that all dogs deserve a loving, fulfilling home."
At the particular farm Dorothy was raised on, the dogs had no access to water and were being fed the decaying organs of their peers who had been killed. Still, Boehler said, the dogs started wagging their tails when rescuers approached their rusty metal cages. All 13 dogs rescued that day were very sick, and four of them died before ever coming to the United States.
Out of the survivors, Dorothy was the most ill. She had caught canine distemper, a serious viral infection that attacks the respiratory, gastrointestinal and nervous systems. After a tough battle, Dorothy overcame the illness and only bears one side effect: a condition called myoclonus, which causes muscle spasms while she's resting. Luckily, she's still able to live a totally normal life with her foster mom, Jenny Lee.

"Our veterinarian confirmed that the muscle contractions are not physically painful for her," Lee told The Dodo. "Her myoclonus has never led to any seizures, and it also doesn't slow her down or affect her ability to be a playful companion. She loves going on walks, meeting other pups and is sweeter than donuts to everyone she meets!"
When Dorothy first got to her foster home in Queens, New York, it was a lot for the nervous pup to take in. Having grown up on the farm inside a cage, she was not used to any of the typical sights and sounds that a dog would experience growing up in a traditional home — let alone in New York City. While it took a bit of time, Lee is proud to see Dorothy come out of her shell a bit more each day to try new things.

"I live in an apartment building, so when Dorothy first came she was really afraid to go inside of the elevator," Lee said. "Any new environment she experienced she was very anxious and cautious — so much that for the first few weeks I would have to hold her in my arms from the hallway, down the elevator and through the lobby to go outside. Now she's so looking forward to walks outside and is walking for longer and longer each day."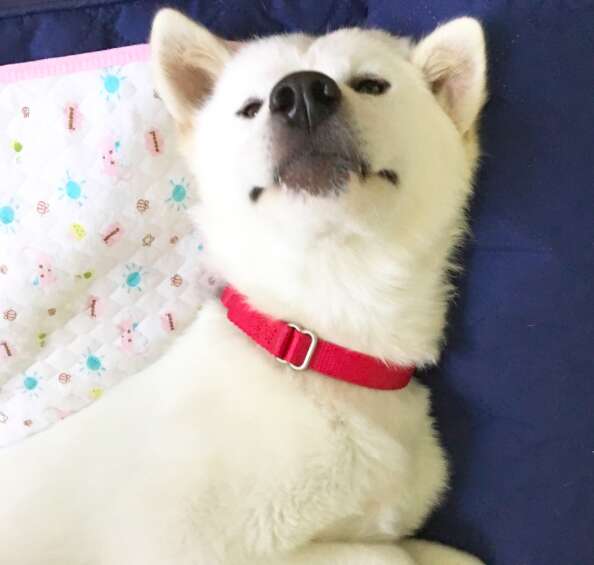 Lee is no stranger to rehabilitating dogs — Dorothy is her 19th foster dog, many of whom were rescues from the dog meat industry. Now that Dorothy is acclimating to life in a home, she's looking for a permanent family to call her own.
"Three other dogs rescued from the same farm have found homes within the past few months, so we really want Dorothy to find her forever home, too," Lee said. "Because she has special needs, someone who is patient, calm and wants a very mellow dog would be a perfect match for her. She loves playing and going on walks, but isn't high-energy or a barker."
While she waits to be adopted, Dorothy is continuing alternative therapies to help diminish the muscle spasms that she has from her bout of distemper. So far, she's been visiting an acupuncturist and just had her first session of hydrotherapy to help strengthen her muscles. And of course, she's getting plenty of playtime and days out on the town with her foster mom.
To Boehler, the work of Korean rescuers, and the people who adopt the rescued dogs, are placing increased pressure on foreign lawmakers to reexamine and eventually outlaw the dog meat industry. But until then, there are many more individuals who need saving — and plenty of meat trade dogs in the U.S. who need loving homes.
"We can condemn and hate all we want about the dog meat trade in Korea, but there are wonderful people opening their hearts and homes to these dogs, and that makes us see that humanity that we forget," Boehler said. "When I get angry or sad about the conditions of dogs in Korea that need [to be] rescued, I think about how many people have adopted, volunteered or donated and that makes it easier. Even if it is a slow process, I know good people out there are committed until they find their homes."