Mother Dog Trapped On Dog Farm Waited To Have Babies Until She Was Rescued
"It's amazing that she was able to hold them in throughout all of the traveling until she knew she was safe."
Growing up on a dog meat farm in Namyangju, Korea, Athena the 1-year-old Jindo mix was expecting a litter of puppies any day.
But with winter fast approaching, there was a good chance her soon-to-be-born pups wouldn't survive the freezing temperatures, locked inside cages with no protection from the wind.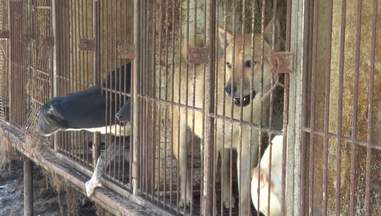 HSI
Luckily, the fate of her family was changed late last month when rescuers from Humane Society International (HSI) saved her and 170 other dogs from being slaughtered for food — a practice that remains legal in the country despite a major push for change by younger Korean generations and activists.
The dog meat farm where Athena was rescued from

| HSI
But her rescue wasn't done yet. After flying through California, Athena and nine of the other dogs arrived in Wisconsin on Dec. 4 to be cared for by the Humane Animal Welfare Society of Waukesha County (HAWS). Athena got a warm bath before shelter workers put her in a kennel with some cozy blankets so she could get some rest after her long plane trip.
The next morning, the workers went to check on her — and to their surprise, Athena was looking up at them surrounded by six newborn puppies.
HAWS
"We thought that Athena may have been pregnant, but it was really hard for us to tell how far along she may have been since she was pretty underweight," Jessica Pinkos, director of special projects for HAWS, told The Dodo. "It's amazing that she was able to hold them in throughout all of the traveling until she knew she was safe."
Although Athena was malnourished from her former life at the farm, all six of her babies are healthy and at a normal weight for their age, Pinkos said.
Two of Athena's puppies

| HAWS
Now living in a foster home, so she can have a comfortable place to raise her new family, Athena is proving to be a great mom to her three boys and three girls.
"She's a very nice mother and is so sweet to everyone," Pinkos said. "After the babies were born, she let us pick them right up to check on them and make sure everything was good. She's making more than enough milk to feed them, too, which is great considering she was malnourished during her pregnancy."
HAWS
Of the 170 dogs rescued alongside Athena that day, multiple females with puppies were saved, along with another dog who was expecting.
The mortality rate for puppies at dog farms is very high — and if Athena's pups had been born at the farm and survived through the winter, they would have been sold into the dog meat trade once they grew big enough, Raul Arce-Contreras, spokesperson for HSl, told The Dodo.
"It's very common for us to find pregnant dogs and puppies at the farms," Arce-Contreras said. "If we had not intervened in this farm, Athena would have given birth there."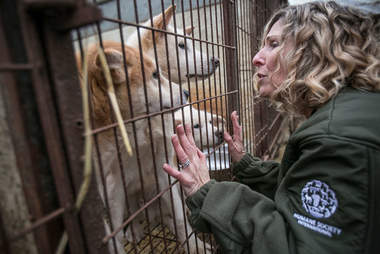 HSI
This latest rescue marks the 10th Korean dog meat farm HSI has helped close in the past three years, often with the compliance of the dog farmers, who are looking to get rid of their dogs and enter a more humane industry.
The rescue missions have saved the lives of over 1,200 dogs, placing them into safe homes throughout the United States and abroad — and rescuers can now add six more to their tally with Athena's tiny bundles of joy.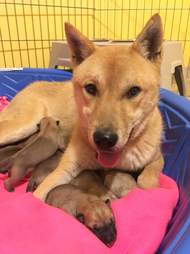 HAWS
While a few of Athena's puppies have already been pre-adopted by friends of HAWS, she and the remaining puppies will be looking for forever homes once the time is right.
"Once Athena raises her family, I'm sure she will find a home very soon," Pinkos said.
To help HSI save more dogs from the dog meat trade, you can
make a donation
. Interested in adopting Athena or one of her puppies?
Contact HAWS
.
Looking for another pet? Then meet Dodo Adoptbot, an interactive guide for new pet parents. Get started on
Facebook Messenger
or text HOME to 38349.