Dog Saved From Worst Place Hops Up On Fence To Watch Rescuers Arrive
"Even though he's a little fearful of touch, he's actually very curious and adventurous about everything else in life."
James had every reason to be scared of people.
The 3-year-old mastiff once lived in a dilapidated pen at a farm near Pyeongchang, South Korea, along with around 84 other dogs. This was no ordinary farm — James and the other dogs were being farmed for their meat, which would be sold in the dog meat trade.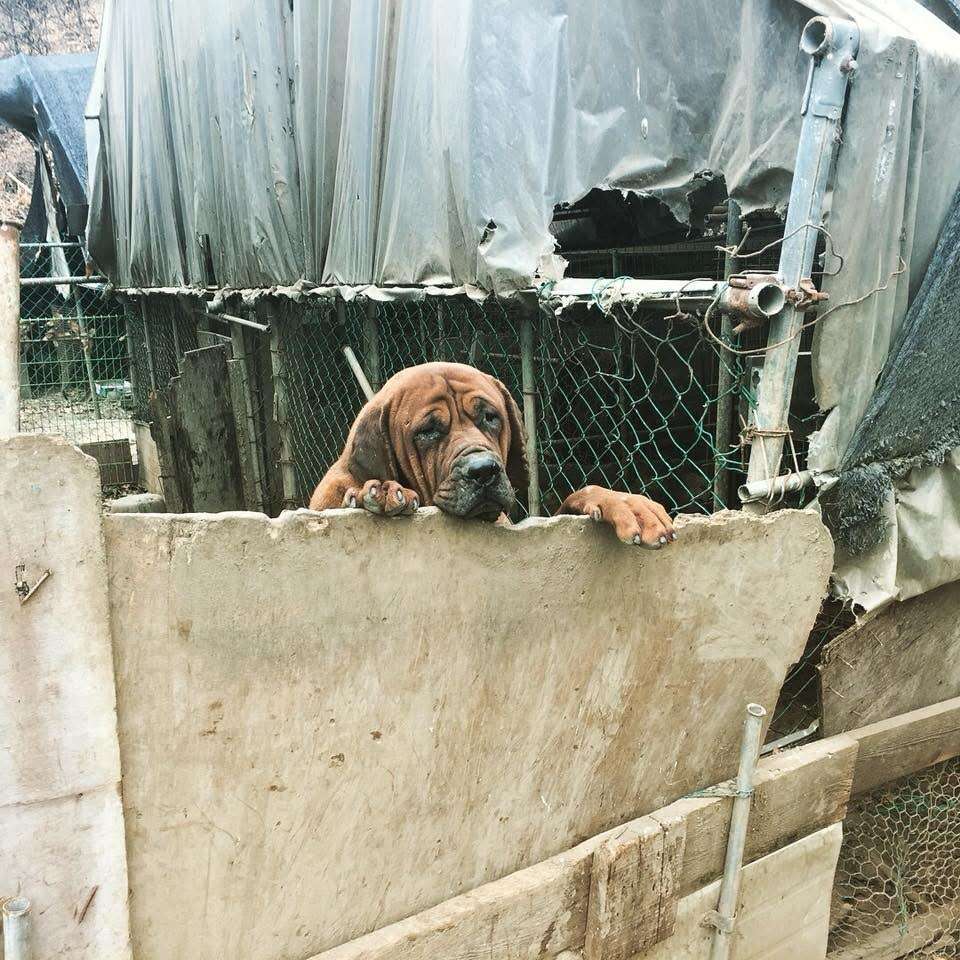 While the dogs waited to be slaughtered, they lived in horrible conditions. Their cages were overcrowded, and there wasn't much to protect them from the snow or sun.
But in February, things changed for James and the other dogs. The farm owner had a change of heart, and approached Humane Society International (HSI) to shut down the farm and help him transition to another career.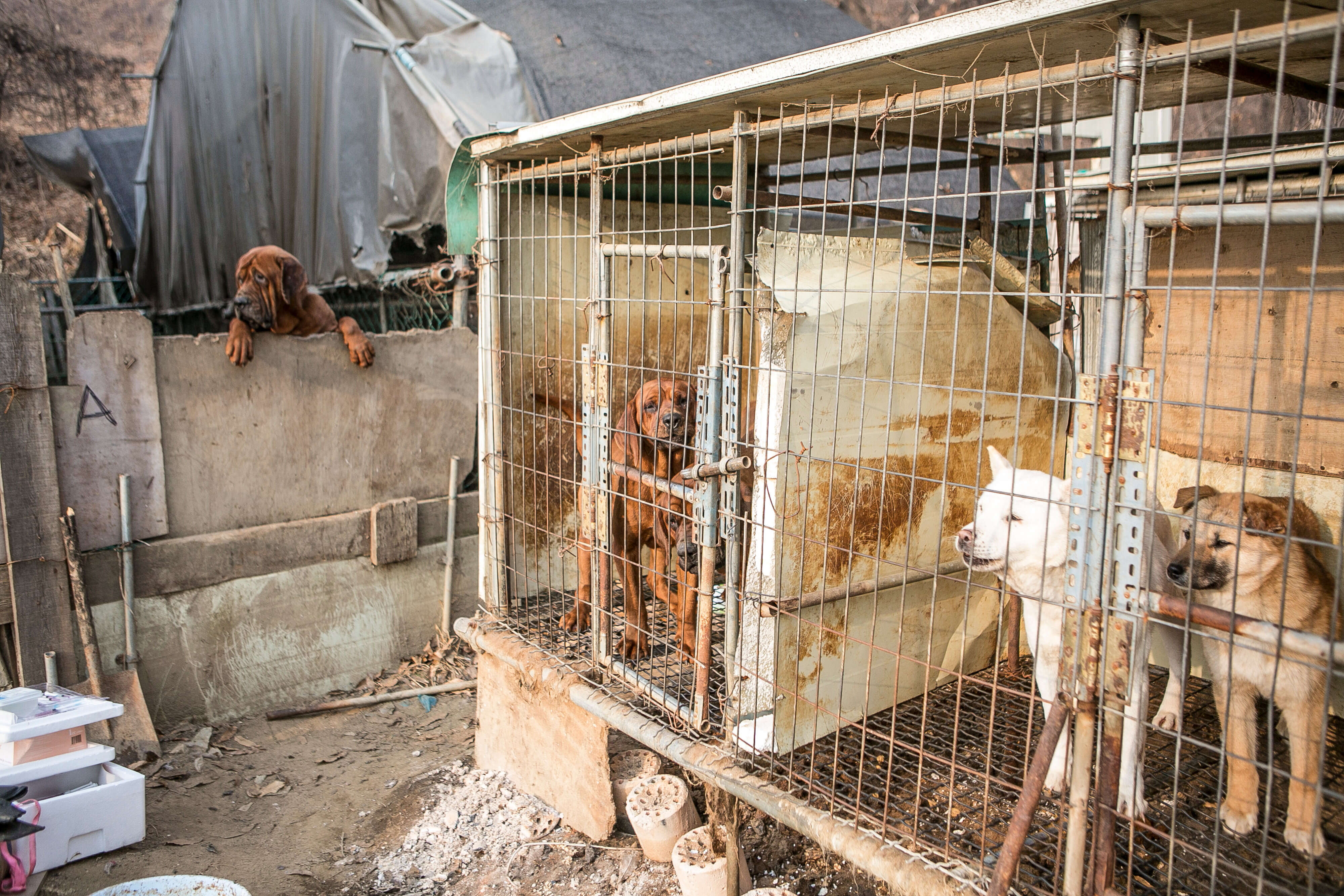 In February, a team from HSI arrived to start pulling the dogs from the farm and transporting them to Canada. The team immediately noticed James, who jumped up on the side of his pen to watch the goings-on.
"We all kind of fell in love with James because of that," Adam Parascandola, senior director of animal protection and crisis response for HSI, told The Dodo. "He's a cute dog, and he had such a droopy little face."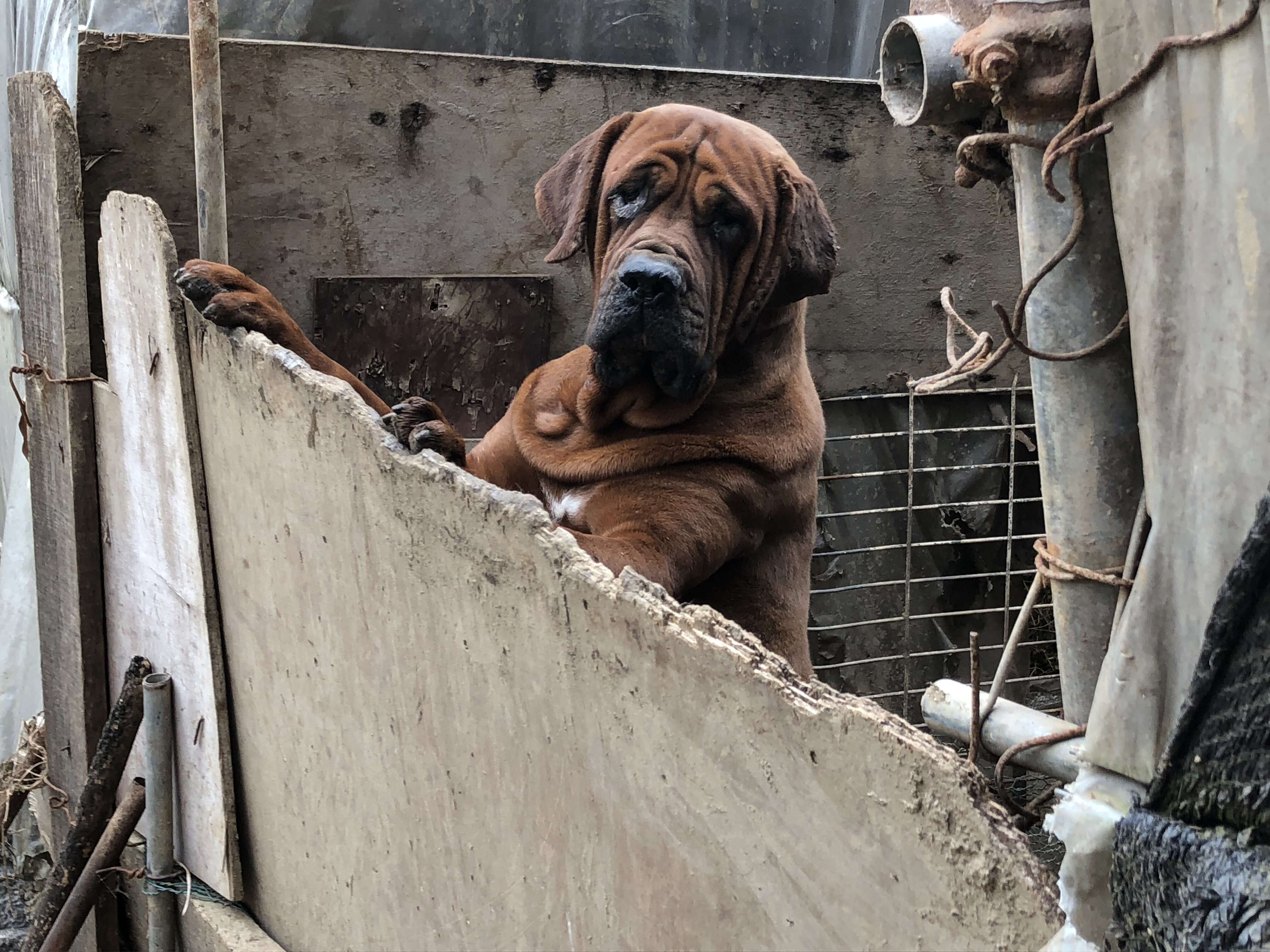 But when the rescuers tried approaching James, he shied away.
"He would kind of run around, and the first time we tried to put a leash on him, he got really scared and started flipping out, so we took it off," Parascandola said.
"I don't think he ever really had much attention in terms of being petted or anything by people, so it took him quite a while to get used to that," Parascandola added. "When we had to bring him into the [transport] crate … we kind of herded him into the crate because he was really nervous about the handling."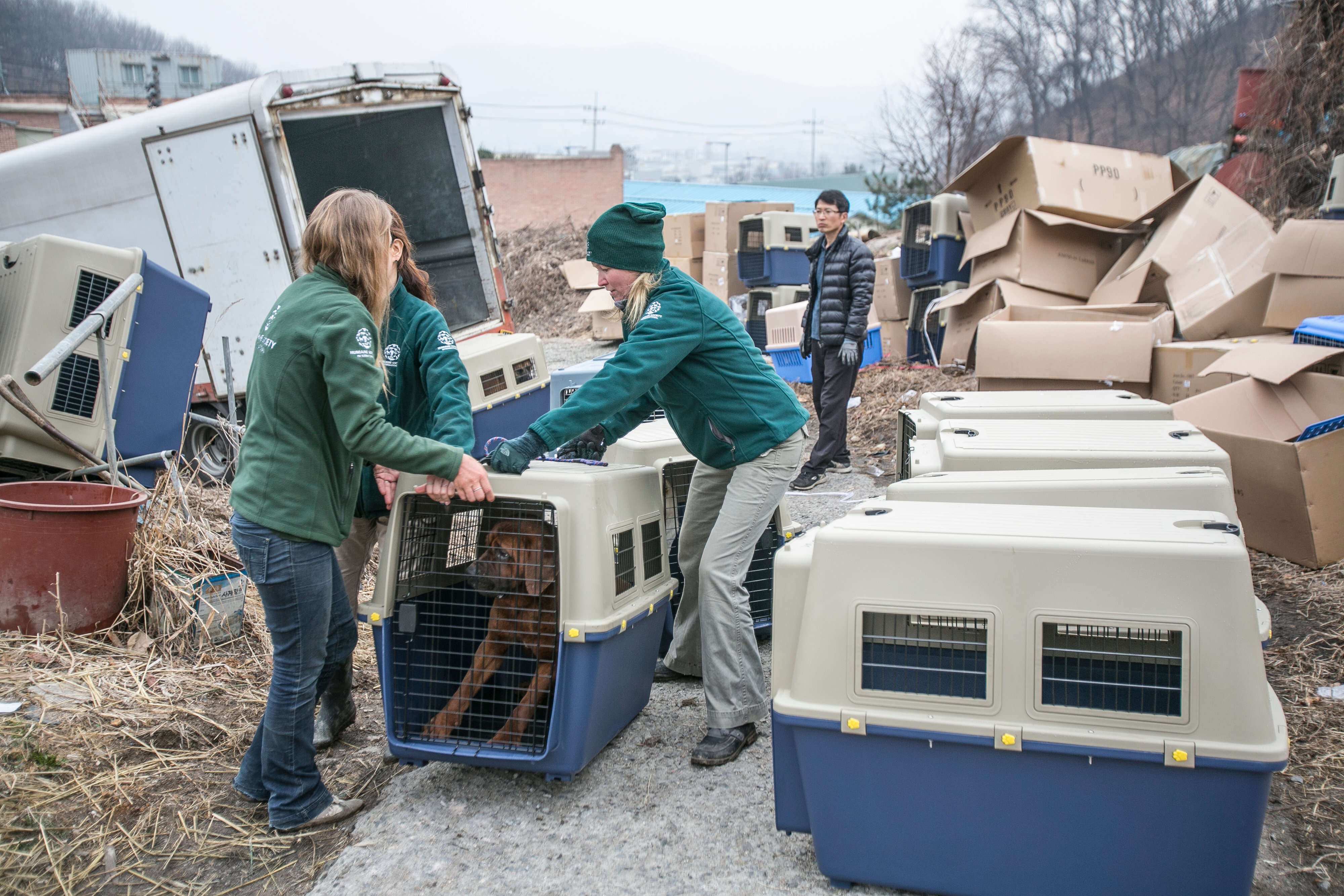 When James arrived at the HSI rescue center in Montreal, Canada, he was still wary of people.
"He was very nervous," Parascandola said. "For these guys, they don't know they're being rescued, so it's very unsettling for them when they first get moved. I mean, there are a few of the dogs that are very social, and they adapt quite quickly … but for the other dogs, it takes a little while for them to feel comfortable in a new situation."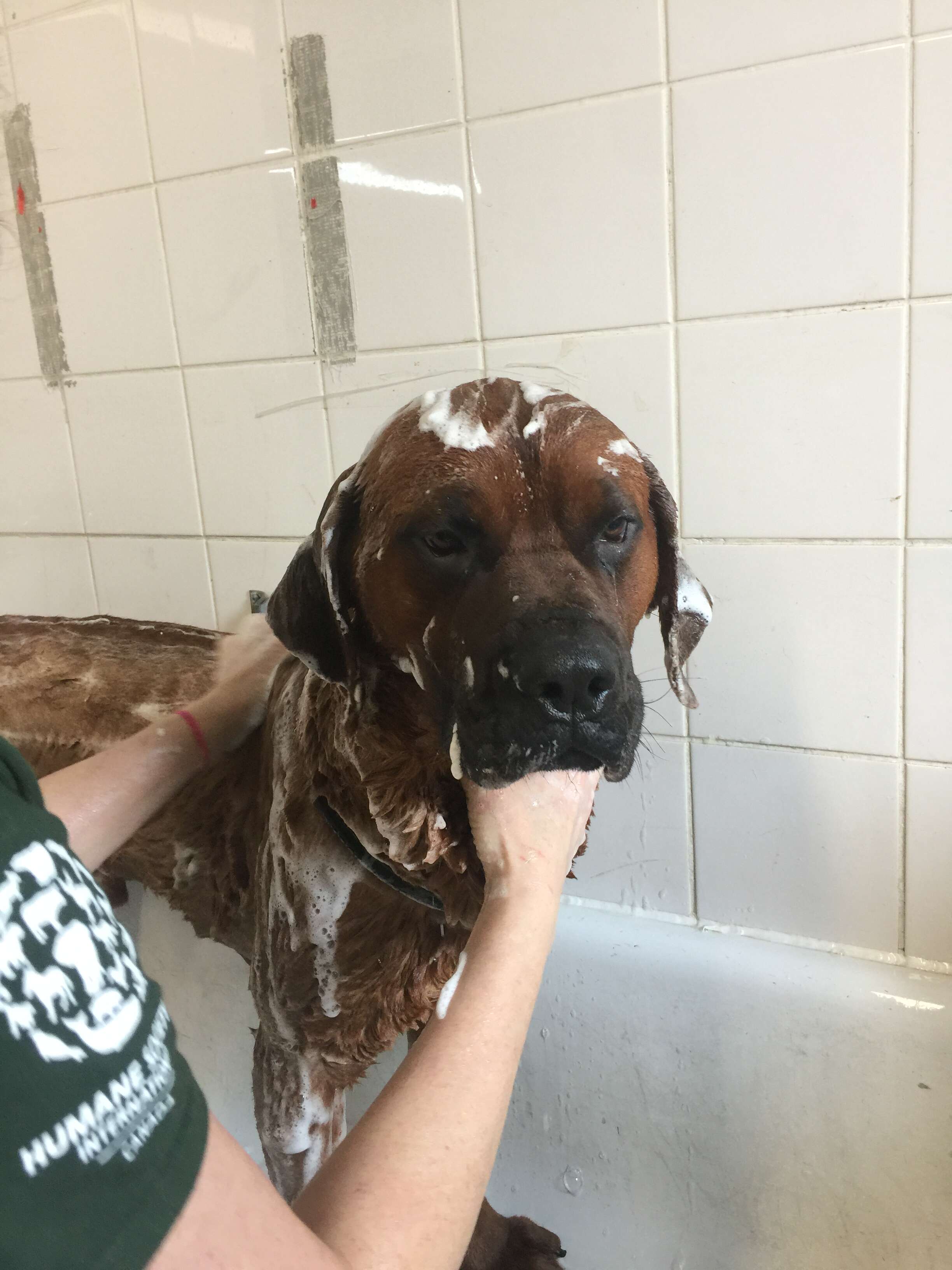 The team initially placed James in a foster home with no other dogs, thinking this would be the best thing for him — but it didn't go as they expected.
"We believed it was a good match because it was a little bit of a quiet environment," Amber Remedios, co-owner of Red Rover Toronto, a dog walking and boarding company involved in the rescue, told The Dodo. "That way, he'd be able to explore and come out of his shell on his own terms. We quickly realized after a couple of days that it was not helping him grow. He was actually shutting down."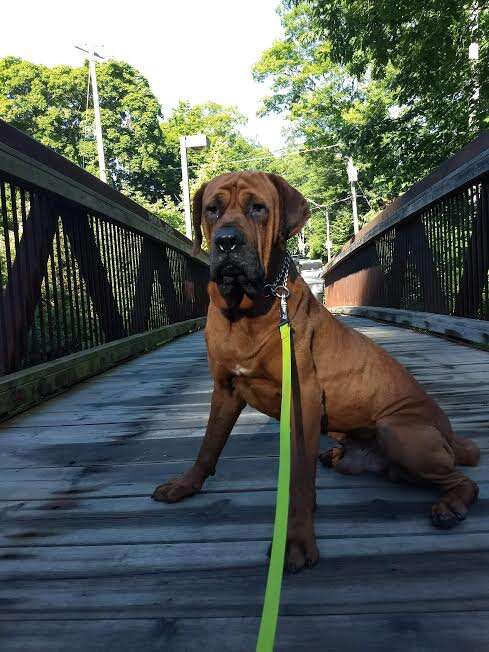 They tried a different approach. A few days later, James moved to Remedios' home, where he'd get to live and interact with other dogs. At first, there wasn't much improvement.
"If you moved, he was running in the other direction, he was so scared," Remedios said. "If he had to pass you in the hallway, he would run past you. If you ever tried to reach toward him, he would try to become one with the wall. He was just not interactive at all."
On the other hand, James loved hanging out with the other dogs in Remedios' household.
"Lo and behold, 12 hours later, he was actually playing," Remedios said. "He was running around with the other dogs and playing like a dog. We realized this was the best place for him."
James has been living with Remedios for about a month now, and he's making huge improvements each day.
"By week one or week two, he was actually falling asleep when you were petting him," Remedios said. "By week three, he was excited when he came home. He was wagging his whole body and his tail."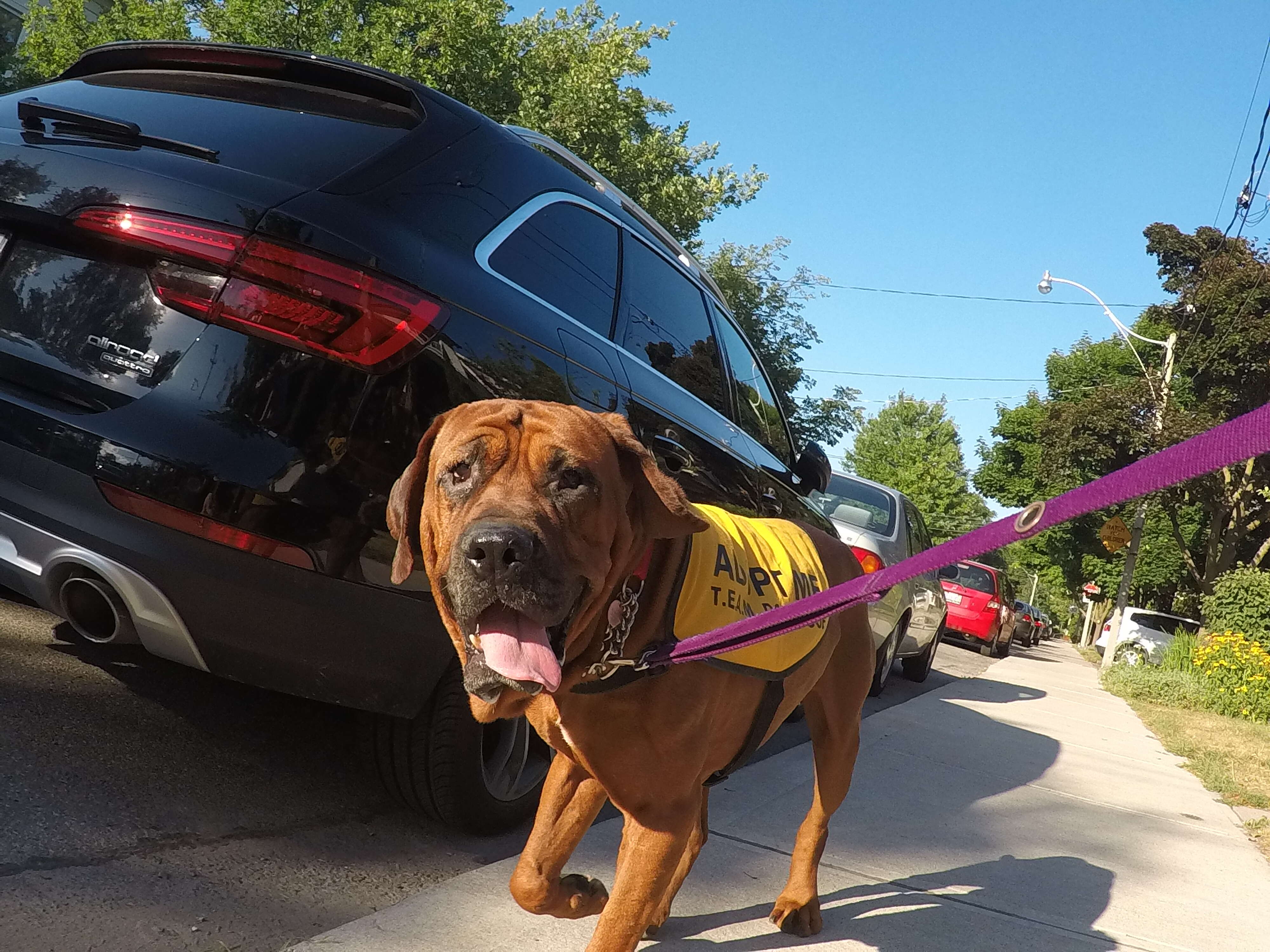 "He plays with the dogs all day, and he played with a toy for the first time last week," Remedios added. "He picked up a ball and rolled around and chewed on it."
James is still looking for his forever family, and Remedios believes the best home for him would be one with another dog.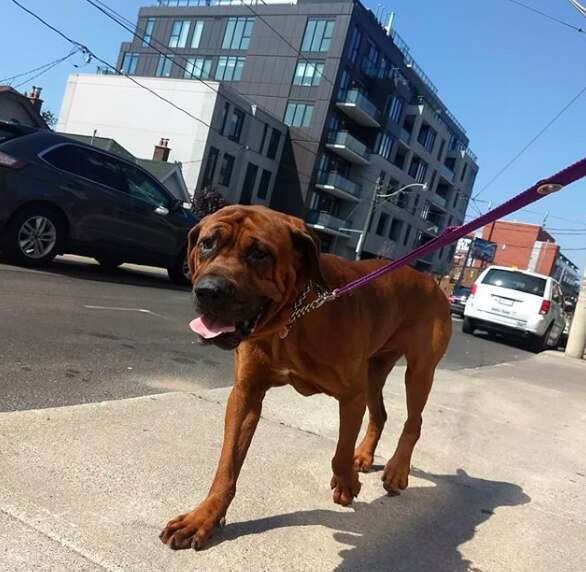 "Dogs really instill a sense of confidence in him, so he needs a dog to show him the ropes, and show him that people aren't so bad, because his previous experiences have only shown people in a negative light," Remedios said. "He does like to run and romp, so he does like a dog who is more active. However, he's a mastiff, so after he gets about an hour of playing, he's done for the day."
While James and the other dogs from this farm were lucky to be rescued, the dog meat trade is still a huge issue in South Korea, as well as in other countries in Asia. There are approximately 17,000 dog meat farms in South Korea, and 10 million dogs are slaughtered for their meat each year in the country, according to Korean K9 Rescue. Yet animal welfare advocates are working hard to put a stop to dog meat farming, and are saving and rehoming as many dogs as they can.
"When I do tell people that he's from a Korean meat farm, they're usually kind of blown away," Remedios said. "Even though he's a little fearful of touch, he's actually very curious and adventurous about everything else in life. It's pretty interesting to see a dog that probably had no exposure to so many things, but was willing to go out and explore and try and find the joy in life after everything that happened to him."