Stray Cat Was In Such Bad Shape People Couldn't Tell What He Was
When Battle Cat wandered into a family's yard, they immediately knew they wanted to change his life 💪❤️️
Pamela Latham was standing in her driveway with her family a few weeks ago when they suddenly noticed an animal slowly wandering up to them. At first, they had no idea what he was — and were shocked when they realized he was actually a cat.
The poor cat looked as if he had either gotten into a fight or been hit by a car, and the condition he was in was absolutely heartbreaking. Latham knew immediately that if she left him outside in that state, he wouldn't make it, so she quickly brought him inside and tried to clean him up as best she could. She made a soft bed for him to relax in, and the next day she rushed him to the vet, hoping that it wasn't too late to help him.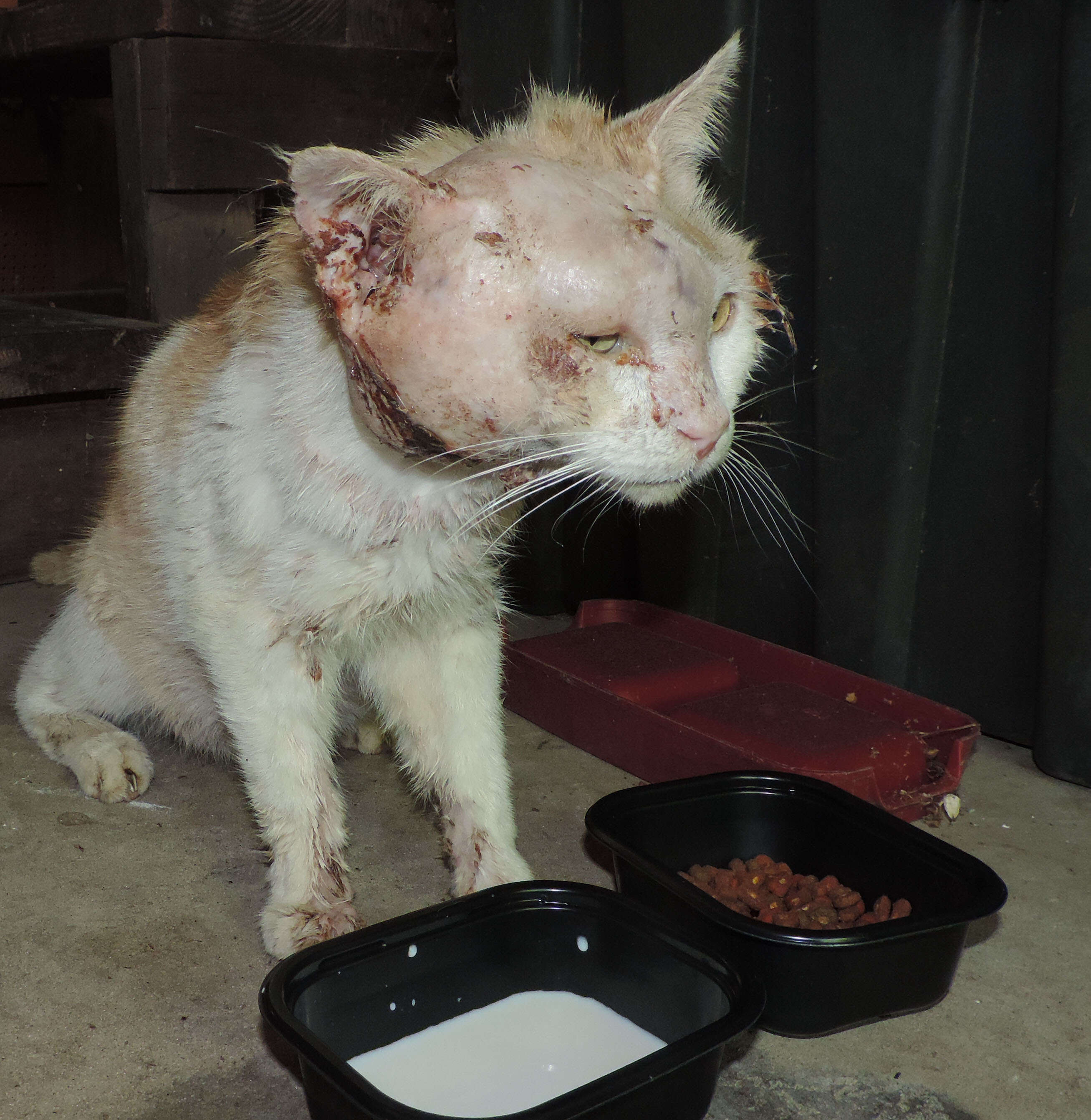 When Latham showed up at the hospital with the cat, even the vet was completely shocked by his condition. When the vet asked Latham what the cat's name was, she explained that she'd just found him and hadn't had a chance to name him yet — so the vet decided to call him Battle Cat, and the name stuck.
After examining him, the vet determined that Battle Cat had practically every injury imaginable. He suffered from puncture wounds all over his body, especially on his face, which had become infected. He was missing a ton of fur, was covered in fleas and ticks, had a ruptured eardrum and was running a fever, and his eyes were almost swollen shut. Poor Battle Cat was a complete mess, but the vet was still hopeful that he would be able to make a full recovery — but no one could have predicted just how quickly that recovery would happen.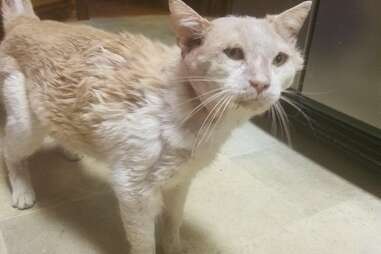 Latham took Battle Cat home with her to continue his treatment and recovery, and within just a few days, he was already looking and feeling so much better. He was incredibly skinny when he was found, and Latham encouraged him to eat and drink as much as he wanted, hoping he would put on some much-needed weight. After spending time with him and watching him start to recover so quickly, Latham knew that the little fighter was there to stay.
Battle Cat settled into his new home incredibly well, and 10 days after he was found, he didn't even look like the same cat anymore.
"I had some doubts that he would make it, but I kept my fingers crossed and he pulled through with flying colors," Latham told The Dodo. "He still has a lot of hair loss, which the vet said came from the extreme infection, but hopefully he will have a full coat again soon."
Latham decided to officially name him Lazarus, but everyone still likes to call him Battle Cat, as a reminder of how far he's come. Despite everything he's been through, he's one of the sweetest cats Latham has ever met. He loves to be pet, and even likes to go for rides in the car with his new mom. After surviving on the streets and almost not making it, he is a true example of just how resilient animals can be.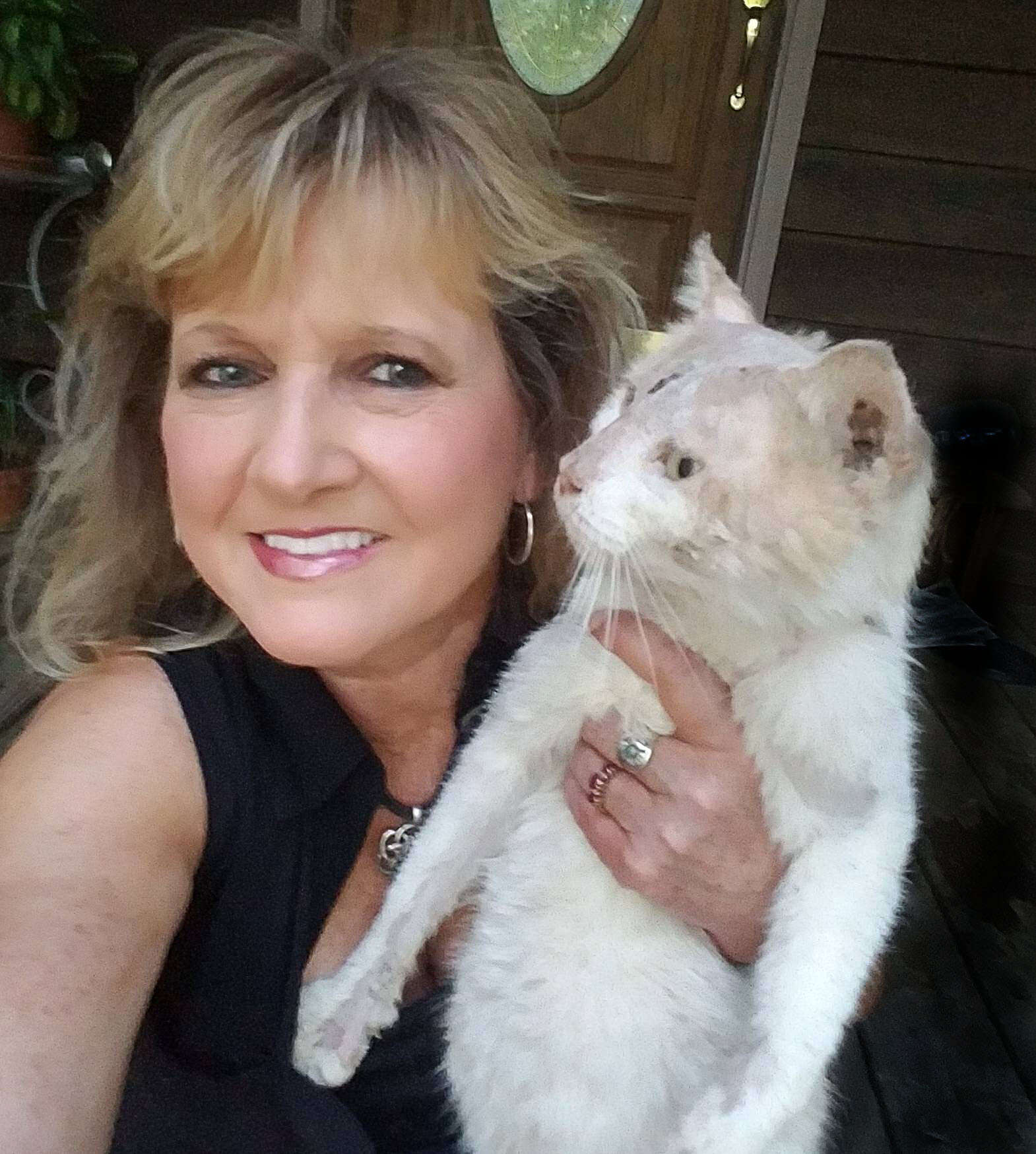 "He is such a sweetheart. I could not ask for a more humble, easygoing, laid-back cat," Latham said.
Most people would have seen Battle Cat and assumed he was a lost cause. Latham knew he deserved a chance, though, and now he's blossoming into the cutest, friendliest cat, and his new mom can't wait to see all the progress he's going to make as he continues on his journey to recovery.
Thinking about adopting? Then meet Dodo Adoptbot, an interactive guide for new pet parents. Get
started on Facebook Messenger
or text HOME to 38349.