Impatient Dog Causes Adorable Scene In A Starbucks Drive-Thru
Don't talk to her until after she's had her "coffee" 😂
When it comes to getting her "coffee," fast is never fast enough for this impatient pup.
And she's certainly not ashamed of letting that be known.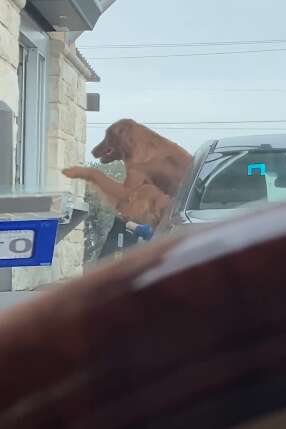 The other day, while sitting in line at a Starbucks drive-thru in Texas, customer Billie Lynn Reed noticed an unusual scene unfolding in front of her. Inside the next car up was a group of dogs waiting for their drink order — cups of whipped cream for canines, known as Puppuccinos.
Though they couldn't really take more than a second or two to make, for one of the dogs in front of Reed, that was still much too long.
As you'll see, rather than wait in the car, this particular dog decided to cause an adorable little scene:
The dog's owner was eventually able to wrangle her back into the car, but by then she'd already brightened Reed's day with her antics.
"I look up and I was like OMG. Lol I was rolling," she wrote. "So you know I had to record it or it didn't happen."