Woman Sees Photo Of Sick Husky At Shelter — And Knows She Has To Help Him
"I cried literally for two days … and I was thinking, 'I know I can just help this boy if I can just get him.'"
When Shari Baillargeon saw a photo of the husky, she started to sob.
"His skin was raw in places, and he just looked miserable," Baillargeon, an independent rescuer, told The Dodo about the dog in a shelter in Chickamauga, Georgia. "I cried literally for two days … and I was thinking, 'I know I can just help this boy if I can just get him.'"
Shari Baillargeon
In late July, animal control had picked up the husky, a senior named Wally, who'd been meandering around neighborhoods in northern Georgia, looking for food, water and shelter.
"People were calling animal control, because this mangy dog kept wandering toward their houses and going into their carports or their front porches," Baillargeon said. "They kept shooing him away, and trying to get animal control to pick him up."
Shari Baillargeon
Wally spent two days at the city shelter before Baillargeon got him out with the help of MUSH Rescue, a group dedicated to saving Siberian huskies. Then Baillargeon rushed Wally to the vet.
"He was in really bad shape," Baillargeon said. "He had no body mass whatsoever, and he had a big mass growing on his side."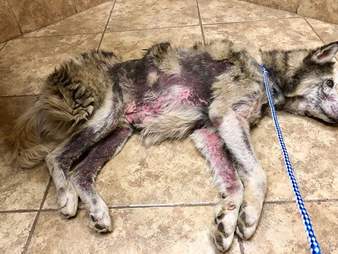 Wally when he was first taken to the vet

| Shari Baillargeon
Wally also had demodex mange, a contagious skin condition caused by mites that burrow into a dog's skin, heartworm disease, and infections in his ears, eyes and bladder. In short, he was a mess — but Wally's health issues didn't deter Baillargeon from helping him, and falling in love with him in the process.
Shari Baillargeon
Baillargeon took Wally home to live with her, making him as comfortable as possible so he could concentrate on getting better — and Wally flourished. He immediately recognized Baillargeon as his caregiver, and started looking at her with "thankful eyes," Baillargeon said.
"He adores attention," she said. "He comes up to me, and lays his head on me, wanting attention. He'll climb up on the couch with me and lay his head on my lap. He just wants to be loved and taken care of."
Shari Baillargeon
Baillargeon currently has eight other foster dogs. While Wally gets along with all of them, he becomes jealous when Baillargeon gives them lots of affection.
"He is so attached to me," Baillargeon said. "If the others come over for petting, he wants to be right in front of them, trying to keep them away from me, so he gets all the petting."
Shari Baillargeon
Wally also adores Baillargeon's granddaughter, who often comes to visit and loves playing with the dogs.
"He's a gentle soul," Baillargeon said. "These dogs that people have let down and abused and been so horrible to … they just forgive and have this gentle, loving nature. They're just so thankful that somebody is treating them kindly."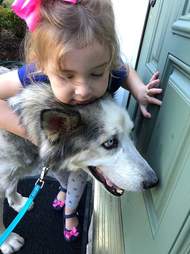 Shari Baillargeon
Many of Wally's health problems have cleared up, but he's still undergoing treatment for heartworm disease, and unfortunately, the mass on his side has grown into a large tumor. While the doctors believe the tumor is mainly fatty tissue, and therefore benign, it's pressing into his stomach and making Wally uncomfortable.
Shari Baillargeon
The best thing for Wally will be surgery, and MUSH Rescue is currently raising funds to make this happen.
"If we can get surgery to get this tumor removed, he's going to keep flourishing," Baillargeon said.
Shari Baillargeon
Eventually, if Wally makes a full recovery, Baillargeon hopes he'll find a forever home.
"He is so worth the time and effort, and when he feels good, he is going to be the best dog," Baillargeon said. "He will be so attached and bonded to whoever ends up with him. You'll have a friend for life."