Woman Doesn't Want Husky To Give Birth At Shelter — So She Puts Her In Her Car
"I have a husky giving birth in the back of my car. Please don't tell my husband."
"She's having her babies now!" Those words, yelled by an animal shelter worker, are what started quite an adventure for a pregnant husky and a rescue volunteer, Jennifer Taylor.
Taylor goes to a shelter in Edinburg, Texas, nearly every day to help save lives. She meets all the dogs and takes pictures to network them with rescue groups. When Taylor met the sweet mother-to-be, named Debbie, she knew she had to save her.
Texas Sled Dog Rescue offered to take the soon-to-be mom, but unfortunately, that soon-to-be part came sooner than everyone thought. Just as Taylor was arranging a ride for Debbie from South Texas to her foster home, located a few hours away, Debbie went into labor.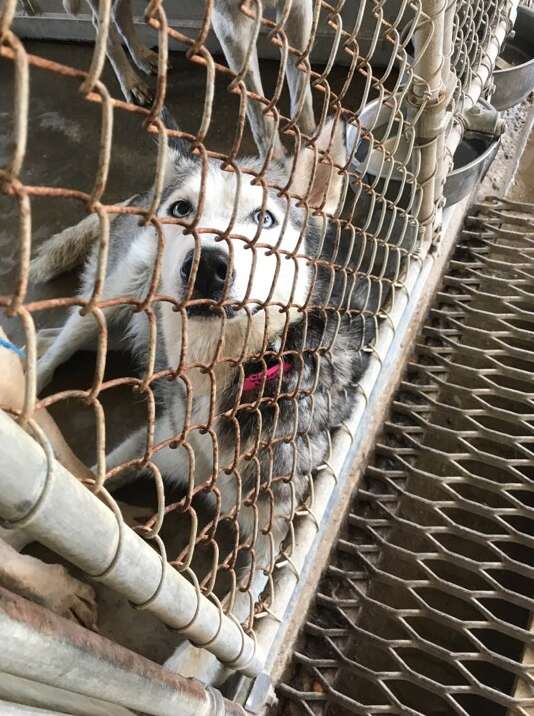 "We knew this dog was pregnant, but didn't think she was quite ready to go," Taylor told The Dodo. "My first thought was, 'Oh no, not now! A shelter is no place to have puppies. This is not good timing, mamma, you're supposed to hold them in until you get to your foster home.'"
Within minutes, two puppies made their debut. Taylor decided to bring the growing family home with her, so she could care for them temporarily.
Taylor has fostered about 500 dogs and shuttled around so many that her quite-supportive husband bought her an SUV that is just for the dogs. But, as she was frantically on her way out the shelter door with Debbie and the pups, Taylor remembered that she actually drove her husband's car to the shelter that day — the one he would prefer to remain pooch-free.
Taylor loaded the burgeoning dog family inside the vehicle anyway. Trying to find some humor in the situation, she took a picture and posted it on Facebook — which her husband does not use — writing, "I have a husky giving birth in the back of my car. Please don't tell my husband."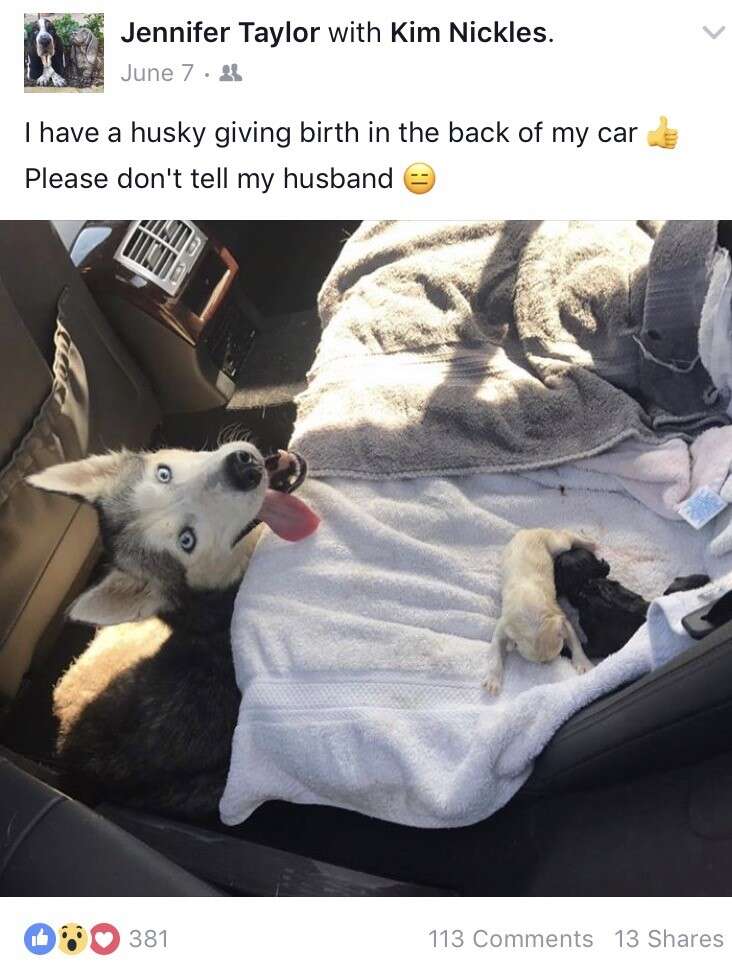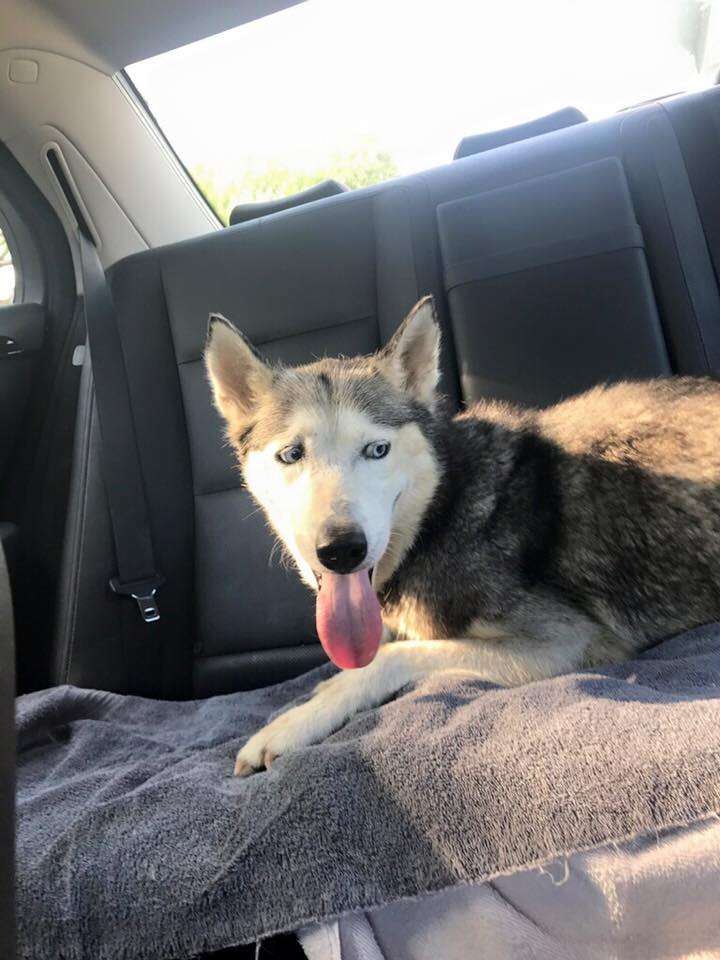 But Taylor refused to leave Debbie in labor at the shelter. "I said, 'Hang on, mamma,' and she was in the back of my Mercedes in labor. I drove as fast as I could, juggling driving and trying to monitor her," Taylor said.
Soon after Taylor got Debbie home, Debbie had eight puppies. "Debbie is such a good mother dog to her babies," Taylor said.
Debbie, who is very proud of her new family, recovered at Taylor's home.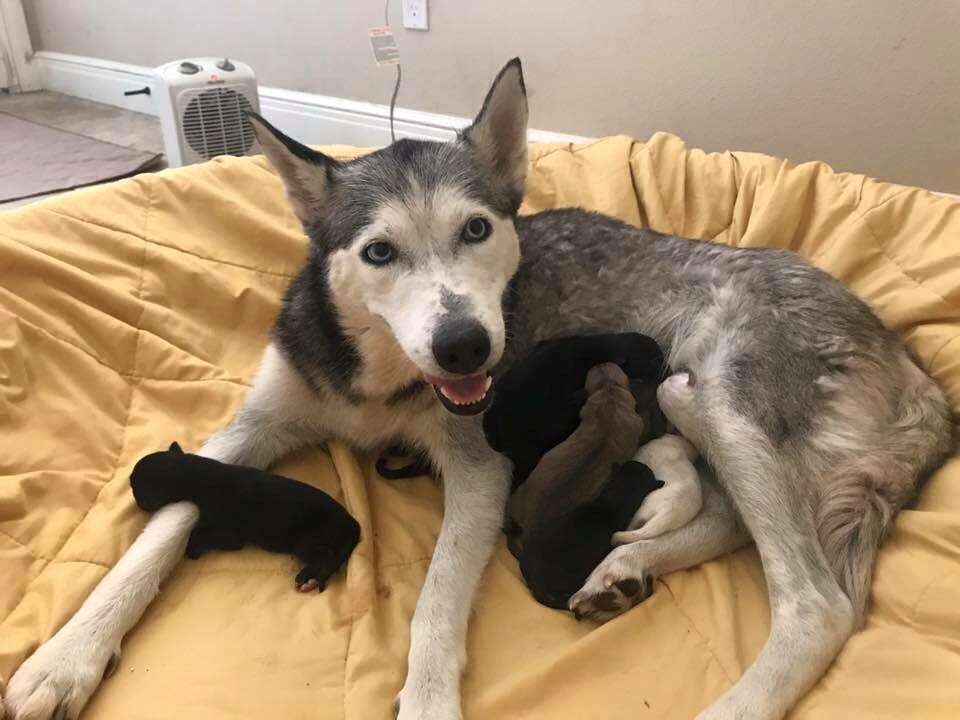 A few days later, Debbie and her pups got the ride they needed to their foster home. Texas Sled Dog Rescue renamed the crew "Debbie and the Big Bang Family."
"We picked The Big Bang Theory as the theme for this family because they came in with such a bang; it just seemed fitting," Rebecca Chavez, from Texas Sled Dog Rescue, told The Dodo.
The family will soon be up for adoption. They are located in Houston, but Debbie and her puppies can be adopted in other nearby areas like Austin and Dallas.