Huskies Rescued From War-Torn City Get Their Very First Beds
They were found wandering the streets in Syria.
Two husky mixes who managed to survive a brutal war just flew across an ocean to find new lives in forever homes, thanks to so many people who helped them.
Loki (left) and Lucy after being rescued.

| TEAM Dog Rescue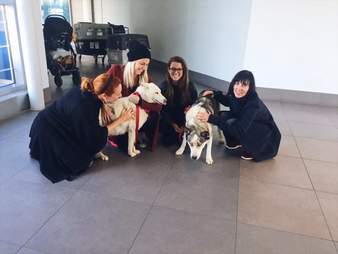 Loki and Lucy arriving at the Toronto airport

| TEAM Dog Rescue
Loki and Lucy, who are roughly 4 years old, were kept alive thanks to residents of Aleppo, Syria, until they could be saved by Four Paws International earlier this year. 
Rescuers from Four Paws International coordinated the rescue of the dogs.

| Four Paws
Four Paws
Loki and Lucy were originally found wandering the streets after their owners had to flee the city, decimated by war.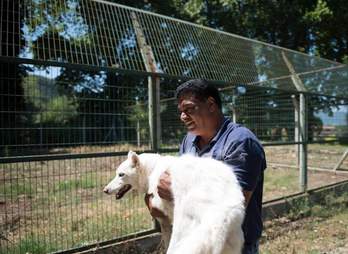 Four Paws
"Apparently the original owners had to flee urgently and could not take the dogs with them," Martin Bauer, a spokesperson for Four Paws, told The Dodo. People who stayed behind repurposed cages in a zoo for the dogs, to keep them safe.
TEAM Dog Rescue
Sticks n Bones
And this act of kindness made a meaningful difference for the dogs. They just arrived in Canada, where they'll begin recovering and eventually find forever homes.
TEAM Dog Rescue
"Both Lucy and Loki landed safely in Toronto and are presently with one of our behaviorists," Ashley Hyslop, of TEAM Dog Rescue, told The Dodo. "They will live in a home setting [through] Sticks N Bones. This will allow us to better determine their foster and adoptive needs going forward."
TEAM Dog Rescue
Since their rescue, Loki and Lucy, rescued from such unusual circumstances, have been learning how to do normal dog things, like walking on a leash and playing tug-of-war (a game which they have discovered they truly love).
They also just received their first dog beds.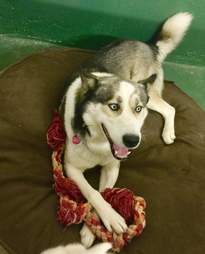 Sticks n Bones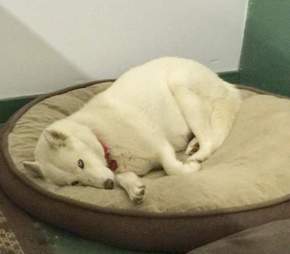 TEAM Dog Rescue
"They have assimilated very well to their new surroundings," Hyslop said. "Lucy and Loki are very social huskies. Considering all they had been through and have experienced, they have found their footing easily."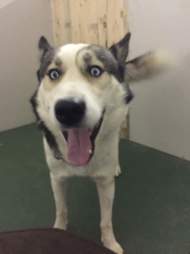 TEAM Dog Rescue
Rescuers are determined to make Loki and Lucy's lives full of love from now on.
"We vow to find not just a forever home, but their utopia," Hyslop added. "We ask everyone to share their quest for the perfect family."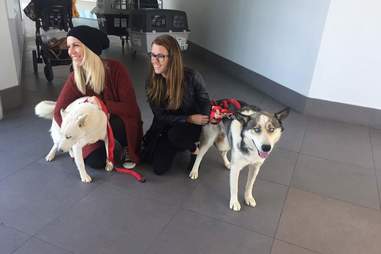 TEAM Dog Rescue
You can help Loki and Lucy find the perfect home when they're ready by sharing this story. You can also make a donation to
TEAM Dog Rescue
.