Huskies Left At Dog Park With All Their Toys And The Saddest Note
"We are nice 1-year-old dogs. Please don't split us up."
For most dogs, a trip to the dog park is heaven. They get to run around without a leash on, play with other dogs and go home with happy memories. But for two huskies, Jada and Layla, their dog park visit ended very differently.
Last week, Mona Ahmed, manager of Woodward Dog Park in Fresno, California, got a phone call. A woman at the dog park had found two huskies there.
At first, Ahmed didn't panic — surely the dogs belonged to someone and the owner would be back to get them. But then the woman said she found a box filled with dog food, bowls and toys. There was also a note inside the box.
"Our names are Jada (black) and Layla (brown)," the note said. "We are nice 1-year-old dogs. Please don't split us up. Layla gets scared without her sister."
Ahmed rushed to the dog park as quickly as she could, and she found Layla and Jada wandering around, looking sad and confused.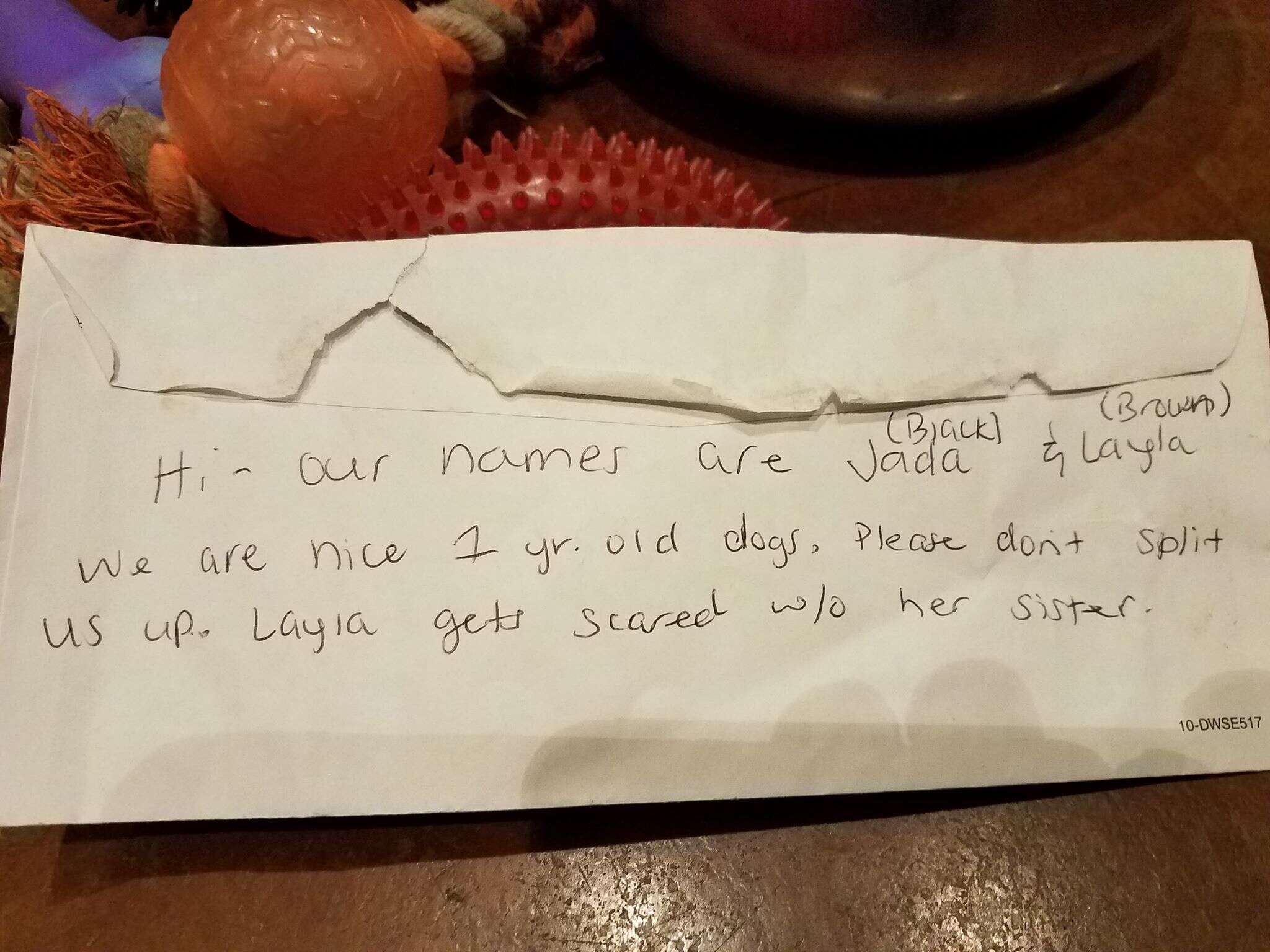 "I started asking people, 'Does anybody know how long these huskies have been here?'" Ahmed said. "People told me, 'These huskies were here at 5 o'clock.' But now it was 8 o'clock. So these huskies have been here for three hours, running in the dog park."
One visitor offered a crucial bit of information.
"Somebody said, 'Yes, I saw [a woman] leave the huskies behind. She just told us she's going to the car, and she'll be right back. So nobody really paid attention to the fact that she was really gone,'" Ahmed said.
Ahmed felt dreadful for Jada and Layla, but she was glad someone had alerted her. If the dogs had been left at the park overnight, they could have gotten hurt.
"They could have jumped the fence and gotten hit by a car," Ahmed said. "There is a very busy road right in front of dog park. The speed limit is 50, but people go 65 or more."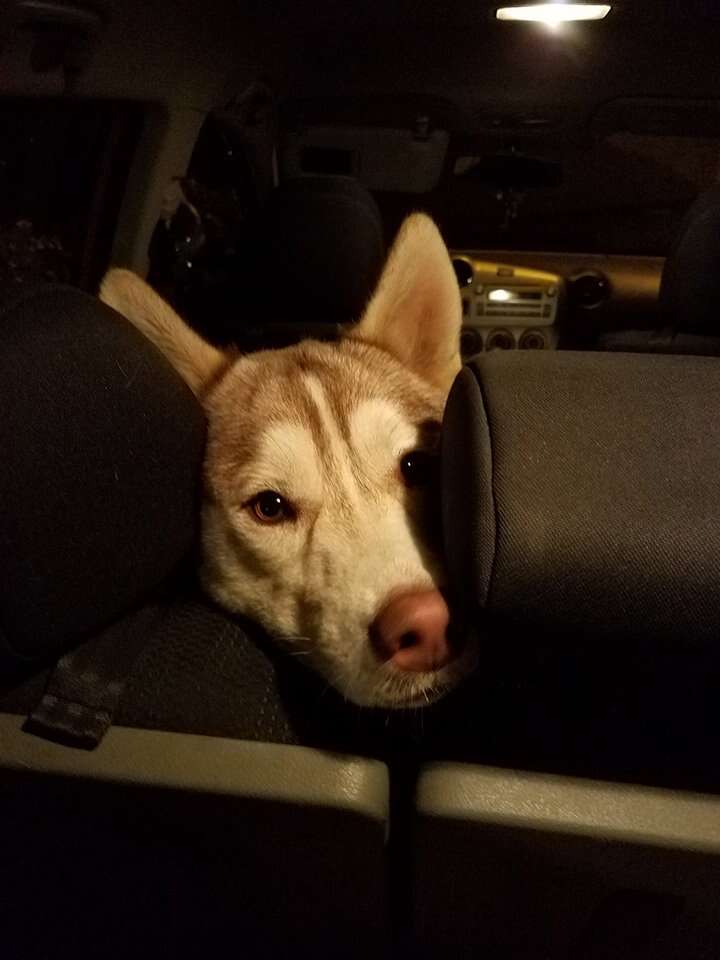 Unfortunately, this isn't the first time people abandoned dogs at Woodward Dog Park. Ahmed, who has run the dog park for 10 years, said that 13 other dogs have been abandoned at the park, and she was left with the responsibility of rescuing and rehoming them.
"This makes me feel angry," Ahmed said. "This is not the way you give dogs away. All they had to do was ask for help."
While keeping owners and pets together is always the best option, there are resources for people can't keep their animals, Rachael Lewis, manager of media and communications for the ASPCA, told The Dodo.
"The most important thing for pet owners to know is that there are many services out there they can take advantage of — all they have to do is contact their local animal shelter," Lewis said. "Your local shelter can meet with you to learn more about your situation, and then walk you through the different resources that are available to you."
Ahmed, who also founded Fresno Furry Friends, an organization that offers spay and neuter services, took Jada and Layla into her care, and placed them in a secure foster home. The huskies, who Ahmed believes are sisters, hadn't been spayed or microchipped, so she's going to make sure this happens before they're rehomed.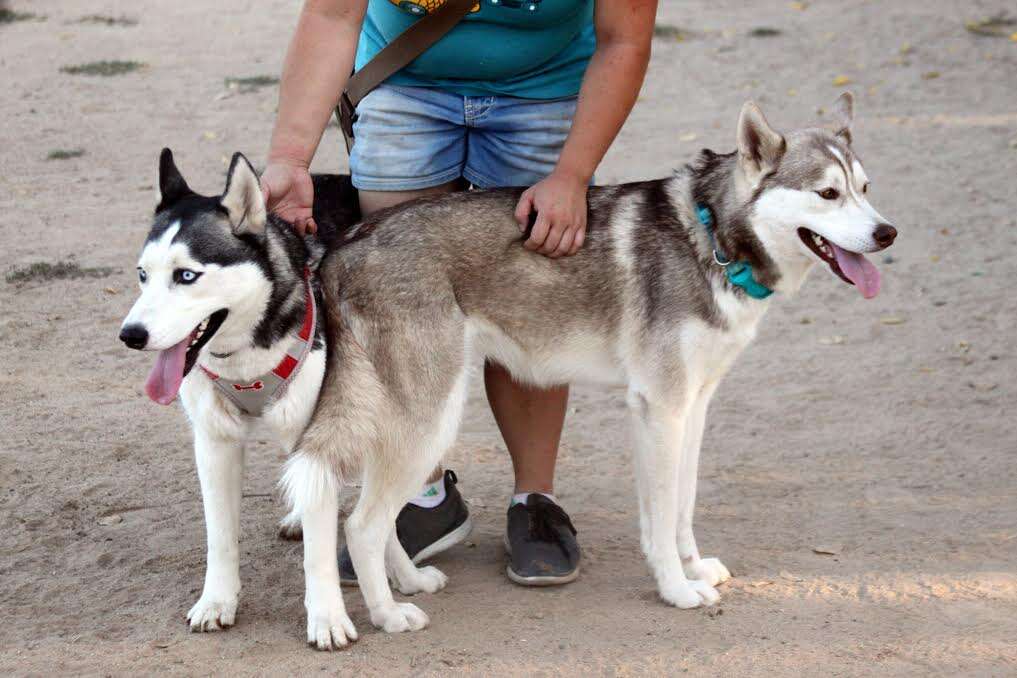 "We want to find the right home for the dogs," Ahmed said. However, she added that the dogs' foster mother is falling in love with them, so they may have already found their home.
"She is very interested in keeping them," Ahmed said. "In a few days, I'll go and do a home check and everything else."
In the meantime, the foster mom takes Jada and Layla to the dog park every day — and she always brings them home with happy memories.
CORRECTION: A former version of this article stated that the dogs were named Vada and Layla. However, their correct names are Jada and Layla.