Dog Left Behind In Hurricane Was So Happy When Help Arrived
"Out of nowhere, this super excited, small, blond pit bull came out of the bushes, wagging his tail, rolling over and wanting to be scratched and loved."
They had gone looking for a dog named Ivory, who needed to be rescued after a hurricane hit his home. The dog they found, however, needed rescuing just as badly.
A couple weeks ago, Hurricane Irma hit the Caribbean island of Barbuda, destroying 95 percent of its buildings and displacing its residents, leaving the island vacant for the first time in 300 years. Most people moved to the neighboring island of Antigua, where they were living in temporary shelters.
"It was an emergency," Scott Cantin, global head of disaster communications for World Animal Protection (WAP), told The Dodo. "They were told, 'Get a bag and go.'"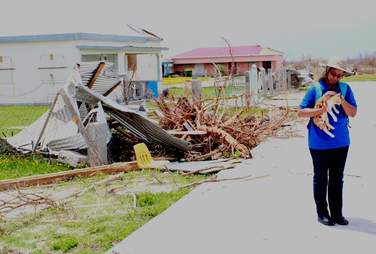 A woman holding a rescued kitten in Barbuda after Hurricane Irma

| World Animal Protection
Unfortunately, Barbudans were not permitted to bring their animals with them, even if their animals were cherished pets. So when an animal rescue team from WAP arrived on Barbuda last week, it had instructions from anxious pet owners to rescue their animals.
One pet owner was particularly concerned about the welfare of his dog, Ivory.
"He reached out to the humane society and said, 'This is my dog, this is what he looks like. He's a very friendly, sweet dog, and my house did look like this,'" Cantin said.
Goats on Barbuda after Hurricane Irma

| World Animal Protection
But for many animals, help had sadly come too late.
"One of the days we were out there, driving around and going from one house to another," Cantin said. "We had the list and we were calling out the animals' names. And in most cases, there was no answer. And in a few sad cases, we found the animal, but it was already dead."
Then they reached a house that looked like Ivory's owner's home — so they stopped the car and got out, hoping to find the dog there.
"When we walked towards the house, we were calling, 'Ivory, Ivory!'" Cantin said. "And out of nowhere, this super excited, small, blond pit bull came out of the bushes, wagging his tail, rolling over and wanting to be scratched and loved."
The dog the WAP rescue team believed was "Ivory"

| World Animal Protection
This was Ivory — Cantin and the others were sure of it at the time.
"We had the description of him and we thought, 'This has to be Ivory,'" Cantin said. "So we said to him, 'Are you Ivory? Are you sure you're Ivory?' He never disagreed."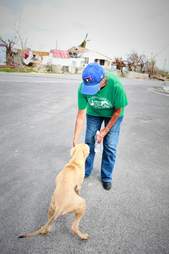 World Animal Protection
The rescue team got a collar and leash on Ivory, and gave him food and water. Then the rescuers got him into their truck and drove him to the port, where he'd be transported via a coast guard boat to the Antigua and Barbuda Humane Society (located on the same site as Antigua's Donkey Sanctuary), which was housing all rescued animals from Barbuda.
World Animal Protection
"I'm not sure if he'd ever been on a boat, but he was a good boy on the trip," Cantin said. "And as soon as we got him to the humane society, he was right back to his friendly, happy self."
Yesterday, Ivory's owner arrived at the humane society to be reunited with his dog — but as it turned out, the dog wasn't Ivory. But the owner did know the dog.

World Animal Protection
"He said the [other dog's] owner is known to put dogs in dogfighting," Cantin said.
Armed with this information, the rescue team knew it wasn't going to let this dog go back to his original owner, and subject him to the possibility of being used in a dogfight.

World Animal Protection
"We're going to keep the dog we've been calling Ivory at the humane society, and try to find him a cruelty-free home," Cantin said.
They renamed him Mario.
As for the real Ivory, the WAP team has not given up — and it sent another rescue team out to search for the dog, as well as any other animals left behind on the hurricane-damaged island.