Cat Who Survived A Hurricane Is Having The Hardest Time Finding A Home
The 16 other cats Autumn was saved with have all found homes — let's find her one before the holidays.
Update: Autumn was adopted by a loving family in New Jersey just in time for the holidays.
At just over 1 year old, Autumn, a distinctively marked tortoiseshell cat, has already been through quite a lot. 
Alley Cat Rescue
Autumn arrived at Alley Cat Rescue in Maryland after being evacuated from a shelter in Houston, Texas, as Hurricane Harvey bore down on the city in August. She was with her two small kittens and 14 other cats relocated from the storm-battered city.
Alley Cat Rescue
Autumn, a very social cat who loves people, almost instantly warmed up to shelter workers. 
"Autumn is a fun and spunky girl," Brianna Grant, communications associate for Alley Cat Rescue, told The Dodo. "She seems good with other cats but is much more people-social than cat-social."
A shaken-up Autumn, as she was being evacuated from Houston during Hurricane Harvey

| Alley Cat Rescue
Soon, Autumn's two kittens were adopted. 
And then, one by one, each of the other 14 cats were also selected by families and taken to their forever homes. For some reason, Autumn's luck just hasn't been as good.
Nevertheless, she's found things she loves to do at the shelter while she's waiting. "She is very adventurous and loves to climb on our bridge we installed at our headquarters," Grant said. "She will run back and forth across it with no fear."
Alley Cat Rescue
Seeing Autumn in action, it's easy to notice an adorably distinct thing about her; her back legs are totally different colors — one orange, one black — which mimics the distinct line running down her nose.
Alley Cat Rescue
Autumn also loves sitting in the sun and sniffing the fresh air.
Alley Cat Rescue
Now that the weather is getting colder, and the seasons are changing from autumn to winter, the people at Alley Cat Rescue hope they can find Autumn's forever home soon.
The best home for Autumn, they think, would be one where she can play and socialize. "A home with lots of toys would be a good fit for her playful personality," Grant said.
Alley Cat Rescue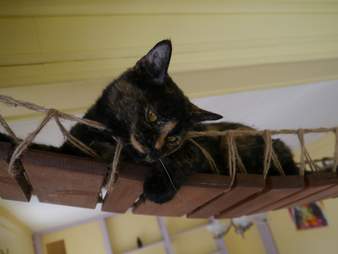 Alley Cat Rescue
It's puzzling that finding a forever home for Autumn is in a sense harder than saving her from a hurricane. But hopefully she won't be waiting much longer for the life she deserves.
"Only Autumn is left and we would love for her to have a home for the holidays," Grant said.