Bunny Arrives At Shelter And No One Can Believe How Big He Is
"He's bigger than a lot of the small dogs we have up for adoption" 😍
The staffers at the Sacramento SPCA have seen some pretty big rabbits over the years.
But never this big.
Last week, Benny the Flemish giant rabbit came into the California shelter's care after his owners were unable to afford a surgery he needed.
Weighing in at nearly 20 pounds, 5-year-old Benny is actually a pretty average size for his breed — despite looking so hefty.
"He's bigger than a lot of the small dogs we have up for adoption," Sarah Varanini, PR and social media specialist for the rescue, told The Dodo. "We've had quite a few Flemish giants over the years, but no one as large as him."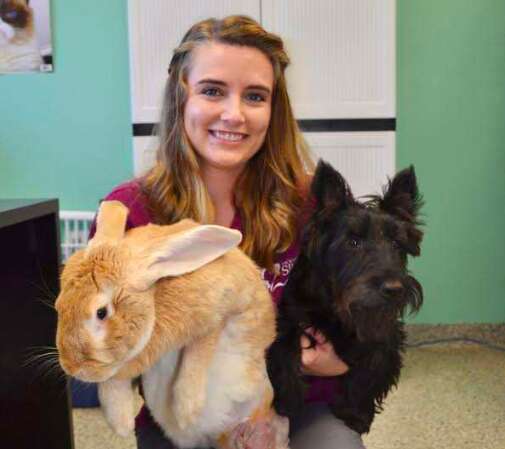 He recently fractured his leg after jumping off a porch — and despite having it set by a vet, it healed incorrectly and started limiting his ability to hop. His family couldn't afford further treatment, so they dropped him off at the shelter for him to be euthanized.
But shelter workers knew they could help him. Benny's leg was inoperable, but since he had already learned how to hop around on three paws, the veterinarians decided the best option for him would be to amputate the leg.
"The leg was sticking out to the side and he wasn't able to use it at all," Varanini said. "Being such a large rabbit, the leg was hindering his ability to get exercise."
Thanks to the shelter's Paws for Health program, which covers emergency surgeries, he was able to have it done right away.
Benny is already doing well after surgery and seems comfortable. He's spending the next few days lounging in his extra-large dog kennel, and will hopefully be ready for a home soon.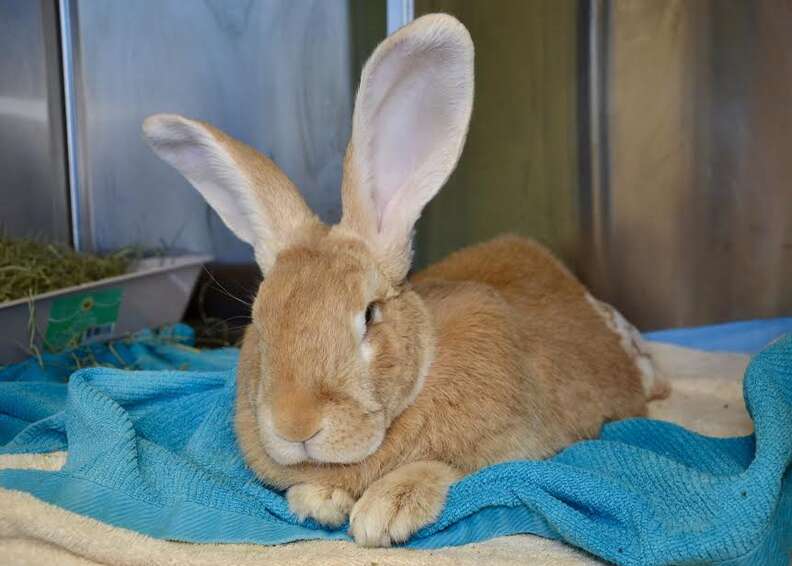 Unfortunately, rabbits are often the "forgotten animals" when it comes to traditional shelter environments — but they are just as fun and rewarding pets as cats or dogs.
Instead of a tiny hutch outdoors, many families keep their rabbits free-range in the house, which gives them room to exercise and be a true part of the family.
"They deserve love, care and good homes just as any other animal," Varanini said. "We are totally on board with house bunnies. You can litter box train them and let them run loose in the house just like a cat."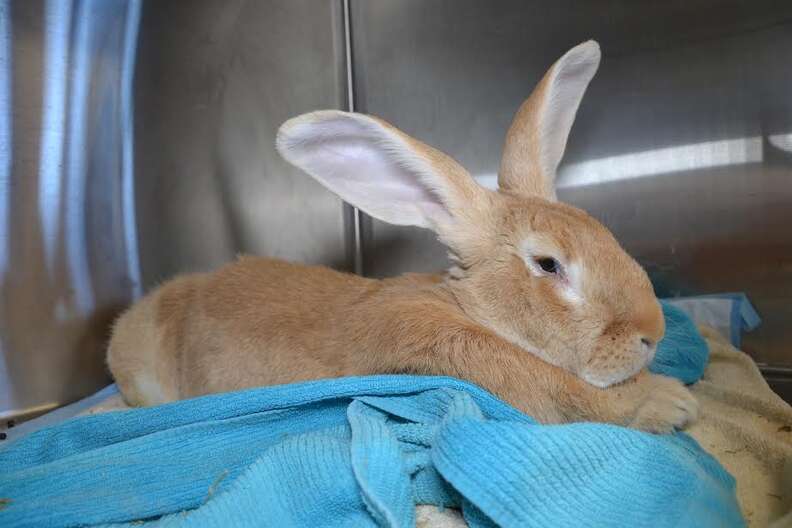 As such a sweet and curious rabbit, Benny would make a great house rabbit — and his large size means there's so much more to love.
"He's a very nice little guy," Varanini said. "When I go in to see him, he hops right up to greet me. It will be so fun to get him up and moving around with us more in the next few days."